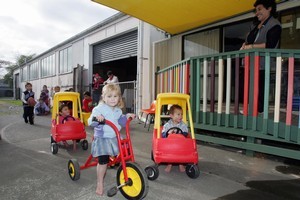 The Childcare Association is hoping nobody will be disadvantaged by proposed changes to early childhood education (ECE), but says some parents will have to pay more.
A taskforce set up to review ECE yesterday issued a report recommending a differentiated subsidy scheme for the first 20 hours of care, with higher Government subsidies for children aged under two, special needs children, and children from Maori, Pacific Island or low-income families.
It also recommended working parents should pay more, fee controls should be lifted, and the subsidy should drop after 20 hours.
Taskforce chair Michael Mintrom said the changes added up to a system which would be "quite drastically different".
Education Minister Anne Tolley, who ordered the review, said the Government had been concerned about variability across services, a perceived lack of accountability, poor access for many children, and the need for a more targeted funding system.
Taxpayers are due to spend $1.4 billion in the coming year on the sector, which received a $550 million boost over four years in this year's budget.
Childcare Association chief executive Nancy Bell said it was clear that some parents would have to pay more and others would pay less.
"We would hope that no-one will be disadvantaged but it is clear that the taskforce is recommending that some parents are going to have to pay more," she told Radio New Zealand.
Ms Bell said she did not accept that taskforce's proposal that setting teachers' salaries in the market would drive good teachers into the system.
"If you want high quality early childhood, teachers have to be paid well, and if there's a lot of Government money going into services, it's important that that gets passed on to its teachers, that it goes where it's going to make a difference to children."
Labour education spokeswoman Sue Moroney said the taskforce had recommended some backward measures.
"This will unfortunately lead to further inequality as the report says 'wealthier parents' should be prepared to meet some of the cost of early childhood education, which includes some of the cost of a higher-quality workforce," she said.
The Government would seek consultation on the taskforce's 65 recommendations.
- NZPA