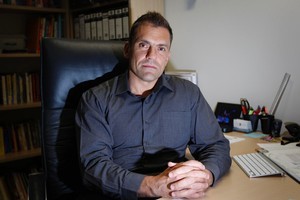 An Auckland school for international students enrolled and passed people who could barely understand English, say three former staff members.
Former operations manager Nicky Van der Bergh and former cookery tutors Stephen Clark and Michael Wilson said Cornell Institute of Business and Technology in central Auckland routinely accepted students who could not understand the courses they were supposed to be doing.
Enrolment papers also show the school accepted a 19-year-old Chinese student with very limited English into a degree-level course, which his previous school said he was "not even close" to understanding.
Cornell owner Andrew Do said the allegations against the school were false and came from disaffected former staff members and competitors.
Van der Bergh said some students were allowed into classes even though they failed the English test for their level.
He said most schools for international students used the International English Language Testing System (IELTS), which scores from 1 (non user) to 9 (expert).
Students typically need a score of 6 (competent) to get into a course like business or 5 (basic) for a course like cooking.
"I was getting tests back with 3.5 or 4 (very limited English) and the students were still going to cookery classes. The cookery tutors were pulling their hair out because the students couldn't keep up."
He said an "unbelievably high proportion" of students, especially Asians, scored 3 or less in internal tests, meaning they spoke virtually no English.
Former cookery tutors Stephen Clark and Michael Wilson agreed, saying they sometimes had students who couldn't speak a word of English.
"I've had quite a few crying their eyes out because it was so hard for them because they don't understand the course," said Wilson.
"You've got students coming out of these courses with qualifications who don't even know the basics of how to make a hollandaise or a basic sauce."
They said the vast majority of students took cookery courses to get permanent residency because the qualification was worth immigration points when combined with workplace experience.
But they estimated only about 10 per cent got jobs at their qualification level. Others were working in restaurants but only as kitchen hands or commis (trainee) chefs.
Do said Cornell took English language requirements seriously. It had refused three students entry to a cookery class only last week because their English was too poor and was concerned that some students turned down for poor English by Cornell had been accepted by another school.
He did not believe cookery tutors would know how many of their ex-students had appropriate jobs. Some students were employed as junior chefs but in a tight job market "often it is a case of students accepting what jobs are available, to get a foot in the door".
Van der Bergh's complaint is supported by Crown Institute of Studies director Alan Chisholm, who complained to NZQA last year that Cornell was one of several schools that accepted students with virtually no English.
He gave the example of a 19-year-old Chinese student who missed about a third of his English course at Crown and had difficulty in both speaking and understanding the language.
His progress report from the school warned that he would need to spend a lot more time learning English - Chisholm estimates at least six months - before any further studies. His English level was the IELTS equivalent of 4 (elementary/limited).
Cornell accepted him into a Diploma of Information Technology, which is equivalent to a bachelor's degree. It has an IELTS entry level of 6.
"This student was way, way too low to be considered for this course," said Chisholm. "It's not even close."
Students on a degree-level diploma - even in a supposedly non-language based field such as IT - needed strong reading, writing and listening skills.
"[The student] would not have any of those skills at that level."
Do said the student was still studying at Cornell.
Cornell principal Duncan Sharp said it was unfortunate that NZQA did not have the power to crack down on some of the "nefarious activities" occurring in schools for international students. "There are those that are trying hard to be kosher and do it right and there are some who are not at all. So we find it a frustrating playing field at times, we really do."
Van der Bergh resigned from Cornell last October and is now principal of the New Zealand Career College, which teaches overseas and domestic students.
He said his experience at Cornell was especially traumatic because he had previously worked briefly at the now-defunct New Zealand Institute of Commerce in the same building several years ago.
Former teacher Judy Kraidy revealed in the Weekend Herald last November that NZI Com regularly passed failing students and that she lost her job when she refused to "play their game".
Diploma holder says qualification worthless
A student says she has been left with a worthless diploma from Cornell because the course was based on out-of-date links with an Australian university.
Indian student Shelley Dean came from Delhi last year to do a degree-level business diploma at the Cornell Institute of Business and Technology in central Auckland.
Her agent told her the course was recognised by Charles Sturt University in New South Wales.
A sign outside one of the school's Hobson St buildings advertised the link (the university's name was covered over this week) and the course followed the university's materials.
But the agreement had expired in 2005 after only a year in operation, leaving students with a qualification which was not recognised by the university.
Cornell director Andrew Do said the school changed its prospectus and, to the best of his knowledge, incorrect information was not given to students.
"Of course, it is not always possible to know precisely what agents might say in other countries."
He said Cornell had been negotiating with the university until November 2010 about continued use of the material, which had since finished.
He said the diploma was not worthless because it was recognised by NZQA and several universities.
Sue Moloney, director of Charles Sturt University's office of international relations, said she would be very concerned if students had been misled.
The university had agreed to support existing students until as late as 2009 but the relationship ended for new business students in 2005 and for new IT students in 2007.
"They were not to recruit any students into the programme, certainly not the Bachelor of Business Studies. We're talking back in 2005 ... that's a significant amount of time."
She said the university was taking legal advice on the issue.
Dean, who speaks fluent English, has found a job as a quality analyst at a call centre.
She says she's happy with where she's ended up but disappointed she was misled about the status of her qualification and with the general standard of education at Cornell.
"I had much higher expectations from a college that is situated in Auckland. I thought it was going to be much better than what I did back in India. But what I realised is that my college back in India is 1001 times better."
Andrew Laxon