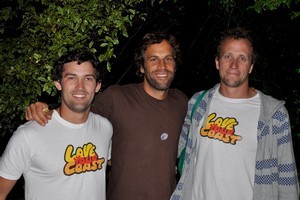 International chart-topper Jack Johnson is getting behind a large-scale Kiwi initiative to clear our beaches of rubbish.
The Love your Coast movement has got the thumbs up from Johnson, an avid surfer, who has been touring the country this week.
In previous visits to New Zealand, the Hawaiian-born singer has been spotted surfing at Piha and Raglan beaches.
This week, Johnson announced he was donating 100 per cent of the profits from his 2010 To The Sea tour to charity - including a number of organisations involved in the Love your Coast mission.
The large-scale coastal clean-ups are taking place all over New Zealand, starting tomorrow.
In an interview for Love your Coast, given exclusively to the Herald on Sunday, Johnson said he had personally seen the damage caused by plastics and rubbish on beaches all over the world.
"Having grown up in Hawaii, we definitely see a lot of the after-effects of single use plastics," said Johnson.
"There is just a wall of plastics along the beaches on the windward side of the islands, and you go down there expecting to have a good surf and sometimes it's pretty depressing to see it all."
The new initiative aims to combine different beach clean-up and environmental organisations to work on clearing our shores together, as well as smaller local groups who conduct their own beach tidy-ups.
Sustainable Coastlines, The Sir Peter Blake Trust, Keep New Zealand Beautiful and the Te Wai Pounamu Foundation are some of the organisations combining their efforts for the cause.
The first clean-up will take place tomorrow on Rangitoto Island. National media manager Tim Rainger said the idea behind Love your Coast was "critical mass" - to get everyone with the same objective working together.
Involving people like Jack Johnson - as well as Barnaby Weir of Kiwi band The Black Seeds and models from the Christchurch-based agency Portfolio - aims to bring a "cool" factor to the clean-ups.
Monday's event involves around 1000 Auckland students who will help at Rangitoto, including a group from the Muslim Zayed School for Girls who will help out while wearing full burquas.
All the rubbish collected will be audited by periodic detention workers, organised through the Department of Corrections. The results will be used for education resources for schools about coastline protection.
One of the clean-up leaders is Sam Judd who, since co-founding the Sustainable Coastlines charity in 2008, has helped clear more than 80 tonnes of rubbish from the world's coasts.
Judd, 27, helped form the group during a post-university trip to the Galapagos Islands, where he and other volunteers - including other co-founders James Bailey and Mark Pinkney - removed nearly 10 tonnes of rubbish from the archipelago.
CLEANING UP
Auckland - Monday, December 6. Rangitoto Island clean-up. There is still space on the ferries for this free event. Register here or contact auckland@loveyourcoast.org.
Wellington - Tuesday, December 7. Harbour and South Coast clean-up. Contact wellington@loveyourcoast.org
Christchurch - Wednesday, December 8. Heathcote and Avon Rivers, the Estuary and New Brighton. Contact christchurch@loveyourcoast.org
West Coast - Thursday, December 9. Karamea to Franz Josef. Contact westcoast@loveyourcoast.org