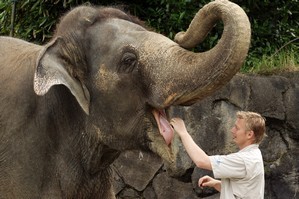 A $13 million extension to Auckland Zoo has been given the thumbs up - which could bring the only elephant herd in Australasia to New Zealand.
Auckland City Council's arts, culture and recreation committee has endorsed a proposal to enlarge the zoo's existing enclosure to six times its size, which would incorporate two areas of Auckland's Western Springs Park.
The proposed areas, which run adjacent to the zoo's current elephant enclosure, will include an exercise area, a new elephant bull house, a public viewing area and boardwalk.
The extra space could take a herd of up to 10 new elephants, and the zoo is in talks with another zoo in Asia to bring a herd over.
The zoo wants to expand to improve the well-being of its sole remaining elephant, Burma, whose companion Kashin died in August 2009.
Burma is a non-breeding female. She has been monitored 24 hours a day since Kashin died, and the zoo believes bringing a herd over would improve her living situation.
Councillor Greg Moyle, who chairs the arts, culture and recreation committee, said the plan was an opportunity to be the only zoo in Australasia able to support an elephant breeding herd.
"We're very fortunate that the zoo is located at Western Springs. There is the capacity there to extend the zoo without having a detrimental impact on other users of the park.
"Extending the elephant enclosure will mean that not only do zoo visitors get to see these amazing animals, visitors to one of Auckland's favourite open spaces will as well," he said.
But Mr Moyle told NZPA it would not happen overnight.
"Consultation with the public will be a fairly long, drawn out process. I'd hope the process would be well under way by this time next year.
"My understanding is that the plan is to introduce elephants over a period of time, so the first priority would be to get a mate for Burma, and from there, a breeding herd would be built up," he said.
But not everybody is happy about the plans.
Animal rights groups including Safe and some city councillors have expressed concerns.
Safe spokesman Hans Kriek said zoos were moving away from keeping elephants in enclosures, because it was not in the animal's best interests.
He said the move by Auckland Zoo was a step backwards.
Mr Moyle said organisations such as Safe have already indicated they would take this to the Environment Court.
"They've got a particular perspective and they're welcome to express that.
"But they're not being realistic. Part of the benefit of this plan is about conservation.
"The case for these elephants is well established. Elephants should not be left alone, they live in herds, rather than just two or three.
"An elephant breeding herd will be established over time, which will become more sustainable and part of a worldwide conservation project to protect the Asian elephants," Mr Moyle added.
Auckland Zoo's director Jonathan Wilcken said the elephants' best interests were important to the zoo, and they would be better off living in a social environment as part of a herd.
Councillor Graeme Mulholland, chairman of the Zoo Board, said Auckland Zoo was the only place where New Zealanders could view Asian elephants.
- NZPA