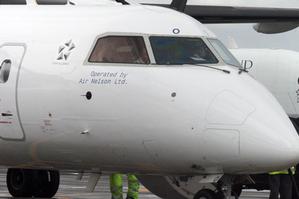 A former Air Nelson flight attendant says she has no memory of having sex with a senior pilot, who lost his job over the incident and is appealing to get reinstated.
The woman, who has name suppression, and two Air Nelson pilots had a drinking session in a hotel room after an unscheduled stopover in Napier because of bad weather in May 2008.
Appearing in Auckland Employment Court today, the attendant said she could not remember what happened for the four hours after midnight until she woke up in the pilot's bed and rang a friend in a distressed state saying she believed she and the pilot had had sex.
She lodged a complaint with police, but when they said they would not lay charges she complained to Air Nelson which, after an investigation, sacked the pilot for serious misconduct, including sexual harassment, failing to act responsibly, and buying and drinking alcohol with two crew members.
The pilot claims the sex had been consensual and the woman had instigated it.
She denied that and said claims she had made "smutty and sensual talk" or exposed her breasts and buttocks were untrue.
"I wouldn't do that," she said.
During cross-examination, the pilot's lawyer, John Haigh QC, asked why she had ordered two breakfasts for the following morning.
"I don't remember that."
"Just like that your memory stops?"
"Yes," she said.
"Was this a case of you consenting to intercourse but regretting it afterwards and using the loss of memory as an excuse?"
"No, it wasn't," she said.
Appearing as a witness, the friend and colleague she called after the incident said the woman was "obviously very disturbed" in her phone call.
The witness said she was concerned about the incident between a "considerably older" pilot and her young colleague and was also worried about the large amount of alcohol he was alleged to have drunk before flying a plane the next day.
"What happened that night in Napier was unethical for an Air Nelson captain and I would be very concerned for young flight attendants who had to work with him on an overnight duty," she said.
The hearing is likely to continue for the rest of the week.
Air Nelson is a subsidiary of Air New Zealand.
- NZPA