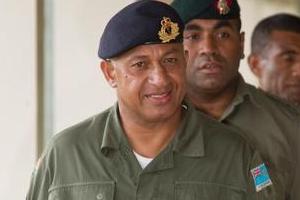 Members of the Pacific Islands Leaders Forum will travel to Fiji to see for themselves whether or not the situation has improved in the island nation, four years after a bloodless military coup took power.
The Ministerial Contact Group - a subsection of the Forum - met today in Auckland. The Group was addressed by Fiji Foreign Minister Ratu Inoke Kubabola.
Foreign Minister Murray McCully said the situation in Fiji has worsened.
"There were short-comings in the report which are not new ones," Mr McCully said.
Asked if travelling to Fiji would achieve anything, Mr McCully said it was the Group's job to monitor Fiji.
The group's chair, Tonga Prime Minister Feleti Sevele, said the group had a "frank and fruitful" conversation about where they would like to see Fiji going in the future.
He said the group was invited by Mr Kubabola and hoped to meet with political leaders outside of the interim Government to get different points of view.
Dr Sevele said the group would get information through talking to people on the ground and journalists.
Asked if the environment on the ground made it possible for journalists to do their job, Dr Sevele said: "I'm sure they are getting information to you one way or the other".
Australian Foreign Affairs Minister Stephen Smith said the group had to travel to Fiji.
"In our view, it is the most effective way of getting a judgment about what is happening on the ground," Mr Smith said.
He said he hoped the group would have an influence on when elections will be held. The earliest that could happen, according to Commodore Voreqe Bainimarama, is 2014.
"If we don't engage, there is no way of influencing things in the future," Mr Smith said.
Papua New Guinea Foreign Affairs Minister Samuel Abal said dialogue had to continue.
"If we have no dialogue, we throw Fiji to anything," Mr Abal said.
Samoa's Prime Minister Tuilaepa Sailele Malielegaoi previosuly told Radio New Zealand International that an agency committed to democracy should not remain in Fiji. He said the Forum should leave Fiji.
However, today Dr Sevele said the group has looked into shifting its base and it had proved too costly.
Fiji was suspended from the forum after the South Pacific nation's self-appointed Prime Minister Frank Bainimarama refused to back down on his plans to delay elections until 2014.
Fiji has faced criticism recently over a draft Media Industry Development Decree.
The decree features harsh penalties for journalists and news organisations which breach vaguely worded content regulations. It also warns media not to publish or broadcast material that is "against the public interest or order, is against national interest, offends good taste or decency, or creates communal discord".
The Decree caps foreign ownership in media organisations at 10 per cent.
Breaches under the decree can lead to a F$500,000 fine against news groups, or a fine of up to F$100,000 for individual journalists and/or being jailed for up to five years.