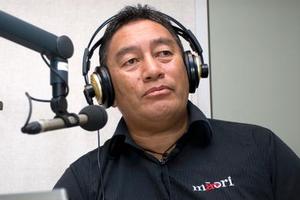 Hone Harawira has apologised for the language that he used in an email but not the sentiment.
Mr Harawira was this morning asked by Radio Waatea host Willie Jackson if he hated Pakeha.
"Hone doesn't hate Pakeha, Hone is part-Pakeha," Mr Harawira said.
He said he apologised for the use of words that he used in the email when he asked Buddy Mikaere if he was buying into "that white man bulls****" and added that "white motherf***ers have been raping our lands and ripping us off for centuries".
Click here for the text of the apology
But Mr Harawira said he was talking about "European settlers" who have been responsible for 63 million acres of Maori land being lost in the past 150 years.
He said if he had worded the email differently there would have been no mention in the media and the stories have been a "beat-up".
Mr Harawira said he was "pissed off" when he received the email from Mr Mikaere and had "just whacked out" the email.
He said he had since "received advice about sending emails".
Mr Harawira expressed anger at Labour leader Phil Goff, who has said Mr Harawira should be suspended for his use of language.
"The cheek of the bastard," Mr Harawira said.
He said Mr Goff and his party had passed the Foreshore and Seabed Act.
"If I should be suspended for my language, he and his mates should be lined up against the wall and shot," Mr Harawira said.
He said the Foreshore and Seabed Act has been described as the largest land grab in history and it is still on the country's statute books.
Mr Harawira said his wife questioned him about his choice of language.
"The mofo word is demeaning to women and I apologise unconditionally for that word," Mr Harawira said.
The controversy had damaged his credibility and he would be doing "serious bridge building" with his caucus, he said but had no plans to leave the party.
The Maori Party leadership, prime minister, and Race Relations Commissioner Joris de Bres were among those who have called for an apology over his outburst.
The remarks were in an email Mr Harawira sent to Mr Mikaere, a former Waitangi Tribunal director who had questioned his decision to skip a work meeting in Europe to visit Paris with his wife.
Mr Harawira was part of a parliamentary delegation visiting Europe when he decided to leave Brussels and take his wife to Paris for the day.
He admitted he could have handled the decision to go to Paris better and left for the "city of love" after the meeting was finished.
He said he had been open about what he had done and had not tried to hide the trip.
"I'm not like Rodney [Hide] where you try and hide these things," Mr Harawira said.
But Mr Harawira denied telling party co-leader Tariana Turia the reason he missed the meeting was because he was ill, he was ill on his return and that had caused confusion.
- NZHERALD STAFF with NZPA