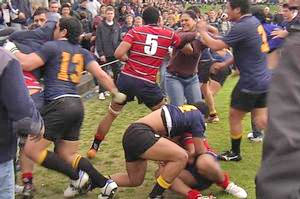 High school players involved in a rugby brawl over the weekend will face the Auckland Rugby Union's disciplinary committee.
The Auckland Secondary Schools semi-final between Auckland Grammar School and Kelston Boys High ended in violence at the weekend, with spectators and players both weighing into the fight.
The disciplinary hearing will be held tomorrow night, with coaches, managers and captains from both schools required to attend.
Results from the hearing will be made public on Tuesday night, with any appeals to be heard before this weekend's final between Mt Albert Grammar and Auckland Grammar at Eden Park.
Prime Minister John Key said today there was no place for violence in sport, at professional or school level.
"I think it brings the game into disrepute, it discourages people from being active in sport and it's the wrong message to youngsters," he said at his post-cabinet press conference.
Auckland Rugby Union CEO Andy Dalton has labelled the brawl "simply disgraceful".
"The secondary school rugby competition is a very competitive one and always has been," he said.
"But for that to turn into an all-out brawl involving players and spectators is simply disgraceful. The two teams and their schools now face media attention for all the wrong reasons, as well as a judiciary process in a week that one team should have been looking forward to playing their school rugby final at Eden Park."

The headmasters from Kelston Boys and Auckland Grammar are pointing the finger at each other after a rugby semifinal between their schools erupted into a brawl.
And it emerged last night that a violent incident also marred the other semifinal in the secondary schools' rugby competition.
Spectator Sean Fletcher, 19, was hit in the face with a rock at the semifinal between St Peter's and Mt Albert Grammar, which Mt Albert won 17-16.
The brawl that erupted in the last minute of the game between Kelston Boys High and Auckland Grammar on Saturday - won by Grammar 20-9 - involved players and up to 100 spectators.
Grammar headmaster John Morris said a Kelston player "king hit" one of his players out of frustration after a try was scored.
But Kelston principal Steve Watt said film of the incident showed one of his players being punched twice by a Grammar student before the try was scored.
Mr Watt said he would be phoning Mr Morris this morning.
Both said they would be reviewing film of the brawl before deciding whether any disciplinary action would be taken.
Film of the attack shows players punching each other in several smaller fights and then a woman, who TV3 said was a parent, trying to intervene.
Auckland police inspector Willie Taylor said an investigation had started, but he did not know of any complaints stemming from the brawl.
Manoj Daji, chief executive of College Sport, the body in charge of high school sport, said that if the brawl was reported to him today, it would be the first complaint involving rugby this year.
He said the violence was "mainly adults behaving badly", and suggested some of it stemmed from tensions caused by the recession.
"I think some of that tension is spilling over into a place where they feel there's going to be no consequences for them.
"We take a hard line on it. We're in a situation where we haven't got lots of volunteers or officials. Officials are sacrosanct. We need to look after them and protect them and keep them in the game."
Secondary Schools Rugby Union secretary Alex Bing, who saw the brawl, said the issue was not with the players, but with spectators.
"If people hadn't of come across the field, I'm sure the whole thing would have died off within half a minute.
"The problem we have is with spectators coming on the field. If they come en masse, what can you do about it unless you've got security there?"
Asked whether there were plans to increase security, Mr Bing said: "The problem we've got is cost. Who's going to pay for it? The schools can't afford it."
Mt Albert Grammar headmaster Dale Burden said he was trying to find witnesses to the rock-throwing incident, but did not know which team the attacker supported.
He said he had no concerns about playing Auckland Grammar in the competition's final at Eden Park this weekend.
"In Auckland, every week, there's just thousands of games played in good spirit. It's pretty unlikely that anything will happen next week. It's pretty unusual that something happened [like] this week, frankly."
A witness to the rock attack, who asked not to be named, said he was standing with his 3-year-old son on his shoulder watching a haka after the match, when he heard a "soft thud".
"This rock came flying into the crowd and hit the chap who was a metre in front of me," he said.
"It hit him smack in the face. It was awful. The blood was just running from his mouth and he was sitting there spitting blood."
- ADDITIONAL REPORTING: NZPA