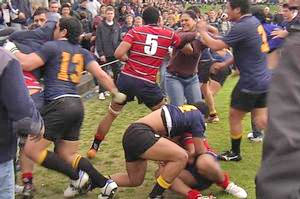 A referee of secondary school first XV games insists the weekend brawl at the Auckland Grammar and Kelston Boys match is not a trend – but other readers say this such behaviour is becoming commonplace.
The referee, writing to our Your Views, said: "This was one game. I have refereed a number of 1st XV games this year in Auckland without any foul play at all. Actually they were great games of rugby. To think that this trend is not just wrong - it is a sensationalist lie."
Are you the woman pictured in the photo?
Tell us what you saw happening
Lindsay, who attended the weekend game which resulted in a brawl involving 100 people, blames supporters "who were allegedly drunk and the horde of spectators (mostly from Kelston) who ran across from the other side of the field to get involved.
I've seen similar brawls broken up without too many problems."
Other readers on Your Views and other local forums have been reporting similar incidents, often involving spectators.
A Kohimarama reader reports two recent occasions "where one of our players was deliberately stomped on the head by the same player, and other players being punched in off the ball incidents.
"The good news is that our guys ignored this behaviour and got on with what was important, playing with discipline and winning."
A person who attended the weekend game claims Auckland Grammar supporters triggered the problem by shouting racial taunts.
Povi Masima said: "A small group of AGS old boys who were drinking were hurling racial taunts which seemed a bit stupid since there were a number of Polynesian boys in the AGS team. Their taunting reflected badly on AGS and only contributed to the melee at the end of the game."
Auckland Grammar is singled out by other Your Views readers.
Joanne said a common denominator was Auckland Grammar. "My kids have played this school over several different codes of sport. Each time we have encountered obnoxious mouthy kids, with parents on the sideline abusing and heckling referees."
But a former Kelston player and league player says he is ashamed at Kelston's involvement and calls on both teams to be withdrawn form the schools competition to make a clear statement such behaviour is not tolerated.
As to the wider issues of such behaviour, Nigel Fleming remarks: "What is 'reflective of our society' is the fact that such a self-indulgent banquet is made of the fight. I presume that the boys will all be sent to counselling, and that half the crowd will now suffer from some debilitating form of post-traumatic stress disorder."
- STAFF REPORTER