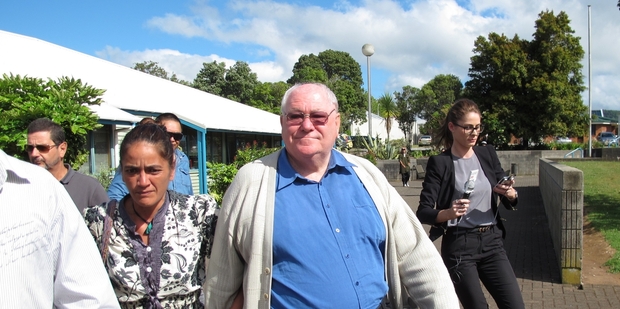 A former Christian school principal has pleaded not guilty to all 13 charges against him of sexually abusing boys.
Raymond George Melrose, 68, entered the not guilty pleas and opted for a jury trial when he made his second appearance in the Kaikohe District Court today.
Melrose was the principal of Kaikohe Christian School from 1997 until earlier this year but the alleged abuse is said to have occurred outside Northland 40 years ago. The charges relate to two brothers and include four of sodomy with a male aged 12-16, three of indecent assault on a male aged 12-16, and one indecent assault on a boy under 12.
Judge Phil Gittos further remanded Melrose on bail to a Paihia address. Bail conditions include no unsupervised contact with children aged under 16. He is due back in court on January 28 for a case review hearing.
Much of the discussion during today's hearing centred on whether TV should be allowed to film Melrose in court.
Defence lawyer Catherine Cull opposed the application, saying her client had never sought name suppression and everyone already knew who he was.
She said previous TV One coverage had used archival footage of Melrose with children who had no relation to the charges. The news item had also shown a reporter going up the steps to his home and knocking on his door, identifying his bail address. Filming in court was an added intrusion, she said.
Judge Gittos said the TV coverage was distasteful and intrusive but argued it may have been unnecessary had cameras been in court at his previous appearance. It was better that he be filmed in a controlled environment in the context of a court appearance, he said.
Melrose was accompanied at the hearing by a small group of supporters.
Acting principal Graeme Burgess said there had been no complaints about Melrose from his time at Kaikohe Christian School.
He said the Board of Trustees had put out a newsletter telling parents what the school knew, offering support and providing a phone number for anyone who wanted to make a complaint or provide information. As far as he knew no one had come forward.
While the allegations had been a shock they had not affected parents' desire to enrol their children at the school. It was already at its roll cap of 192 for next year and had a waiting list of prospective pupils.
Meanwhile, the current principal at Paihia Primary School, David Rogers, has been appointed the new principal at Kaikohe Christian School from the start of term one next year.
Mr Burgess said Mr Rogers was experienced, innovative, and full of ideas and energy.