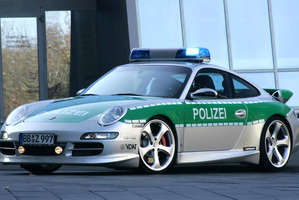 Leaked documents from the EU have revealed plans for a universal remote stopping system to be used on cars in Europe. The system will allow European Police to bring cars involved in a high speed chase to a stop by an officer pressing a button from back at Police headquarters.
The project is rumoured to be one of many undertaken by European Network of Law Enforcement Technology Services. "Cars on the run can be dangerous for citizens," said a document. "Criminal offenders will take risks to escape after a crime. In most cases the police are unable to chase the criminal due to a lack of efficient means to stop the vehicle safely."
The remote stopping and other surveillance plans have been signed off by the EU's Standing Committee on Operational Cooperation on Internal Security, known as Cosi. The technology has yet to be developed but is rumoured to be a working reality by as late as 2020.