With lashings of fruit now in season, here are recipes jam-packed with goodness.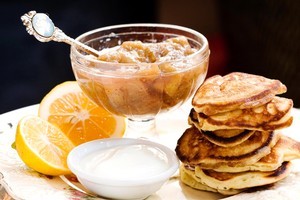 At this time of the year, when citrus trees are laden with fruit that drops on the ground, it is the ideal time to talk about jam. If you don't have trees yourself, you may be fortunate enough to live near a kind-hearted soul who may offer fruit if it is lying abandoned in exchange for a delicious pot of marmalade. Or, of course, you can pick up fruit at a good price at the moment in stores.
Marmalade can be made from a variety of citrus. Choose the flavours you prefer - orange, grapefruit, lemon or perhaps a little mandarin or tangelo. It depends on whether you like sweet or sour or wish to create a balance of the two to suit your tastebuds.
Rhubarb is plentiful in vege stores and many supermarkets but even more so if you grow it yourself - it seems to become a year-round dependable crop if planted in rich soil and doesn't need much attention, so is a perfect ingredient if you have too much to know what to do with.
Pair its unique sharpness with vanilla and ginger flavours and perhaps a dash of rosewater, before turning into jam.
Making jam from frozen berries proves you don't need a supply of fresh fruit on hand all the time. Everyone loves a berry jam and one can be made easily from frozen blackberries, raspberries or blueberries.
It is a common misnomer that jam takes hours of boiling. Depending on what type of fruit you use, in a short time you can produce a jam full of fruit with the added flavours you fancy without any artificial preservatives.
Once you have pots of home-made jam adorning your shelves, put some thought into how to serve them. Hot, buttery toast for breakfast is a given and very appetising first thing in the morning but if you have time on your hands, try making orange wholemeal scones, buttermilk pikelets or waffles.
Chef's tip
Jam needs to be kept in sterilised jars with tight-fitting lids. To sterilise, preheat the oven 120C. Wash the jars and lids in hot, soapy water then rinse and place on a tray in the oven for 30 minutes. Fill right to the top with jam before sealing.