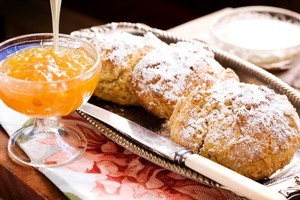 Grapefruit marmalade
Makes approximately 1 litre
400g grapefruit
150g lemons
2 cardamom pods
1 x 20cm x 20cm piece of muslin cloth
5 cups water
3 cups sugar
Scones
Makes 12
1 1/2 cups self-raising flour
1 1/2 cups wholemeal flour
1/4 tsp salt
2 tsp baking powder
Finely grated zest of one orange
1/2 cup brown sugar
50g butter, cubed
1 egg
1/2 cup milk
1 Tbs cream
1/4 cup lemonade
Softly whipped cream to serve
1. To make the jam, grate the skins off the grapefruit and the lemons. Cut the fruit in half and squeeze through a sieve into a large pot, reserving the pips.
2. Bruise the cardamom with the flat side of a heavy knife.
Wrap the cardamom and pips in the muslin then wrap and tie.
3. Put the muslin into the pot with the fruit skins and the water. Bring to a boil and cook for one hour. Remove the muslin and discard.
4. Stir in the sugar and bring back to a boil then boil for 15 minutes. Pour into warm sterilised jars and seal.
5. To make the scones; preheat the oven to 200C. Grease or line a baking tray. Sift both flours with the salt and baking powder into a large bowl.
6. Stir through the zest and sugar then rub the butter in with your fingertips until it resembles rough breadcrumbs.
7. Whisk the egg with the milk, cream and lemonade then stir in with a knife. Tip on a bench and lightly knead, dusting with more flour if needed.
8. Cut into 12 scones, brush with milk and sprinkle with a little extra sugar. Bake for 15-20 minutes or until golden. Serve with the marmalade and cream.