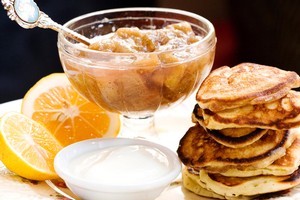 Rhubarb and vanilla jam
Makes approximately 1 litre
1 kg rhubarb
350g white sugar
1 vanilla pod
2 tsp finely grated lemon zest
2 tsp crystallised ginger, finely sliced
60 ml orange juice
120 ml water
Buttermilk pikelets
Makes 12
1 cup self raising flour
1/4 tsp salt
1 egg
cup caster sugar
1 tsp vanilla extract
3/4 cup buttermilk
butter for cooking
Thick Greek style yoghurt to serve
1. To make the jam, chop the rhubarb then put into a large pot with all the other ingredients.
2. Bring to a boil and cook for 45 minutes, stirring often, then pour into warm, sterilised jars.
3. To make the pikelets, sift the flour and salt into a bowl. In a second bowl, whisk the egg with the sugar, vanilla and buttermilk. Combine with the dry ingredients and mix until smooth.
4. Heat a frypan and add butter. When bubbling add spoonfuls of the mixture and cook. When small bubbles appear, turn over and cook until golden.
5. Serve warm with the rhubarb jam and yoghurt.