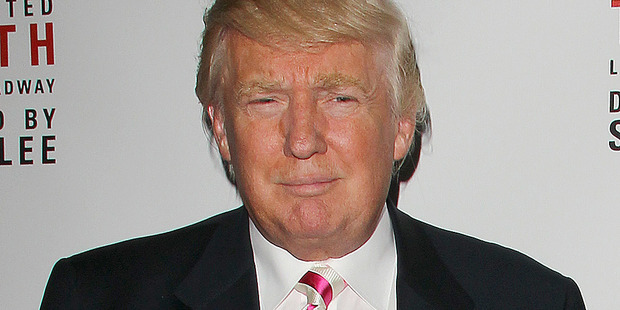 While the furore over topless snaps of Kate Middleton continues apace, there's no shortage of punditry when it comes to weighing in on the scandal.
Step forward business mogul Donald Trump, who's no shrinking violet when it comes to dispensing his opinions.
"Kate Middleton is great - but she shouldn't be sunbathing in the nude - only herself to blame," Trump tweeted yesterday.
He then added: "Who wouldn't take Kate's picture and make lots of money if she does the nude sunbathing thing. Come on Kate!"
Trump also chimed in on the scandal on US TV show Fox and Friends, saying: "While we're all fans of Kate, can you imagine why she would ever be out in the nude?
"Why would she be standing in the nude in a swimming pool or wherever she was. She's Kate. It's terrible what they did, it's terrible to take pictures, but boy, how can you do a thing so stupid?"
He continued: "Well, the Harry thing you can almost say he was less ... his security did a pretty bad job. But to be outside at a swimming pool without a top on and you're Kate ... you know. Maybe they can stop it but it is a very, very foolish thing she did."
According to the Daily Mail, the snaps in question were allegedly taken from over a half-mile away while Kate was sunning herself with husband William.
Laurence Pieau, the editor-in-chief of Closer magazine that published topless photos of the duchess, claims that the terrace of the villa where Kate and Wills were snapped sunbathing was "visible from the street".
The photos were taken "by a professional photographer with whom we have previously worked," she added. The snapper in question is now reportedly in hiding.
She also described the fallout as an "over-reaction" from critics and the royal household.
"There's been an over-reaction to these photos. What we see is a young couple, who just got married, who are very much in love, who are splendid," Pieau told French BFM television earlier this week.
"She's a real 21st century princess," she added: "It's a young woman who is topless, the same as you can see on any beach in France or around the world."
Shortly after the images were published, a royal spokesman described the photographs as a "grotesque invasion of privacy".
"Their Royal Highnesses had every expectation of privacy in the remote house. It is unthinkable that anyone should take such photographs, let alone publish them," said a St James' Palace official, adding: "The incident is reminiscent of the worst excesses of the press and paparazzi during the life of Diana, Princess of Wales, and all the more upsetting to the Duke and Duchess for being so."
Wills and Kate also announced they were launching legal action against Closer.
"St James' Palace confirms that legal proceedings for breach of privacy have been commenced today in France by The Duke and Duchess of Cambridge against the publishers of Closer Magazine France," the royals said in a statement.
'I HAVE BEEN THERE'
Sarah Ferguson says she has "total sympathy" for Kate in the wake of the topless photo scandal.
Fergie, the Duchess of York, pledged her support for the royal after topless snaps of the partially-clad Duchess of Cambridge were published in the French edition of Closer, Italian magazine Chi and the Irish Daily Star.
Ferguson can no doubt relate to Kate's situation.
The former royal was photographed topless while sunbathing - and having her toes sucked by US businessman John Bryan - at a remote villa in the South of France back in 1992.
Her poolside high jinks, published by the Daily Mirror, signalled the end of her marriage to Prince Andrew. The estranged pair divorced in 1996.
Speaking to the Daily Mail while on a promotional tour in the US for her latest children's book, Ballerina Rosie, Ferguson offered her take on the latest snaps scandal.
"I have total empathy and sympathy for her [Kate]," she said. "I have been there and know what it's like. Everyone is entitled to privacy. It is a devastating invasion of one's personal inner space. It is deplorable, abhorrent and despicable."
She concluded, "She is a beautiful young woman doing a great job for the country. Why should she be stripped of that moment with her husband?"
But while Fergie's words of sympathy will no doubt register on Kate's radar, rumour has it they've rattled a certain member of the royal household.
According to scandal sheet RadarOnline, Prince Phillip is "furious" with Ferguson.
"Prince Phillip is seething with Sarah Ferguson for poking her nose into the Kate Middleton topless picture affair," a source told the website.
"As far as he's concerned, she has absolutely no right to speak about the royals, considering she hasn't been one since 1996 and knows nothing about what is going on - remember she wasn't even invited to the wedding!" the source added.
Ferguson was not invited to the wedding of William and Kate in April 2011.
"Phillip thinks Sarah felt the need to compare Kate's topless scandal to her own in 1992 - just to grab a little bit of publicity. It's something he thinks she did to appear more favourable in the public eye.
"He thinks she will do anything to save face and get attention, and Phillip has slammed her to other family members," the source concluded.
'WHAT THEY'VE DONE IS DISGUSTING'
Kelly Osbourne has also come out in support of Kate.
Speaking on UK TV show Lorraine, the E! Fashion Police co-host labelled the decision to run the snaps of The Duchess of Cambridge as "disgusting".
"I think what they've done to her is disgusting, I really, really do," she said. "Everyone has the right to privacy no matter who you are, no matter who you are - it's disgusting.
"The thing is I don't get it is if she had a tan line they would rinse her for it, so she can't win either way so I just think it's really awful.
"The one thing that is hers is her body you know what I'm saying. Everything else belongs to the country."
'HE WAS NOT COMFORTABLE BEING EXPOSED'
Meanwhile, as the royal couple soldier on and continue their nine-day Southeast Asia and Pacific tour, E! News has published details of William's reaction to the publication of the topless photos.
"As you can imagine, William was upset about the situation," the website quotes Us Weekly's European bureau chief Omid Scobie, who was on the royals' trip, as saying.
"For the rest of Kuala Lumpur it was clear William was angry," said Scobie. "The news of the scandal had really got to him. He was not as comfortable as he has been on previous occasions. When he was around the press, especially the photographers, he had clenched fists and gritted teeth. He was not comfortable being exposed."
Shortly after the snaps came to light, Britain's Mirror tabloid reported that William had been the one to call in lawyers to sue French Closer.
"I don't want what happened to my mother to happen to my wife," William reportedly told his aides, while demanding police find who took the photos.
"I want them jailed," the tabloid quoted the royal as telling his pals.
"For the next day or so [after the news broke] William and Kate travelled from Malaysia to the Solomon Islands," Scobie said, "and it was during this time that the palace really managed to get a handle on things. They had started proceedings against the French magazine and knew exactly what their plan of action was.
"Once William and Kate knew that it was under control, they came to the conclusion that they were going to do their best to not think about it anymore. The royal motto is, 'Stay calm and carry on,' and that's exactly what they did," he continued.
"In the Soloman Islands they were feeling much better. The crowds that came out to greet them were overwhelming, there was so much love there for them and that really helped lift their spirits. They definitely looked to be feeling much more comfortable because everything was under control. Hopefully justice will be served."
EDITOR SUSPENDED
The editor of the Irish Daily Star, Michael O'Kane, has been suspended over his decision to publish topless photographs of Kate, BBC News reports.
Independent Star, which co-owns the paper with Northern & Shell, released a statement announcing the suspension.
"Independent Star Limited has suspended editor Michael O'Kane with immediate effect, pending an investigation into the circumstances that led to the Irish Daily Star re-publishing pages from the French magazine Closer, which contained images of the Duke and Duchess of Cambridge," the statement read.
"Independent Star Limited has no further comment pending conclusion of the joint investigation by the newspaper's shareholders."
The Dublin-based tabloid ran a blurry reproduction of the pages from Closer over two inside pages in its Ireland edition on Saturday.
Earlier, O'Kane defended his newspaper, saying that he was "taken aback" by reaction to the story in the UK.
"The Duchess would be no different to any other celeb pics we would get in, for example Rihanna or Lady Gaga," he said.
"She's not the future queen of Ireland so really the only place this is causing fury seems to be in the UK, and they are very tasteful pictures."
He said the newspaper ran the pictures as a "service to our readers".
FAST GOSSIP
And finally...
* Check it out: Newlywed Blake Lively kisses Ryan Reynolds, flashes engagement and wedding rings.
* Who's replacing Christina and Cee Lo on The Voice?
* Madonna on Lady Gaga: "Imitation is the highest form of flattery", says they'll share stage "very soon".
* Adele tapped for official Skyfall theme song.
* Arnold Schwarzenegger wanted "20-year-old honey" after marriage breakup?
* Rupert Everett not down with the idea of two gay parents.
* Annie Lennox ties the knot for the third time.
* Daniel Craig suits up in new Skyfall posters.
* Church of Scientology pens angry letter to Vanity Fair over Tom Cruise expose.
* Jennifer Aniston pregnant with triplets...in new spoof ad:
Follow Myrddin Gwynedd on Twitter.
- Rumour Has It