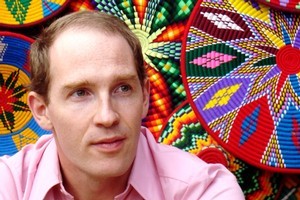 Dan Snaith wasn't much of a dancer until a few years ago - and he rarely went out to clubs to get his, um, groove on. That is until the Canadian, who's better known as Caribou, started frequenting London's Plastic People nightclub where he saw Detroit's genre-twisting house and techno producer Theo Parrish playing his monthly DJ residency.
He was intrigued by the diverse music he heard rather than the bog standard dance music you expect to be pumping out of club land.
"I sort of enjoyed it more than seeing a good band because the atmosphere was so great and the people were friendly. When you go to a gig you just stand there and watch, but when you go to a club you dance," he says on the phone from Montpellier in France ahead of this weekend's Splore-City festival in Auckland.
It was this happy descent into club culture that inspired him to move from the rich psychedelic beauty of his previous album, Andorra (2007), into a more dancey direction on Swim, his third album as Caribou.
Well, it's Snaith's definition of dance music at least, because while Swim glitches and swoons it also has its obtuse and raucous moments like on the primal majesty of house anthem Bowls, the racy din of Sun, and the shrill and warped ambience of Kaili.
So Swim, which made TimeOut's top 30 album list last year, is certainly more about the whimsical, cerebral side of oonst music than it is about pounding the boards of the dancefloor.
"The thing that excited me most about making dance music on this record was how strange dance music could be, and still be danceable, and still be able to be played in a club by a DJ. I was working on the idea that I just wanted something rhythmic, and something that could be eccentric."
And on Swim he reckons he's finally found his "sonic vocabulary" after well over a decade making music.
"You are only ever partially successful with anything you try to do with music. It is limitlessly difficult. In the past I've been happy that my music was identifiable with me to a certain extent but I felt like I could push that even further and with this album that happened more than any of the previous ones, definitely."
He makes mostly electronic music, yet Snaith's unique power is how he manages to give his songs a personality and sense of humour all of their own, especially on tracks like opener Odessa.
"It's important to me that recording it is not the central part of the music, the important part is to communicate something emotional, and something more personal rather than something that is just digital trickery."
The newly reissued version of Swim comes with a collection of bonus tracks remixed by various like-minded people, including experimental noise merchants F*** Buttons (who do an uncharacteristically mantra-like version of Kaili), minimal techno and trance boffin James Holden (with a woozy and stealth version of Bowls), and an unknown producer by the name of Altrice who won Snaith's remix competition.
"It's kind of an awesome story because we listened through 250 remixes but his one really grabbed me. I don't think he'd ever had a proper release at all, he's really distinctive and an awesome talent."
Snaith believes he is part of a scene, which can be loosely described as electronic dance experimentalists, which includes Fourtet (aka Kieran Hebden) who also plays Splore-City on Saturday.
"He's kind of like my longest standing musical brother," says Snaith, who likes to think of his remix project as being as much about friendships as it is about the songs.
"They are people who make music in the same sort of vein and who have inspired me, or people who I didn't know at all but I liked their music so it [the remixes] kind of gave me an excuse to tell them I like their music and ask them for a remix at the same time," he laughs.
-TimeOut