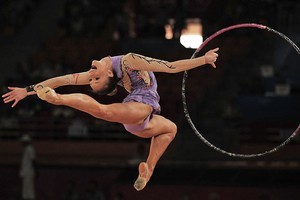 Highlights from day nine:
Tietjens' boys strike gold again
Arriving in New Delhi unbeaten in 17 sevens games at the Commonwealth Games, New Zealand this morning increased their streak to 23, wrapping up gold again with a heart-stopping win over transtasman arch-rivals Australia.
Farquhar settles for silver
Kiwi javelin thrower Stuart Farquhar recovered from a mechanical error which initially shortened one of his attempts to earn a silver medal in Delhi.
It's bronze this time for Willis
Nick Willis has bronze to go with gold after he came up short in his attempt to win back-to-back Commonwealth Games titles.
Silver Ferns set up golden clash with Australia
Silver Ferns captain Casey Williams wants a second Commonwealth Games gold medal, "just to be greedy".
Kiwis lining up for medal as tempers boil
Angry men with rifles were everywhere at Kadarpur today as an electronic target malfunction threw the Commonwealth Games fullbore shoot into disarray.
Kiwi has chance for golden double
Tireless New Zealand squash player Joelle King wanted nothing more than a massage and a good night's sleep before chasing twin doubles gold at the Commonwealth Games today.
See a full wrap of day nine
NZ results in Delhi - day nine
Medal update:
Gold 3 Silver 18 Bronze 7
A medal of each colour for New Zealand on day nine moving them ahead of Samoa into 11th spot. New Zealand would need another three golds to move up into the top 10 and overtake Scotland.
A stat Dave Currie might not want to hear:
The last time New Zealand finished with less than five gold medals was the 1970 Edmonton Games and has happened on only three other occasions (1930,1934,1958).
Full medal table
List of New Zealand medallists
What to watch for - Day 10:
Kiwis in action schedule
Medal hope
The New Zealand women's hockey team a guaranteed a medal, just whether it will be gold or silver is the question as they face off against Australia in the final.
Don't miss:
Lawn bowls:
Ali Forsyth and Val Smith are through to the knockout round and will be gunning to win New Zealand's first bowls' medal in Delhi later tonight (11.25pm).
Cycling:
After a very successful Games, the New Zealand cycling team return to the road for one last chance to add to their 10 medals so far. Look out for Linda Villumsen, Melissa Holt, Alison Shanks in the women's 29km race (5.55pm) and Gordon McCauley, Jack Bauer, Jesse Sergent in the men's 40km race (8.25pm).
Squash
Jaclyn Hawkes and Joelle King have a chance to add another gold to new Zealand's tally when they take on an Aussie duo in the women's doubles final (6.25pm). Then straight after the match King lines up with Martin Knight in the mixed doubles final as she goes for two golds in one afternoon (7.55pm).
Shooting
The Kiwi fullbore rifle pairing of Mike Collings and Ryan Taylor are in medal contention heading into the final day of competition, the 1000m round.
- Herald online