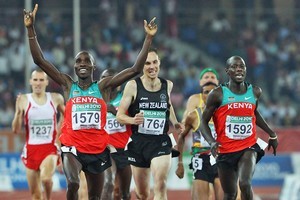 Nick Willis has bronze to go with gold after he came up short in his attempt to win back-to-back Commonwealth Games titles.
Kenyan Olympic champion Asbel Kiprop was not in Delhi but in his place was Silas Kiplagat, the heir apparent.
Willis admitted before the race he knew little about the Kenyan other than the fact he ran three seconds faster than he'd ever run at a meeting in Monaco this year. That was the first time Kiplagat had raced outside of Africa. It marked him as an athlete of frightening potential.
Last night's finishing time of 3m 41.78s was slow and the 21-year-old cantered the final 30 metres of the home straight.
Paced races like those on the European circuit bear little resemblance to the hurly-burly of championship finals - they tend to be won in the final 300m, as Willis can testify to after blitzing the field from that point in Melbourne four years ago.
"I was happy with bronze, it should have been silver but I didn't have quite the zip of Beijing. My x-factor is missing over the last 70 metres.
"I had high hopes but realistic expectations, anywhere from first to sixth was a possibility. The quality of the field was stronger than Melbourne. Guys fell over there and Kenya did not send its best team either."
Willis was expected to have a tactical and mental edge on his opponents. After all, nobody else in the field had an Olympic silver medal tucked away in his socks drawer.
He accepted that he was beaten by better runners, despite a kerfuffle at the 900 metre mark.
"I got spiked and the two Kenyans who beat me almost went down too, that would have been something: winning two Games in a row because of trip-ups. But my wife and I prayed the best man won on the day, be it because of good drug testing or safer tactics.
"I'm proud I gave it everything and executed almost as good a tactical race as I could, considering the circumstances. Maybe I needed a faster pace but if I had I sacrificed myself up front the two Kenyans would have beaten me anyway."
Willis revels in the mental side of the sport. A keen athletics historian, he knows all about John Walker's silent statement in the calling room at Montreal, where he stripped off his tracksuit before anybody else and made sure they all copped a look at the black singlet with a silver fern, an instrument of fear in middle distance running during the 1960s and '70s.
It was not on the same scale, but you couldn't help but be impressed with Willis' post-race performance on Monday night.
After he cruised home in fourth to book an automatic final spot he made a point of running jauntily straight off the track into the mixed zone while most of the field was left hunched over, hands on knees, drained by their efforts.
Willis was also conscious that if he had won he would have joined Kenyan Kip Keino (1966 and 1970) and Steve Cram (1982 and 1986) as back-to-back Commonwealth 1500m winners.
"That did occur to me," Willis said. "I thought what a privileged opportunity to have a chance to belong in those guys' presence. It was not necessarily for the public accolades but because I really look up to runners like that."
Adrian Blincoe, the other New Zealander in the race, finished tenth, almost three seconds behind the winner.