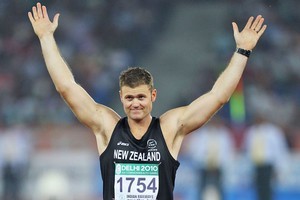 Kiwi javelin thrower Stuart Farquhar has picked up a silver medal at the Commonwealth Games in Delhi.
Stuart Farquhar of Hamilton threw 78.15m, beaten only by Jarrod Bannister of Australia, who threw 81.71m.
Indian Kashinath Naik took the bronze with 74.29m.
As well as battling the other competitors, Farquhar had to scrap it out with the officials, after they mismeasured one of his throws.
He was stunned when the electronic scoreboard flashed up what proved to be his second-best throw as 72 metres, and stalked over to the officials.
"When I saw the number go up on the board I couldn't believe it, I knew it had gone over the 75m mark so I just had to go up and protest.
"They weren't going to do anything about it and then when they checked all of a sudden the board changed."
The throw was recorded as 76.39m, a distance he did not beat until his sixth - and final - throw.
"I don't know how this sort of thing happens, I guess it's India.
"I'm absolutely delighted it was a really good performance, it was difficult throwing conditions but my experience really helped, now I'm certainly going to dig in again and push through to London (2012 Olympics)."
The medal ended a successful track and field Games for New Zealand, who won a gold to shot putter Val Adams, and five silvers - Farquhar, decathlete Brent Newdick, Jess Hamill in the F34 shot put and Nikki Hamblin in the 800m and 1500m.
1500m runner Nick Willis and 100m hurdler Andrea Miller won bronze.
- NZPA