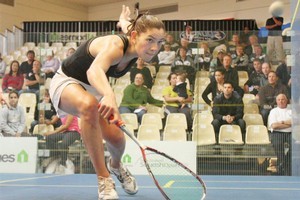 Tireless New Zealand squash player Joelle King wanted nothing more than a massage and a good night's sleep before chasing twin doubles gold at the Commonwealth Games today.
King is maintaining New Zealand's fine tradition in doubles squash at the Games after winning three gruelling knockout games overnight (NZT) to advance to the women's and mixed doubles finals.
Just minutes after winning her women's doubles semifinal with Jaclyn Hawkes, King was back on the show court with Martin Knight to for a mixed semifinal triumph. She spent about 2-1/2 hours on court in total, including a mixed quarterfinal win earlier.
The finals will also be in close succession tonight (NZT), leaving King wary of being weary when the golds are decided.
"At the moment I'm feeling good physically and mentally as well," she told NZPA soon after her marathon session ended.
"But I've had three games so it's important I get back to the village, hopefully get a good night's sleep and a nice massage."
The 22-year-old from Cambridge has been a revelation at the Games. The world women's No 20 played well above her station in reaching the singles quarterfinals while she has dominated all her opponents on the forehand side of the doubles court, including women's world No 1 Nicol David of Malaysia in the mixed semi.
"Nicol is a great singles player. She's the best in the world and it can be quite intimidating when you come up against opponents like that," King said.
"I just put it out of my mind, no matter who I play and just try to stick to my game plan which is my power and getting in front of my opponent. That's what I did tonight and it came off really well."
King said the women's semifinal wasn't too taxing as third-seeded Australians Lisa Camilleri and Amelia Pittock targetted Hawkes' backhand before the fourth-seeded New Zealanders adapted and fought back to win 5-11 11-5 11-5.
It sets up a final against English second seeds Jenny Duncalf and Laura Massaro, who will be better rested after playing their semi seven hours earlier. There they beat top seeds Kasey Brown and Donna Urquhart 6-11 11-5 11-4.
The 11th-seeded King and Knight beat David and Ong Beng Hee 11-7 11-10 and were to face Australians Brown and Cameron Pilley in the final.
The New Zealanders are poised to join the list of doubles medallists New Zealand has produced since squash was welcomed to the Games at Kuala Lumpur in 1998.
Glen Wilson and Sarah Cook won a mixed bronze that year while two golds were dished out in 2002 at Manchester - to women Leilani Rorani and Carol Owens and mixed pair Rorani and Glen Wilson.
Four years ago Shelley Kitchen and Tamsyn Leevey claimed silver at Melbourne, rewarding the extra focus New Zealand places on doubles compared to other nations.
"Obviously we came here with a goal in mind. Two more matches and those goals will be fulfilled," King said.
"Since I've got to the Games I've played pretty well. The camp that we have back in the village is just phenomenal. We had support out here tonight and it really has brough the best out in all of us.
"It seems pretty surreal at the moment."
It was an awkward start to the day for King and Hawkes, who squared off in the mixed doubles quarterfinals. King and Knight trumped Hawkes and Campbell Grayson 11-6 11-9.
- NZPA