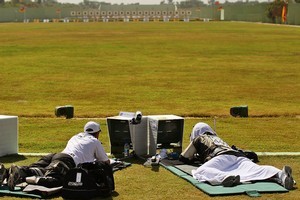 Angry men with rifles were everywhere at Kadarpur today as an electronic target malfunction threw the Commonwealth Games fullbore shoot into disarray, and through the red mist New Zealand emerged with two medal prospects.
New Zealand fullbore pair Mike Collings and John Snowden lie in second place in the pairs, with only the final stage over 1000 yards tomorrow remaining.
Bay of Plenty marksman Collings is fifth in the singles, one point off the lead, after frustrating day in which target problems forced him to reshoot his entire 900 yard series.
On the fourth day of the five-day competition, the targets went haywire for the morning and afternoon shoots over a difficult 900 yards.
Hits were either not being recorded, or incorrectly registered, with the same shot placement popping up time and again.
Collings was among those forced to retake their shoots, angering those who felt they had shot well only to be let down by technology.
Frustration ruled, and shooting was held up as protests and counter protests were lodged, all to be eventually dismissed, New Zealand manager Tony Waymouth told NZPA.
Welsh pair Gareth Morris and Robert Oxford suffered most, slipping out of the lead and plunging to fifth.
Collings and Snowden had handled the unexpected pressure well, Waymouth said.
"Mike went away and locked himself in a room to get away from all that was going on," he said.
Collings emerged from his oasis of calm to have the second-best individual score of the afternoon.
"He's up there and knocking on the door."
New Zealand are one point behind Australia in the pair, having scored 445 from a possible 450 over four arduous days.
Canada are on 444, Scotland 443, and the unlucky Welsh 442.
Australian James Corbett led the singles on 326, on countback from teammate Geoffrey Grenfell, with David Calvert of Northern Ireland, South African Petrus Haasbroek and Collings all on 325.
New Zealand had little success at the Commonwealth Games rifle range, failing to show out in either the men's or women's 50-metre prone competitions.
In the men's 50-metre prone pairs New Zealand were eighth, landing 1166 from a possible 1200.
Ryan Taylor of Levin scored 588 after shooting a perfect 100 in the first series of six, while Cantabrian Adrian Black made a poor start with 94, and ended up totalling 578.
Scotland took gold with 1181, England silver on 1178, and Australia bronze on 1174.
New Zealanders Sally Johnston and Julie Etherington finished out of the medals in the Commonwealth Games 50m prone rifle singles in New Delhi today.
Johnston of Lower Hutt, 30, was ninth on 586 out of a possible 600, with Etherington one point back in 11th.
Aucklander Etherington opened well with 97 and 100 in her first two series, out of a possible 100, to lie in a tie for fourth, but could not maintain that form throughout the six-series shot.
Scot Jen McIntosh won gold with a Games record 597, ahead of India's Tejaswini Sawant on 594 and Welshwoman Johanne Brekke third on 593.
- NZPA