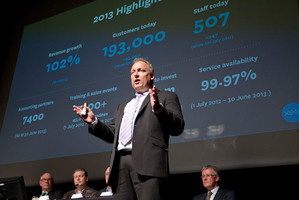 With chief executive Rod Drury "bouncing around over the world", accounting software firm Xero is hunting for a New Zealand managing director to handle local operations.
Xero, whose share price has surged almost 500 per cent in the last year, has its eyes on tackling the United States market and recently raised $180 million of capital to grow the business.
Drury said he was overseas a good deal and there was enough going on within the New Zealand operations to hire someone to manage it full time.
"With me bouncing around over the world at the moment we figured there was enough work for a full time person," Drury said.
"We've sort of been covering it ourselves but I think we're of a size now and a lot of our strategic projects just need somebody full time on them and I'm spending more time in the US and travelling around," Drury said.
Drury said the company had a number of local projects on-the-go, including work with New Zealand's farming sector and integration of its services with internet banking.
"New Zealand's becoming a bit of a test lab for other services which we can roll out overseas which is one of the great reasons for continuing to invest here," Drury said.
Local sales accounted for around a third of Xero's revenue as at September 30, behind Australia which made up around 42 per cent.
In its last results Xero said around 85,000 of its 211,000 paying customers were New Zealand-based
Xero' shares are presently trading for $36, giving the company a value of $4.6 billion.