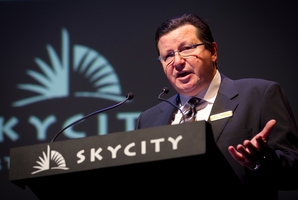 Australian and New Zealand expansion will transform SkyCity Entertainment Group into a very different business in five years, about 500 shareholders heard in Auckland yesterday.
Chief executive Nigel Morrison said the A$350 million ($398 million) Adelaide casino rebuild and expansion and the proposed $402 million International Convention Centre in Auckland would create a new entity with a strong future.
Chairman Chris Moller said those deals had support from the Australian and New Zealand Governments.
"Our success in procuring the agreements in Auckland and Adelaide this year are testament to the fact that, not only do we have a crucial role to play in the redevelopment and marketing of cities but that we have the trust and confidence of governments."
Morrison said the Adelaide deal had been "put to bed" politically but enabling legislation for the Auckland project was yet to be passed.
He also gave a trading update from July 1 to October 13 which showed Auckland casino revenue was up, but total revenue before one-time items fell to $268.7 million compared to $276.5 million in the year-earlier period.
Shareholder Coralie van Camp questioned Morrison about SkyCity's funding of Act leader John Banks and the pokie-for-convention deal, criticising him for "not touching enough on negative publicity on the pokies and convention centre deal and whether it's a media beat-up" in his presentation.
"You're perceived to be too close to National Party politicians," she said, encouraging the company to avoid political scandal by not demanding the extra gaming capacity.
Moller said no one else was stepping up to pay for the convention centre and the business could not justify funding such a big new asset in any other way.
Morrison said corporate host social responsibility measures were taken very seriously and problem gambling was falling in New Zealand.
"We're about fun and entertainment and we have no interest in causing harm. We have no interest in problem gamblers. As [company secretary] Peter Treacy would say, we don't want to take people's rents. That's not what we're about," Morrison said, citing a $5 million annual spend on customer care and host responsibility measures.
Criticism of the business had been "brutal" in the last 12 months and SkyCity had examined what it did closely, Morrison said.
Ministry of Health figures showed problem gambling down from 0.4 per cent of the population to 0.3 per cent "so that's gone from four out of 1000 people to three out of 1000", Morrison said. Yet smoking harmed 20 per cent of the population and hazardous drinking 18 per cent, he said.
New host responsibility measures include doubling the number of staff in Auckland, introducing predictive modelling technology, the pre-commitment programme which allowed customers to set time and dollar limits and facial recognition technology to identify and prevent barred problem gamblers, Morrison said.
Another shareholder asked for a dress code in the Auckland casino, complaining about people wearing steel-capped boots, gumboots, singlets, Jandals and knee-length florescent garments.
"Every time a casino has put in a dress code, it's gone backwards," Morrison said.
More carparks were also needed, Morrison was told and he acknowledged that issue.
He said Auckland's underground SkyCity carpark sometimes had to shut around 6pm because it was full. A new convention centre would resolve that, he said.
SkyCity will issue further guidance on its June 2014 year performance at the half-year result to be released on February 12, Morrison said.
The company's shares closed down 15c yesterday at $3.94..