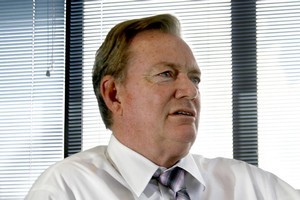 Embattled Employers Association boss Alasdair Thompson twice walked off an interview with a reporter for TV3's Campbell Live tonight after being questioned about controversial comments he made today on why women earn less than men.
"Women take more sick leave than men," Thompson told reporter Mihirangi Forbes. "I know it's an awful thing to say, but it's true."
Employers and Manufacturers Association chief Thompson is sticking by his claim the gender pay gap is due to women having monthly "sick problems", babies and needing to take extra leave.
Thompson stormed off in mid-interview twice during the programme, taking offense to the reporter's questions about his comments. He also refused to provide documentation of his claims that women's menstruation is affecting their productivity.
When asked if he had figures, Thompson said, "I don't do roughly." He then abruptly ended the interview.
Mr Thompson earlier today admitted there was a gender pay gap in New Zealand.
He told Newstalk ZB it was partly explained by some women needing sick days every month, along with extra time off to care for children.
"Let me get down to tin tacks. The fact is women have babies. They take time out of their careers.
"Look at who takes the most sick leave. Women do, in general, why? Because once a month they have sick problems. Not all women, but some do they have children they have to take time off to go home and take leave of...
"I don't like saying this because it sounds like I'm sexist but it's a fact of life."
His comments came during a debate this morning on Green Party MP Catherine Delahunty's member's bill to amend the Equal Pay Act.
It would see women given access to information about pay rates in their workplace to test if there is gender-based discrimination.
Reaction from MPs
Members of Parliament from all sides of the House were rejecting Mr Thompson's comments today.
Labour Minister Kate Wilkinson said it was "ridiculous and ludicrous."
She would not say if she thought he should be sacked, but said if she was his boss she would "certainly give him a good telling off."
She would not rule out working with him in future, saying she was
open to talking to anyone with good ideas about employment laws.
"He doesn't always have a brain explosion. He did this time though."
Auckland Central MP Nikki Kaye said she did not share Mr Thompson's
view.
Green MP Sue Kedgley said it should be a "severe embarrassment" to the EMA.
"To have someone with those sort of neanderthal views head of a major employers' association undermines the credibility of the whole organisation.
"At least some of the true attitudes that employers hold are
coming out, but they are pretty shocking and utterly sexist."
Act MP Hillary Calvert said it was not her experience that women took more days off because of their periods, although they did tend to
care for sick children more - a job she thought should be equally shared between mothers and fathers.
She said it was a "brave call" for Mr Thompson to make, but "I
don't think it's one I would have made."
Green co-leader Russel Norman said the EMA was clearly still in the
1850s and should try having a female chief executive.
"Basically what he said was that women should be paid less
because they menstruate. That's what he said, let's not gloss over it.
"And I think that's an outrageous thing for the head of an
important organisation in New Zealand to say. If he wants to live in the middle ages, maybe he should get a different job."
He said it was up to the EMA to decide, but many in New Zealand would be wondering if it was appopriate.
Thompson defends himself
Mr Thompson told the Herald he supported equal pay for equal work and his statements reflected the "facts of life".
More productive workers should get paid more and women often had family responsibilities that made them less productive, he said.
"The socialists don't like it. Labour doesn't like it. The unions don't like it. But am I to be pillorised because I accept some things are the facts of life?"
He claimed people would agree with the "guts" of his statements.
"His ideas are 19th century"
CTU boss Helen Kelly said the comments showed Mr Thompson needs to retire.
"He passed his best when he stopped being the Mayor of Thames."
Mr Thompson's ideas showed the latent sexism of those advising the business community, Ms Kelly said.
She said the gap between women's and men's pay was mainly due to workplace discrimination.
"Look at the EMA board. It's all white men.
"These are the people that are providing hundreds of hours advising business in New Zealand... He's spreading it. He's creating the space for these ideas to take root."
Ms Delahunty said Mr Thompson's ideas were "19th Century" and a possible breach of the Equal Pay Act 1972.
"He's saying we're not entitled to equal pay because women are women - because we have the capacity to give birth and have children. He's in a leadership role and it's pretty much rubbish.
"It shows worrying prejudice. It's actually illegal to discriminate against women.
"Alasdair Thompson needs to get with the programme."
She said her member's bill would modernise New Zealand's pay laws.
- with NZPA