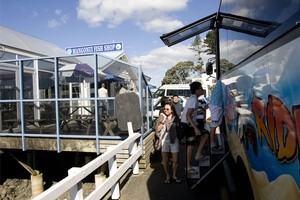 China Southern Airlines' first flight to Auckland touched down on Saturday boosting access to a burgeoning Chinese middle class, but tourism industry leaders say more needs to be done to grasp the opportunity.
China Southern's service will travel three times a week between Guangzhou and Auckland, joining Air New Zealand in flying direct to the mainland of the communist country with a capitalist attitude.
According to Statistics New Zealand, Chinese visitor numbers grew 31.2 per cent in the year ended January to 127,837 people, making it the fourth biggest market after Australia, Britain and the United States.
The new route is expected to bring in 25,000 visitors in its first year, with an estimated $75 million of extra value to the economy.
Auckland Airport CEO Simon Moutter says Chinese outbound travel has quadrupled in the past decade to 46 million trips, which makes New Zealand's current share about 0.3 per cent.
"If you trebled that [visitor numbers to New Zealand] that would be a not-unreasonable objective in the next 10 years," Moutter says.
The growth in outbound travel is being fuelled by a soaring number of Chinese middle-class and affluent consumers which a Boston Consulting Group report last year estimated would increase from 150 million to more than 400 million over the next decade.
"It comes down in the end to our country and our tourism operators and all of our businesses working very strategically on song ... to be very successful in building preference, early destination preference, for Chinese."
New Zealand is playing a bit of catch-up to some countries, he says.
"We're certainly not last but I would even cite Australia as having had a more committed and successfully strategy on China to date."
There is still a challenge from a mindset that Chinese and other Asian visitors are low-value tourists, he says.
"It's because they spend their money on different things and they tend to be relatively short stays because they mostly come on a dual destination holiday via Australia."
The industry needs to adapt to maximise the opportunity, provide good itineraries and deliver products wanted by Chinese visitors, Moutter says. Chinese visitors were actually high spenders per day and liked shopping, dining and walking.
"They do tend to favour ... the less frightening tourism activities, and are probably a bit less inclined to hang from a big bungy cord."
A survey by the Ministry of Economic Development shows Chinese visitors spent $362 million in the year ended December.
Most markets start with group-based multi-destination holidays but as they mature they develop more free and independent travel on a single destination visit, staying longer and with higher value, Moutter says.
"I think it [China] will go through that life cycle much quicker than the Japanese market and the Korean market did."
Malcolm Johns, chief executive of InterCity Group says Chinese travellers have specific needs, including signage, guide maps, brochures in Mandarin, familiar cuisine and some certainty about what to expect.
The company, which markets in China under its GreatSights brand, has written a five-year development strategy for the country.
"It's about providing them with information that clearly outlines what will be delivered and then providing them with support systems so that while in the midst of the their experience of New Zealand they've got something to fall back on if they want some more information," Johns says.
InterCity was not the first company to develop a strategy for China, Johns notes.
"But I'd say that 80 per cent of the industry is not sufficiently knowledgeable about enough of the Chinese market and working with the Chinese trade in particular to really get New Zealand's fair share out of the equation."
The tourism industry adapts and evolves quickly, he says.
"A large part of the industry needs to start the journey of engaging with the China market but I have no doubt that they will start that journey."
The Chinese are skilled business people and relationships are the first foundation of a commercial transaction, Johns says.
"If you haven't to this stage got a portion of your business that's coming from China, it's not because the Chinese aren't coming - it's because you haven't taken the time to work out how your business can get inside the sale equation for the Chinese market."
Air New Zealand, which started direct flights to China in 2006, and operates services to Shanghai and Beijing, in February said it would start two additional direct services next summer.
Air New Zealand deputy chief executive Norm Thompson says China Southern starting direct flights is great news.
"We welcome them into the market place because what will happen is that with their presence in China the whole New Zealand brand will grow further, there will be a greater awareness and hopefully in a high tide all boats will rise on as a result of," Thompson says.
New Zealand's 100 per cent pure image was a perfect fit in China.
"A lot of these people have never seen a coastline," he says. "They're experiencing the natural environment here and that's what they certainly talk a lot about."
Thompson, who is also chairman of the Tourism Industry Association, says competition from other countries means the Chinese market can not be taken for granted.
"We've got to be smarter and be a hell of a lot more active than probably what we are today if we're seriously wanting to grow this market," he says.
It will probably not be long before China overtakes the United States for third place in visitor numbers, he says.
"We wouldn't have announced the additional services to be daily from November if we didn't believe that that growth was there."
Tourism New Zealand chief executive Kevin Bowler says the new services will encourage more single destination travel, which, with the likelihood of longer stays, is more valuable.
Chinese outbound departures are expected to hit 100 million during the next five years, Bowler says, "What we're looking to do is to ensure that we gain a little bit of a share of that 50 million additional growth."
Tourism New Zealand has commissioned research to understand what Chinese visitors like most about New Zealand, and to identify areas for improvement.
"I'm anticipating we'll see a request for better language - whether that's written, signage or more Chinese speaking guides. I'm thinking there'll be a level of interest in more Chinese cuisine."
Tourism New Zealand spends more than $10 million a year in China, with marketing focused on people with New Zealand on their shortlist.
"Reducing wastage ... trying to use the advertising to close the deal with people already considering New Zealand as an option for them."
Traditional media such as television did not figure greatly because of the cost and the fact it was not particularly well targeted. Marketing channels included digital media, search engine optimisation, touch screens in the back of taxis and using China Southern's frequent flyer database.
Tourism New Zealand is also working closely with Immigration New Zealand on easier access to visas. At the moment it is easier to get a group visa rather than for independent travel.
"In a way we are handicapping ourselves in terms of the visitor outcomes because people are coming as part of a group because it's easier to get their visa that way."
There has been a short-term reaction and some cancellations in the China market because of the earthquakes in Christchurch and Japan, Bowler says. "But we're pretty confident that it'll be quite resilient so within a matter months we think it'll be back to the pattern that we were in a couple of months ago."
Bowler says Chinese visitor numbers will top 200,000 within a couple of years.
"In a way, chasing the volume is actually quite easy - I think the real challenge for us is to ensure that we capture high quality visitors who stay for decent lengths of time and participate in the activities that New Zealand has on stream."
Chinese visitor arrivals to New Zealand
How many?
* 127,837 in the year ended January, up 31.2 per cent
* 89,966 stayed between 1-7 days
* Fourth biggest market behind Australia, Britain and the US
* $362 million spent in year ended December
* 180,000 arrivals forecast in 2016 (as at July 2010)
Who are they?
* 61,977 aged between 35-54
* 85,960 on holiday
* 19,770 visiting friends and relatives.
* 10,834 on business
Which airport?
116,978 Auckland
8762 Christchurch
933 Wellington
676 Queenstown
China Southern Airlines
* Largest airline in China
* Fourth biggest carrier in the world
* 400 Boeing and Airbus jet aircraft
* More than 66 million passengers in 2009
* Serves 898 cities in 169 countries
- Sources include Ministry of Economic Development and Statistics New Zealand