Holden driver Shane van Gisbergen and his Whanganui co-driver Earl Bamber had to settle for third in the Pirtek Enduro Cup and van Gisbergen has lost his points lead in the 2018 Virgin Australia Supercars Championship after a rough Saturday on the Gold Coast.
The Kiwi pairing had finished second at the Sandown 500 and then fifth in the Bathurst 1000 to be sitting in second overall for the Enduro Cup section of the Supercars season, coming into the weekend's Vodafone Gold Coast 600.
Co-driver Bamber started in the car on Saturday and moved it up from ninth on the grid to seventh, before having dropped back to 11th when a Safety Car was called out onto the track.
A miscommunication for Red Bull Holden Racing Team saw Bamber coming into pitlane for the first round of stops at the same time as team mate Paul Dumbrell, who was co-driver for Jamie Whincup.
The "double stack" with both cars in the same pitbox created problems and Bamber picked up a drive-through penalty for an unsafe release during the confusion.
Just as bad, Dumbrell stalled for a moment trying to get quickly out of the pitbox and then accidently struck another car, leading to a drive through penalty for an incorrect merge.
After both Holden cars had come back around and driven through pitlane to serve their penalty, Dumbrell as 21st and Bamber 22nd in the congested field.
Van Gisbergen did not get into his car until Lap 64, by which time Bamber had fought his way back up to 19th, and the series leader did well on his recovery drive to finish 10th.
However, fellow Kiwi Scott McLaughlin took his Ford to fifth place to evaporate Van Gisbergen's 19 point lead in the V8 Championship and leapfrog him by 14 points
It was a disappointing end to what was looking like a promising weekend as Van Gisbergen had set the pace in Friday's qualifying, only to strike a kerb during the Top 10 shootout, meaning Bamber have to start back in the pack.
Sunday's racing was then washed out after attempted restarts following Lap 37 and then Lap 42 of the scheduled 102 lap race, ultimately being cancelled at 4.25pm Gold Coast time.
The van Gisbergen and Bamber team were in eighth place at the time.
On Saturday, van Gisbergen accepted the 10th place as the best they could have done given the dramas.
"But that's the best thing about this team, we did make a mistake but the way we rebounded, [with] strategy and then the pit work was awesome.
"Earl did fantastic in clean air and we almost got the drive-through back with him, 10th after that was pretty good.
"Pretty awesome driving through the field like that."
Sunday's rain out meant there were no more points awarded and as a result, the Autobarn Lowndes Racing team of Craig Lowndes and co-driver Steven Richards won the Enduro Cup title, 87 points ahead of McLaughlin and co-driver Alex Premat, while van Gisbergen and Bamber drifted another 33 points back to finish third.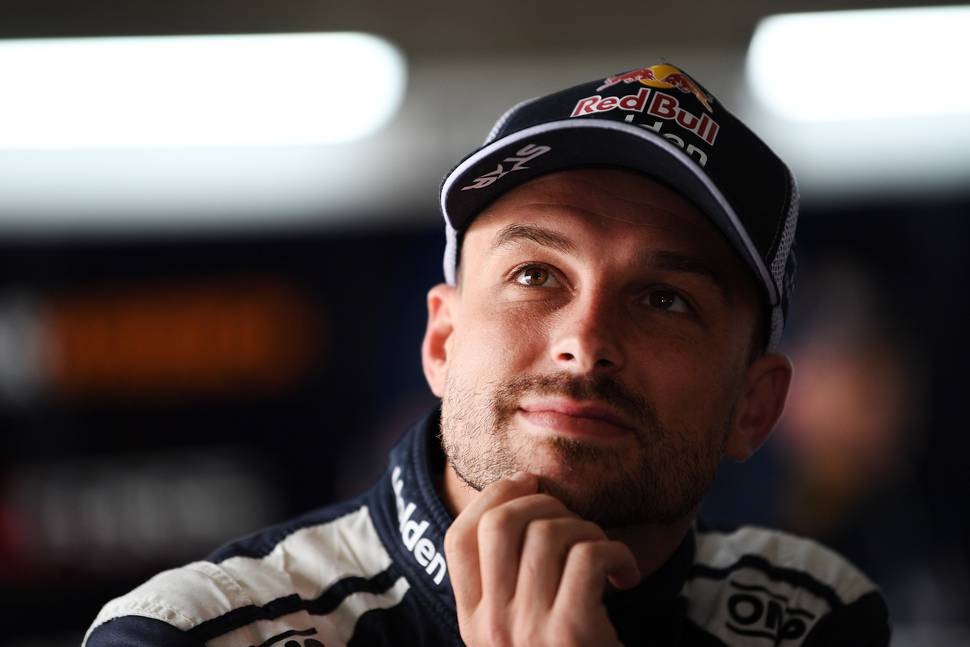 Nonetheless, Bamber has enjoyed his three Supercar events, commenting to Fairfax media after Bathurst that he definitely wants to return.
"To be able to join Red Bull Holden, who are an awesome team, and to do this with Shane was great.
"Also to see Lowndsey [Craig Lowndes] win and experience the fans here was a fantastic experience.
"I'm definitely going to try to come back and do a few more of these.
"The goal is to win the thing one day and you've got to be in the race to do that, so I'll keep coming back a few more times."
It remains to be seen if Bamber will join Red Bull next year given Lowndes is retiring from fulltime competition and will join them as a co-driver, while Dumbrell has been Whincup's go-to man for several years.
However, owner Roland Dane was singing Bamber's praises coming into the Gold Coast event, which could be a good sign.
"The guy's just outstanding," Dane said.
"To me, when you take into account his Supercars experience especially, and his Bathurst experience which is limited to a couple of 12 Hours - but not necessarily many laps because he's part of a four-driver crew - that was probably the outstanding co-driver performance of the [Bathurst] weekend."
Bamber recovered from a slow brake rotor change at Bathurst to drive the car up from 16th to fifth when van Gisbergen got back behind the wheel.
"But particularly that stint where he had to push on, and he did," said Dane.
"He was very effective, didn't get into strife, didn't get into trouble, he just passed people.
"He was exceptional."
As well as the Supercars, Bamber and his Belgium team mate Laurens Vanthoor raced for the factory-backed Porsche GT Team in the 2018 WeatherTech SportsCar Championship for the American-based season.
They finished fifth overall in GT Le Mans class, having picked up one race win and three other podiums in the 11-event season.
Pirtek Enduro Cup Final Points
1. Craig Lowndes & Steven Richards, Autobarn Lowndes Racing, 696 points; 2. Scott McLaughlin & Alexandre Prémat, Shell V-Power Racing, 609; 3. Shane van Gisbergen & Earl Bamber, Red Bull Holden Racing, 576; 4. Scott Pye & Warren Luff, Mobil 1 Boost Mobile Racing, 546; 5. Chaz Mostert & James Moffat, Supercheap Auto Racing, 546.