"Get comfortable being uncomfortable".
That is the motto of former Rotorua man Jamie Milne whose ultra marathon running exploits are set to feature on the big screen.
The 40-year-old grew up in Rotorua, before joining the Royal New Zealand Navy, and now owns a gym on the Sunshine Coast in Australia.
He has run a number of ultra marathons, many of them for charity, including running the length of the North Island twice and the South Island once.
Now, interested in the mental side of suffering through pain and pushing the body to the limit, he is taking on the 10 toughest ultras in the world over 10 years and a film company has come on board to document his progress in a series called Wairua Spirit: Get Comfortable Being Uncomfortable.
"Ultramarathons are my sport of choice, I've done a series of really, really long runs for charity.
"I kept wondering how the human body keeps going - I was fascinated by the non-tangible drivers, how people keep motivated and can continue to function, even when they're really fatigued," Milne said.
He was fascinated by the mindset and sports psychology behind endurance racing, before beginning to wonder about how it all ties in to Māori culture.
"Things like the wairua spirit, ancestors and just māori as a people. I wondered if there was something in amongst that which makes us that little bit different to other people. That started a thought process and I was fortunate enough to work with some pretty intelligent people - doctors and lecturers who said 'why don't we research it'.
"That's where this documentary Wairua Spirit was created and over the last year we've been documenting things. The University of the Sunshine Coast conducted an ethically approved case study on myself to see some of the evidence on mental toughness and pain tolerance as it relates to endurance.
"So I put together the 10 most difficult ultras in the world, got the university research team behind me and a film company called Shot Imagery jumped on board and away we went."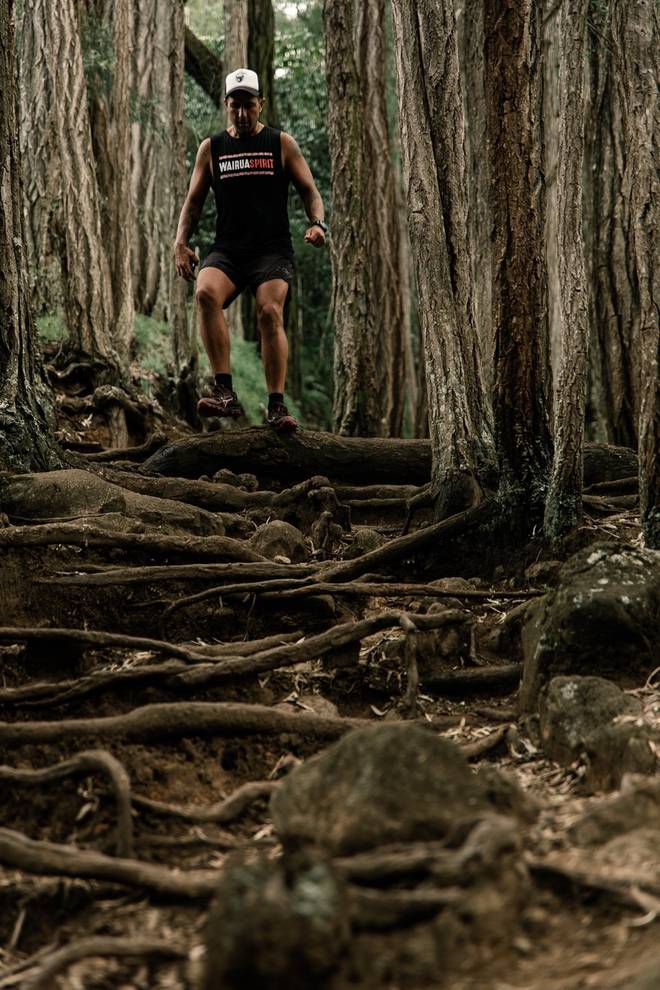 The first episode, which comes out on April 30, follows his preparation for and completion of the Hawaiian Hurt 100, a 100-mile race.
"I've done some pretty long and crazy things, but this was by far the most difficult, it was just horrendous. The elevation was only a few hundred metres shorter than Mt Everest, it was huge.
"It took me 34-and-a-half hours, the cut off was 36 hours and 50 per cent of the field didn't finish. It was full on."
Born and raised in Whakarewarewa, it was a visit home which really opened Milne's eyes to just what he might be capable of.
"I did a few training runs and some filming in Rotorua and we got in contact with [Rotorua-based inspirational speaker] Ngahi Bidiois. He has played a really integral role in the documentary and almost indirectly, in my short experience with him, I found him to have really impacted my life in a very short period.
"I think māori people and their ancestors - we are very unique and in a sport that requires a level of suffering, endurance and mental toughness, māori people are warriors and I thought 'wow, there's something here'."
During a long race, when he is really hurting, it is that Māori spirit and his ancestors that Milne calls upon.
"Ngahi said to me in one of our meetings, 'Wherever you go, all your people go with you Jamie'. I thought 'I'm a nobody from nowhere, I'm just a 40-year-old having a crack at some of these things', but he said 'it's not just you, you're not just a 40-year-old guy having a midlife crisis and going for a run, you've got all your ancestors going with you and going in front of you to pave the way and open doors for you'.
"Before Hawaii, Ngahi told me 'kia kaha be strong, kia maia be courageous and kia manawanui be steadfast'. I hung on to those three phrases like they were my lifeline during that run. When I was falling asleep on my feet, in pain and wondering why I was even bothering, I hung on to those words.
"Even in life now, back home, working and dealing with life's trials and tribulations, I hang on to those key things he passed on to me. It's become bigger than just the run itself.
"I went to Whakarewarewa School, I was raised with maori culture and I had almost turned my back on it. But, here I am at 40 doing a 360 degree turn. I own a big gym on Sunshine Coast and I busy myself, but here's this man from Koutu who spoke with me a couple of times and really impacted my life. That has been the catalyst for this documentary."
While supremely motivated, organised and a role model to many now, it has not always been that way for Milne. The documentary also touches on a troubled childhood when growing up in Rotorua.
"Like a lot of people from back home, I was involved with petty theft, in and out of the police station and the Rotorua District Court. There was common assault and stuff as a child. I was lucky that I as I started to reach my peak of criminal activity, I was fortunate enough to be let into the Royal New Zealand Navy, that was a saving grace.
"I left school pretty early, by the time I was about 14 I was leaving school and getting up to mischief, it wasn't looking good."
He said it was scary to look back and think about how different things might've been. His advice to people in a similar situation was to focus on what was right and wrong.
"I didn't know any different, I had my friends and we were breaking into cars and spray painting, but that was just all I knew. Even the influential people at the time who were trying to help, but you just don't see it.
"My one piece of advice, as silly as it sounds, is to just try and do the right thing. We all encounter moments and decisions when we have to make a choice. You know when you're doing something wrong, so try with all of your inner-strength, inner-courage, inner-spirit to do the right thing."
Wairua Spirit premiers on the big screen in Australia on April 29. It will be available online at vimeo.com/ondemand/wairuafilm/317872702