Rotorua 10-year-old Sadie Stewart does not take a teddy bear to bed, she takes her cricket bat.
Future White Ferns selectors may want to keep an eye on the Lynmore School student, who is cricket mad and does not mind showing the boys how it's done. On Sunday she will be the only girl playing in the Rotorua Year 6 representative team against Western Bay of Plenty.
Sadie lives in a household where cricket borders on religion. In May, her brother Cohen, 13, is travelling to England to play for the Parley Cricket Club, the same trip their dad Crispian made in the 1990s.
She said her favourite aspect of cricket was bowling and getting wickets and she gets plenty of practice bowling to Cohen in the backyard. While she said she did not celebrate much whenever she got Cohen out, her dad Crispian said he had seen "a few fist pumps".
"They're quite competitive with each other, but Cohen is really supportive too, which is cool. Sadie doesn't have the strength and size of some of the boys she's playing with, but technically she is quite good," Stewart said.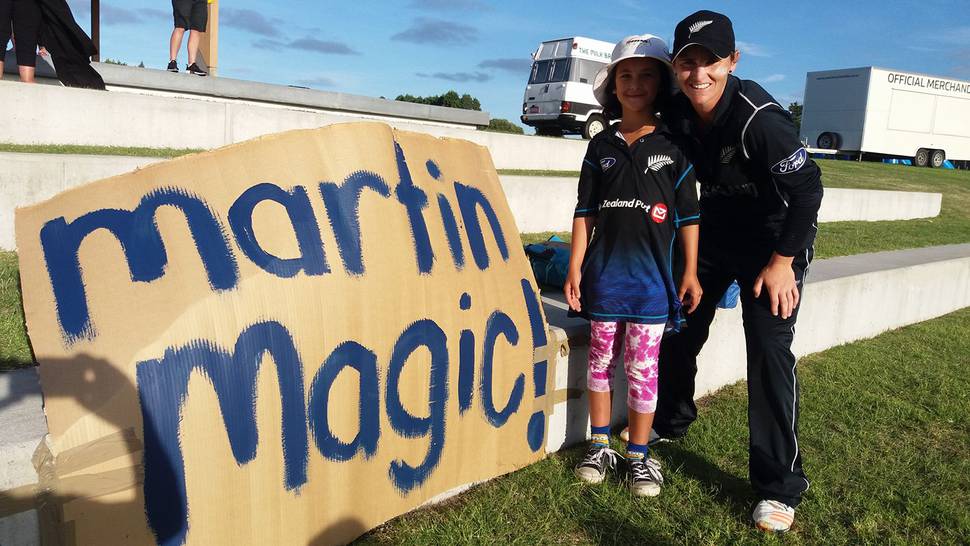 She has a decent claim to being the White Ferns' biggest fan and proudly wears the jersey given to her by Katey Martin, who has played for the national side since 2003.
Sadie loves going to White Fern games - she met Martin when the Ferns played at the Bay Oval in Mount Maunganui last year, and was invited to join the team during their warm-up. She said she wanted to be a White Fern one day and would like to see more girls playing the game.
Her other hero is Amelia Kerr, a young woman who made waves of her own when she became the youngest contracted White Ferns player at just 16 years of age.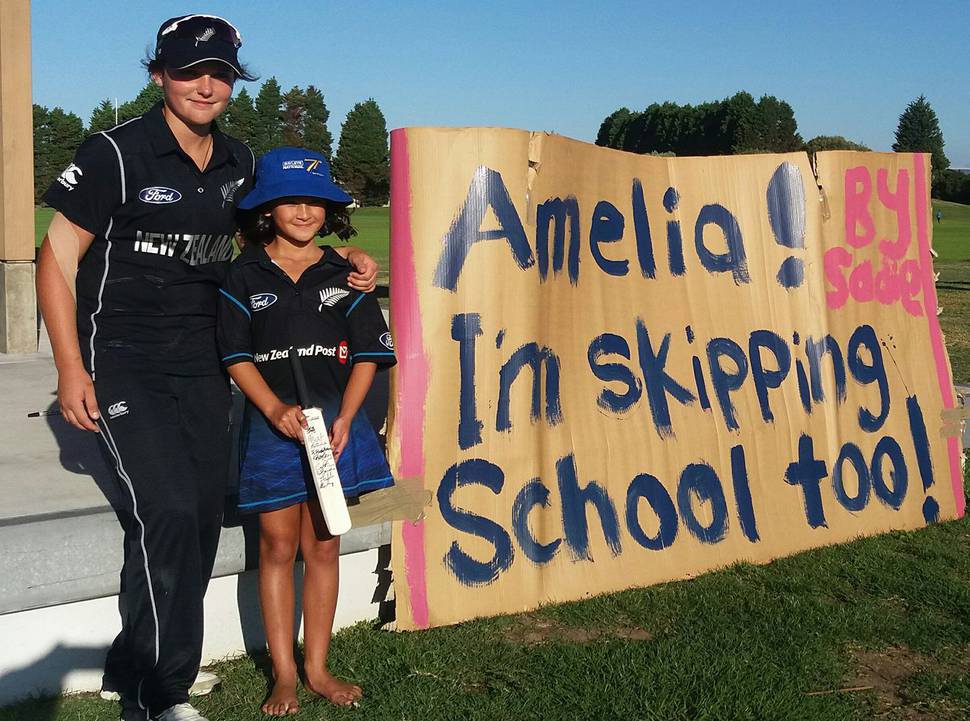 While there is no women's competition in the Bay of Plenty, plans are in place to continue growing the game at a junior level with the long-term goal of giving women cricketers more opportunities.
Two of the key objectives in the Bay of Plenty Cricket Association's (BOPCA) Strategic Plan 2014-2019 are to "sustain cricket" and "grow cricket".
Cricket development manager Tai Bridgman-Raison said the women's game played an integral role in ensuring both objectives were successful.
"We've got good numbers in primary school and intermediate, particularly in the Western Bay of Plenty.
"In August last year we employed a full-time women's cricket officer, Rebecca Yee, and she's responsible for the general promotion and growth of women's cricket and increasing female participation," Bridgman-Raison said.
He said BOPCA had run the Trillian Trust GoGirl programme for the past five years and was "just starting to see the results of that investment".
"Rebecca has a list of schools across the region which she visits weekly. She takes the girls for a series of drills which teach them the fundamental skills of cricket. We've actually expanded, as of this term, and she's now doing three days a week in the Lakelands region - Rotorua and Taupo.
"We're starting to see, from the work we've done at primary school level, players filter through to intermediate and junior college. It's just a matter of following them through and making sure we're offering them more opportunities to play.
"We're really fortunate that the Bay Oval is regularly hosting White Ferns fixtures and giving youngsters an opportunity to come down, watch them in action and hopefully be inspired to follow in their footsteps," he said.
Girls' cricket in Bay of Plenty
- 25 schools participating in the Trillian Trust GoGirl programme
- 375 individual participants
- More than 40 teams take part in regular GoGirl Festival Days
- Seven girls teams playing in Saturday morning intermediate hardball competitions
- An all-girls competition for Year 7-10s on Friday nights