International experts have discussed health education and promotion in New Zealand schools at a symposium in Rotorua today.
More than 1200 people are in the city for the World Conference on Health Promotion, the biggest international conference Rotorua has ever secured.
The presentations, workshops and panel discussions started yesterday, after a pōhiri and welcoming speeches on Sunday.
The New Zealand studies in the "Critical education and health promotion in schools" session this morning were then applied in an international context in a presentation by Unesco chair holder Professor Didier Jourdan.
The discussions revolved around pressure on schools to solve health issues ranging from obesity to sexual violence, drug use, physical activity, nutrition, suicide, bullying, and even teen pregnancy, and how to help them.
University of Auckland Associate Professor Katie Fitzpatrick spoke first.
She said the quality of health programmes in Kiwi schools varied widely, and they were often taught by outsiders visiting classrooms.
She said New Zealand education leaders needed to ask "How can we empower teachers to be leading really fantastic health programmes at curriculum level?".
"If we take away the curriculum space and just have people coming in, it's very empty."
University of Auckland senior lecturer Dr Darren Powell then presented his research on how schools were reacting to New Zealand's mental health crisis.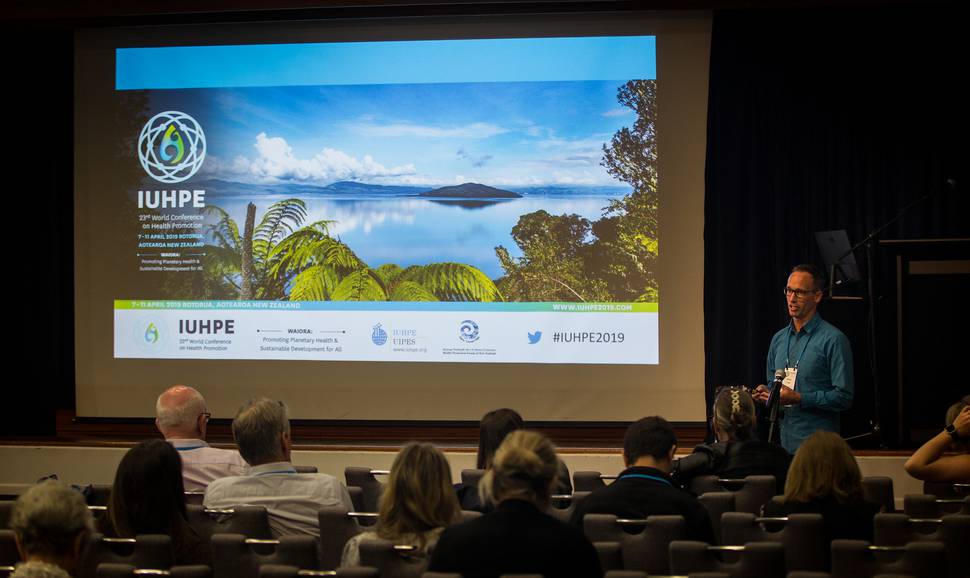 He said sometimes when children were taught about mental health, the focus was purely on mental illness, when a holistic view and the likes of spiritual factors in wellbeing were ignored.
Powell said children would be better supported with "an educative focus".
"Focusing on developing children's understanding... What do they need? What are they worried about, or concerned, or anxious about?
"Not to place responsibility on them, but to understand it's actually not entirely their fault they're angry, or they're anxious, that there other things happening that they need to be aware of, and then help them respond to them."
Finally, University of Auckland teaching fellow Hayley McGlashin presented her research about the rainbow community in New Zealand schools.
She found that regardless of what school boards thought, all schools in New Zealand had gender and sexually diverse students who faced challenges being themselves.
McGlashin said New Zealand's education system had guidelines for supporting these students, but in her opinion, they needed to be compulsory.
"From the research, we are putting out a guide and resources for teachers and staff... Apart from the guidelines being mandated, that's the only thing we can do with as many of us on the ground challenging those norms."