It has been a busy and bustling week for Te Aka Mauri as it celebrates its first birthday with the Rotorua community.
Te Aka Mauri, home to Rotorua Library and Children's Health Hub, opened its doors on February 3 2018.
To celebrate what Te Aka Mauri has to offer, six days of themed events were held this week leading up to the birthday on Sunday.
The themes held so far have been Hono Whakamana, Technology Day and Health Day.
These have included Māori art demonstrations, kapa haka performances, technology talks, drop-in clinics and tours.
Today's theme is Heritage and Research Day, which will include a film about the history of Rotorua Library, an Ancestry.com workshop, a photo-tour of the library, and a panel of wahine sharing their story of Ohinemutu.
Tomorrow is the Community Day which includes trilingual New Zealand storytelling, a Play On reading, a session for migrants and the chance to chat with Bay Pride Rotorua.
Sunday is the Whānau Day which will include heritage games, a paper plane contest, face painting and a family movie screening.
Rotorua's Matt Browning was one of the speakers at the Technology Day on Wednesday.
Co-director of Salt and Tonic, along with Andrew Wilson, he gave a talk in the Discovery Space about virtual reality technology.
He says he talked about what virtual and augmented reality is, because people know about it but have not necessarily had the chance experience it, along with what value people can get out of it from a business point of view.
There were then plenty of "wows" and laughter as those in the audience were able to give it a go.
Matt thinks it is cool for the public to get a cross section experience of all the amazing happenings in Rotorua through Te Aka Mauri.
"It's really cool to have Te Aka Mauri here, and celebrate it being used well with different designs and spaces."
He says it is great a Technology Day was included in the themed festivities because people cannot get away from technology and it is involved in everything people do.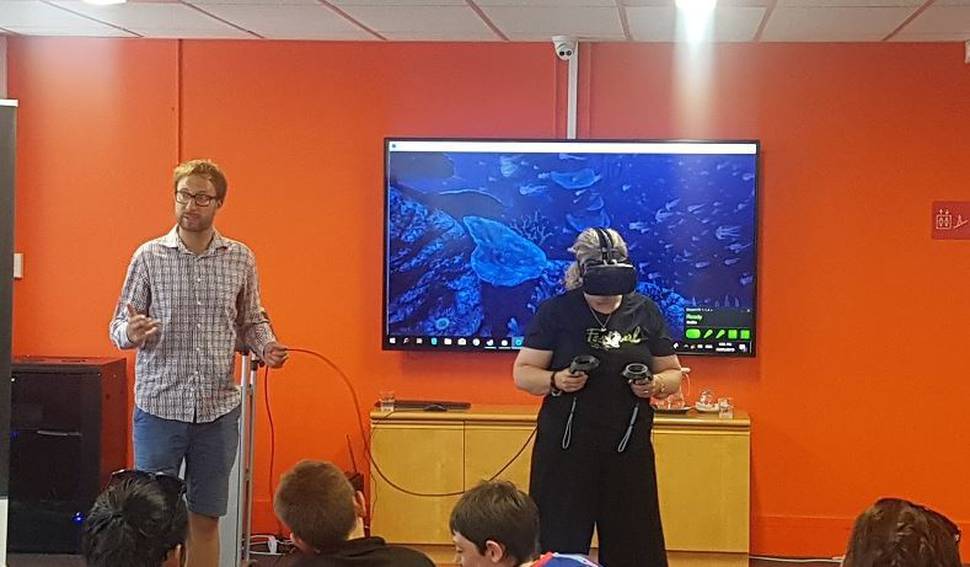 "I think a lot of people shy away from technology or don't understand the full benefit that can come from knowing about technology.
"Having this in the library space is a unique way of getting people to learn about that."
For more information about the events being held during the Te Aka Mauri Festival go to www.rotorualibrary.govt.nz.