Thanks to many hands and hard work a local women's garden is beginning to bare fruit to help feed the community.
Ngongotahā's Tracy Howitt entered garden product business Fiber Earth's online Facebook competition earlier this year, where the prize was a consultation with gardener Pete Stewart.
Part of her winning comment included, "I need lots of help. I'm great at growing weeds and killing trees. I am over buying fruit trees with the view to help feed the kids whose families use our local food bank, as obviously I have no idea what I am doing".
Last week, the Fiber Fresh Team gathered at Tracy's home to make over her garden.
Over five hours plums, pears, apples, feijoas, lemons and mandarins were planted, as well as beans, broccoli, lettuce and carrots.
Six vegetable gardens were also created for Tracy to plant in the future.
Tracy says having all these fruit and vegetables in the garden is "absolutely awesome".
She says they had four children staying with them over the weekend, and they were just as excited and keen to get involved in the garden.
It had been great having Pete come back down for the planting day because he gave them tips along the way, she says.
"The guys from Fiber Fresh Feeds were honestly amazing the way they got in there and got it done. It was a great day.
She says being able to feed people through different community avenues is going to be absolutely amazing.
"It's such a relief to know there is going to be fruit and vegetables, and they can come and have something fresh.
"It's going to be a great experience for a lot of people so we are really grateful."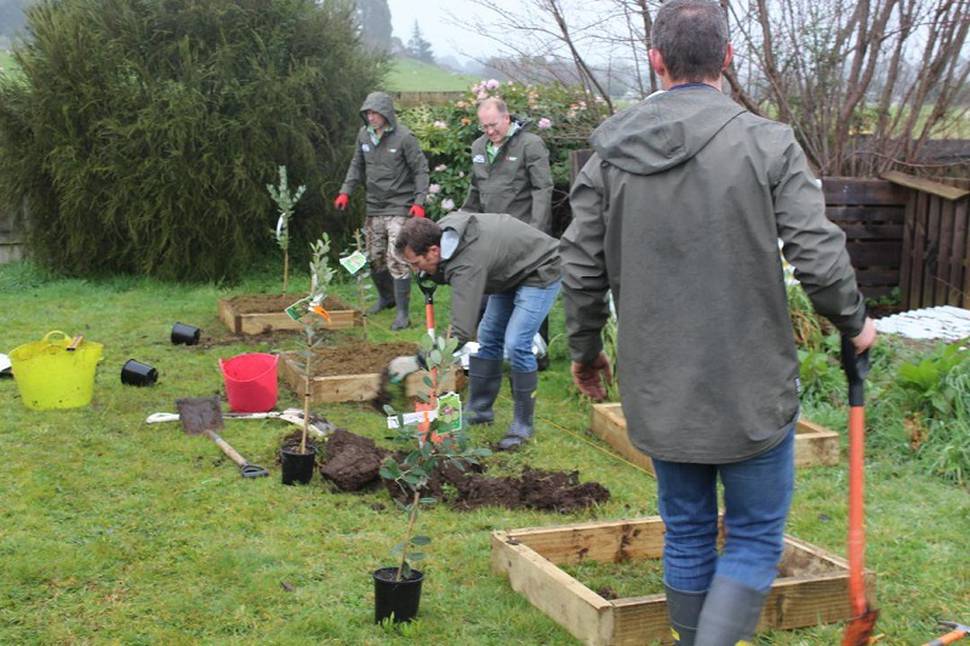 Fiber Fresh Feeds Limited marketing executive Zephania Steele says it was an awesome feeling to help Tracey in her garden and know that it is going to benefit the whole community.
"She had such a fantastic space but was just lacking the know-how on where to start."
Zephania says Tracy also had a large area of her section which was low lying, and anything she planted there would drown as soon as winter came around.
This is why they planted into the boxes and lifted the soil levels with the Fiber Earth Garden Mix Plus so the roots of the plants can cope, she says.
"Having our expert Gardening Pete give us a plan as part of the consultation, and then advise us along the way on planting day, will hopefully mean that Tracy has fruit and vege coming out of her ears before long.
"Seeing the place transform was really incredible and I can't wait to see it in six months when everything has taken off.
"It was also a great team building exercise for us, as cliché as that sounds, just to get out and do something totally different and contribute to such a great cause."
Zephania says eating fruit and vegetables is such an important part of our diet, but a lot of people do not have access to it due to factors such as the price.
"If we want to start making a change in New Zealander's health we need to start at the growing end of it."
She says Tracy's work in the community also means that she has a lot of children coming and going, and each one of them will get to experience the excitement of planting, nurturing and eating their own produce - something they might not otherwise get to enjoy.
"Hopefully Tracy can help equip them with skills that they can take with them in the future."