Before the Commonwealth games started, Amanda Landers-Murphy told the Rotorua Daily Post she wanted to come back with a medal. Today her dream came true.
And it was not just any medal, Landers-Murphy and doubles partner Joelle King won gold, producing a dominant performance to beat India 2-0 in the final.
It was a first Commonwealth Games medal for 26-year-old Landers-Murphy, while it was King's third of these games having already won gold in the women's singles and silver in the mixed doubles with Paul Coll.
The pair competed together at the Glasgow Games in 2014, where they were knocked out in the quarterfinals. They have since won two world championships and came into these Commonwealth Games as favourites.
Read more: Commonwealth Games: Rotorua athletes in action on day two
Taupo's Nicole van der Kaay seventh in Commonwealth Games women's triathlon
Being paired with the singles gold medal winner meant Landers-Murphy was targeted by the Indians, but she answered every question they asked of her with great enthusiasm, producing some memorable point-winning shots throughout the match.
New Zealand were dominant early on in the final, shooting out to a 9-4 lead in the first game, before India found their feet and pulled the score back to 9-8. New Zealand rallied, however, and held on to win the first game 11-9.
Landers-Murphy produced some of her best play all tournament at the start of the second game in the final, giving the New Zealand pair a 3-0 lead early. The Indians continued to test her but she played with unbreakable steel and determination.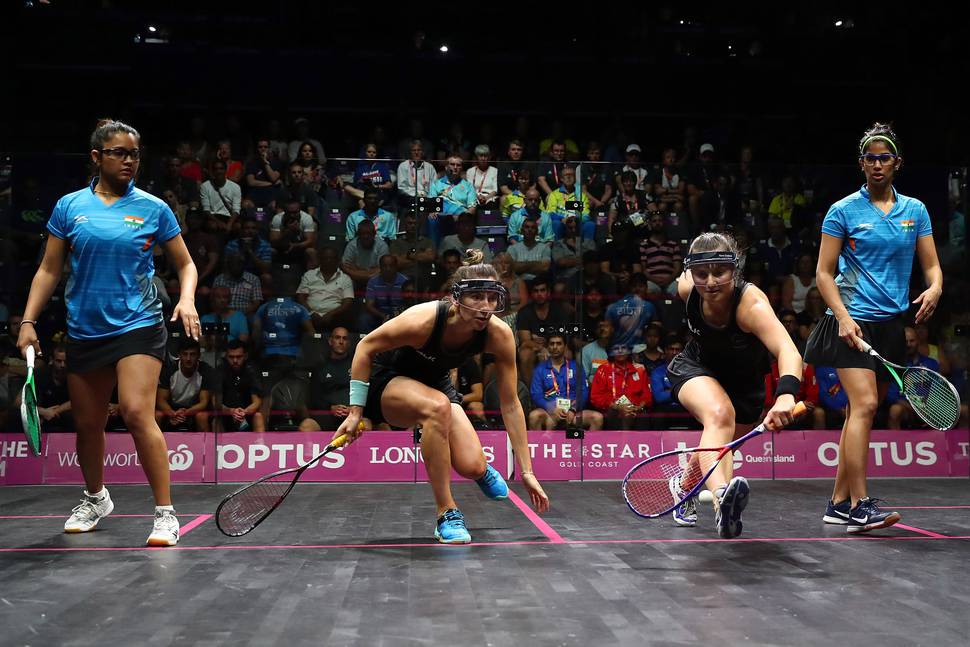 The Kiwi pair led 6-2 at one stage, but India pulled it back to 6-5. It always looked like Landers-Murphy and King's game to lose, though, and they fought their way to a 10-8 lead. The winning point came when the Indians did not play a shot, expecting a let to be given, but it was not and the Kiwis' golden performance was complete.
After the match, Landers-Murphy told the Rotorua Daily Post the fact she had won had "not really set in yet".
"It's pretty surreal at the moment, I didn't think I'd get to this point, it's an amazing feeling.
"I have so much confidence and faith in Joey, even before she won that [singles gold medal], but for her to have that gold I'm just so proud of how she dug down to get that. We work so well together and we're such good friends, on and off the court.
"I'm so proud of her and everything she has achieved, I'm just happy to be a part of it," Landers-Murphy said.
She said her and King went into the match wanting to focus on their own game.
"I think we were able to do that, our game can be high risk but if you don't go for it you're not going to get the reward. We just had to stick with it, we know we can play that game and it paid off for us today, for sure.
"I think the semifinal was probably my best match of the tournament, but I can't be upset with today, I still played well. Joey was definitely on fire today and seeing her with all that energy picked me up and we were able to finish the job, which was awesome.
"I'm normally one of the lower-ranked players in the singles rankings, so I'm definitely targeted a lot [in doubles]. But we factor that in to our game preparations and what our game plan is going to be, so it's not a shock when it comes to me all the time and Joey does a great job relieving the pressure," she said.
Landers-Murphy said the Commonwealth games, as a whole, had been "absolutely amazing" and she had received an overwhelming amount of support from friends and family in Rotorua.
"I picked up my phone just before and I had about 50 notifications from family and friends who have been there with me, through the highs and the lows, and are as happy and proud of me as I am of myself. The medal isn't just mine, it's for everyone who's been involved in my life because I couldn't have done it without them."
The Kiwi pair's journey to the final got off to a shaky start, losing their first pool game 2-0 against Malaysia, less than 24 hours after King won gold in the women's singles.
They improved as the tournament went on, beating Australia 2-0 in their second pool match to book a spot against England in the quarterfinal. They won that 2-0 before beating another Australian pair 2-0 to set up the final against India.
Landers-Murphy also played in the women's singles and mixed doubles, with Zac Millar, going out in the round of 16 for both.