Students from across the country have descended on Rotorua for a week of muddy, adrenaline fueled racing through the forests.
Crankworx Rotorua is playing host to the Professionals Rotorua National Schools MTB Championships for three days, and it all kicked off at Waipa yesterday.
One local bike mad family said it was great to have an event like this in Rotorua.
Steve Beck, father of rider Cameron Beck, said, for their family, it was huge.
"We were travelling down to the South Island for races earlier this year.
"Often when we are travelling it's just me and Cam, so for my wife, and his sister, to be part of it is cool as well."
Steve said the whole family really enjoyed biking.
"To have this right on our doorstep, on tracks we ride regularly, it's great for mountain biking and for the community in general.
"Some of these kids competing today will be the future champions.
"The organisers have done a really great job and there has been plenty to see from a spectators perspective."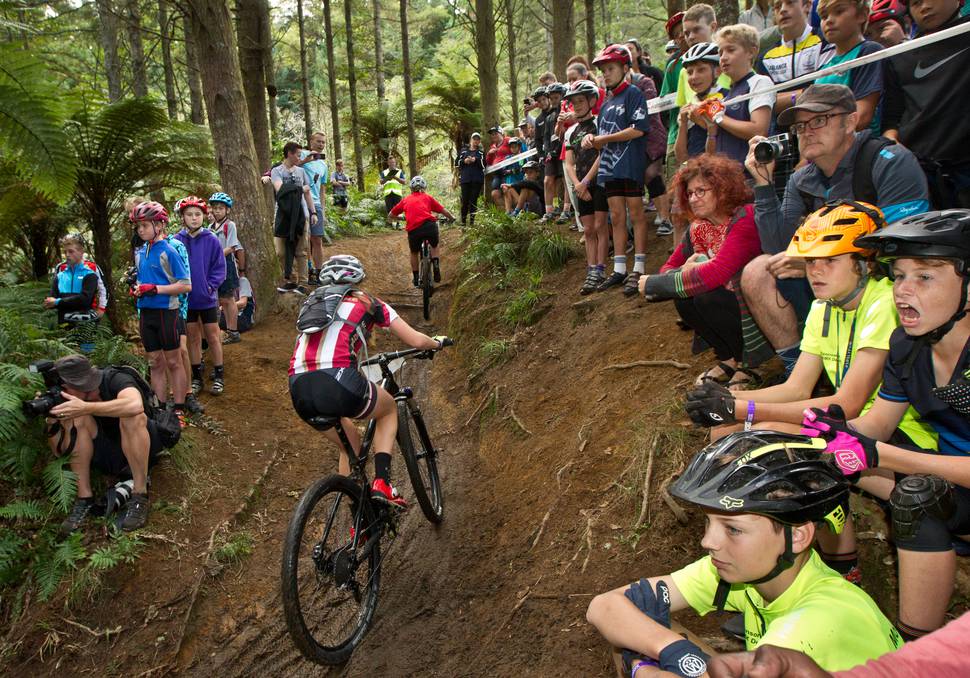 Cameron, a student at John Paul College, said it was really good to race at home.
"There's always a lot of support, and to have it here is a bit of a home track advantage."
A lot of his friends will be coming down to watch over the three days.
Rotorua Intermediate principal Garry de Thierry, who had a number of students competing, said to have an opportunity like this right on the school's doorstep was "just awesome".
"There are so many opportunities an event and a sport like this can have for our schools.
"A lot of that support has come from the parents and it's a real family occasions. Mums, dads and siblings all out riding together."
He said if the weather stayed like this he would certainly be out to watch some of the events later in the week.
"There are so many channels for our students to exhibit their talents at all levels.
"For them, whatever level they're at, it's something they love doing and mountain biking is a fantastic opportunity that's right on their doorstep."
He said more students were beginning to opt into mountain biking, over rugby or more traditional sports.
"It's really developing and we're seeing more people giving it a go."
Rotorua Lakes High School teacher in charge of mountain biking Stephanie Beaumont-Gill said the school had already got one gold, so she was happy.
"It's an awesome experience, to see them really being able to express themselves, and it's a great use of our tracks.
"The fact they offer each school a pitch site is awesome and Cycling New Zealand's communication with the schools has been amazing."
Mokoia Intermediate principal Rawiri Wihapi said it was awesome to see two of the schools students competing in the first day of the competition.
"I would hope having the opportunity for our kids to take part in share the ride would encourage more children who have an interest in mountain biking to give it a go.
"The whole school will definitely be cheering them on over the next week."
Teacher in charge of mountain biking at Western Heights High School Ben Robson said it didn't have many riders this year, but they were doing well.
"It's great for us having it just down the road.
"For ease of access and for others to go along and watch, it's pretty inspirational."