You would be hard pressed to find a sporting event more unique and entertaining than the Singlespeed Mountain Bike World Championships.
On Saturday 499 riders, dressed in a wide range of weird and wonderful costumes, participated in the event in the Whakarewarewa forest. An estimated 2000 spectators lined the trails to cheer on the riders, who came from all over the world to compete.
The fastest man, dressed as a hospital patient, was Rotorua local Sam Shaw who finished comfortably ahead of the chasing pack. The fastest woman was another local, mother of two Janine Kavanagh, who dressed as Where's Wally.
In keeping with tradition, their wins were not confirmed until they received their Singlespeed World Champs tattoos. Despite neither rider having any previous tattoos, they both accepted their fate and got inked to claim their world champion titles.
"I'm really happy with how the ride went," Shaw said.
Read more:
• Why are you at the Singlespeed World Champs?
"Everything just went so smoothly and worked out. I wanted to be with [former champion] Garth Weinberg at the start and just ran through the gate right behind him. We were sitting about fifth and I just felt good, overtook first in the first two minutes and never looked back."
While it is always a laid back event, during which the focus is on having fun, Shaw was determined to win.
"It was a great feeling, I've been thinking about this for the past two months, I really wanted to win so it's pretty unreal. It's still just a fun race with random elements so I would've been stoked either way, but I'm pretty happy to win" he said.
He chose to get the tattoo on his backside, to his mother's horror.
"I've never had a tattoo and I'll probably never get another one, but I'm putting an extra design with it. This is a really fun event, drinking beer, riding singlespeeds and it's in my home town."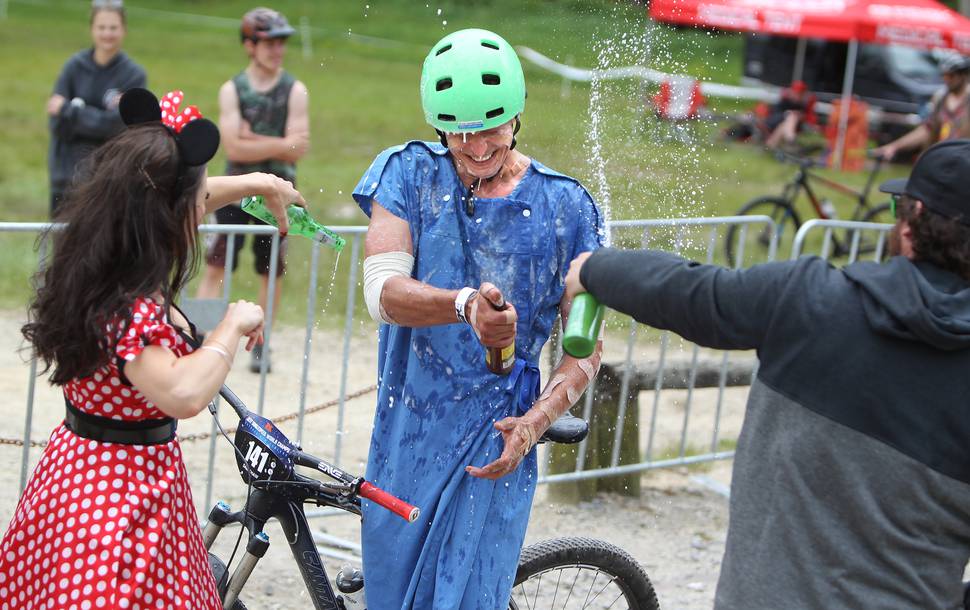 Kavanagh said it was "always good to win".
"I had a really good start and in singlespeeds it almost just comes down to that. I had a miraculous start really. I didn't know where I was, you can't tell who's who in all the costumes, so it wasn't until towards the end that someone yelled out I was winning.
"I haven't got any tattoos, so I wanted to put it somewhere I'm happy to reveal but somewhere that's hidden, on my side.
"This is an awesome event. It's like going back to my mountain biking roots, I started in 2006 or 2007 and quickly got into singlespeeding. I did the worlds in Rotorua in 2010 and it was the best event ever, I just loved it," she said.
After hours of hard work and early mornings setting up the course, race director Tim Farmer was thrilled with how the event panned out.
"It's pretty wicked, a nice dry event - we haven't had many of those in Rotorua. I was trying to explain this event to someone who knew nothing about it and they didn't believe me, I had to send them a video of it, it's quite unique.
"The riders are what make it special, there's only one winner so everyone else is out there for fun and they get to ride some of the best trails as well.
"Our winners aren't really dedicated singlespeed riders. Sam Shaw has been racing all over the world doing the Enduro World Series, it shows how fit you have to be for that sort of racing. Janine is always the local dark horse, you can never rule her out and it was her day," Farmer said.