An inferno at St John's Church in Rotorua is under control after the much-loved church was engulfed in massive flames tonight.
Ten fire crews are still on the scene and fire fighters are dampening down the church, which has suffered major damage. Smoke still covers the area around the church.
The fire spread to the church's neighbouring hall, causing significant damage to both buildings.
No one was inside the buildings at the time of the blaze.
Cordons remain in place on nearby roads, which is on the corner of Victoria and Ranolf Sts.
Rotorua Daily Post photographer Ben Fraser was one of the first on the scene, just before 6pm.
He said it looked like the church was "burning to the ground".
"There's a lot of noise, a lot of crashing, things are falling.
"The roof has caved in."
He said the roof of at least one neighbouring home was on fire.
He said there was a lot of black smoke and "a lot" of fire crews fighting the flames.
Police and ambulance were also at the scene.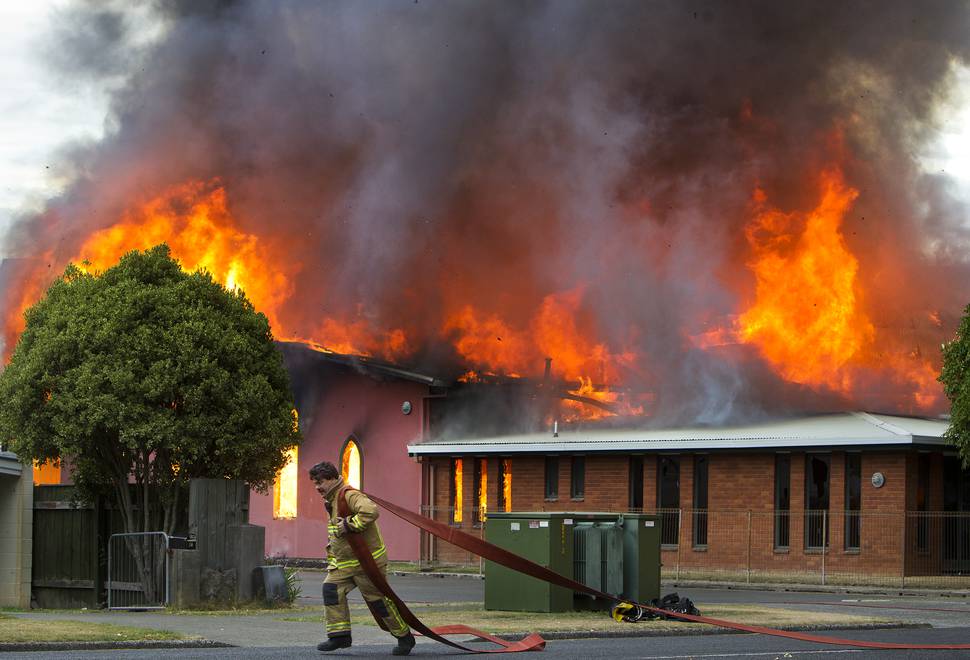 A Northern Fire Communications staff member confirmed they were contacted at 5.48pm.
Twelve fire appliances were earlier sent to the scene.
Luke Martin, who is one of the property managers at the church, said the church's minister left the building and locked up at 5pm and everything was fine.
A short time later, the church's security firm, Watchdog, got an alarm call.
"They came down and had a look and went inside and, hello she is on fire."
He said it was "heartbreaking" to look at it now.
"It looks to me like a total loss.
"It's no good at all ... There are so many lives involved in the place. Even though it is a modern church, there is a lot of history attached to it, for instance the stained glass windows that had been gifted by early settlers in Rotorua."
Local resident Trish Wiggins said she saw the big plumes of black smoke as she was having a coffee at Capers in town.
"It's such a shame it's the church... that's a part of history gone. I've been here 30 years and that church was a landmark, everyone knew where it was.
"I've been to a few weddings and funerals in there and it was so gorgeous, it's so sad.
"Because it was old it was dry too so with the wind and oxygen it would have gone right up."
She said she was glad no one was inside.
"As sad as it is, you can replace a building, but you can't replace a person."
Resident Roney George said you could see the flames from Fordlands.
He said he had friends living in the flat next to the church.
"They were lucky they got out pretty quick. It's a big fire."
Another resident, who lives across the road, said he was working in his front lawn when he smelt the smoke. He ran inside to get his partner to call 111.
"It just took off," he said.
"It's really sad. It's a lovely church."
Another resident, who did not want to be named, said it was sad to have happened to a church "especially one that does so much for our homeless".
"They are such lovely people inside too."
The blaze could be seen over a wide area and burnt particles were falling in Koutu gardens.

Vet Chris Mckenzie, whose practice is close to the church, said it was heart-wrenching to watch it burn.

"We could see flames jumping above the roofline," he said. "It was a beautiful church ... a very sad loss."

His wife, Carol McKenzie, ran a Toolbox parenting programme from the church which she said was very community-oriented.

"It has a foodbank, drop-in cafe, has a major Christmas programme and does a great deal for people in general. It is going to be a huge loss because they [St John's] are very involved in so many things for the community."

Mr McKenzie said their 12-year-old daughter Keighley had begged them to stop watching the fire as it began to turn to black smoke and begged to go home.

Another nearby resident Judith King said the sight of the church on fire was so sad she cried.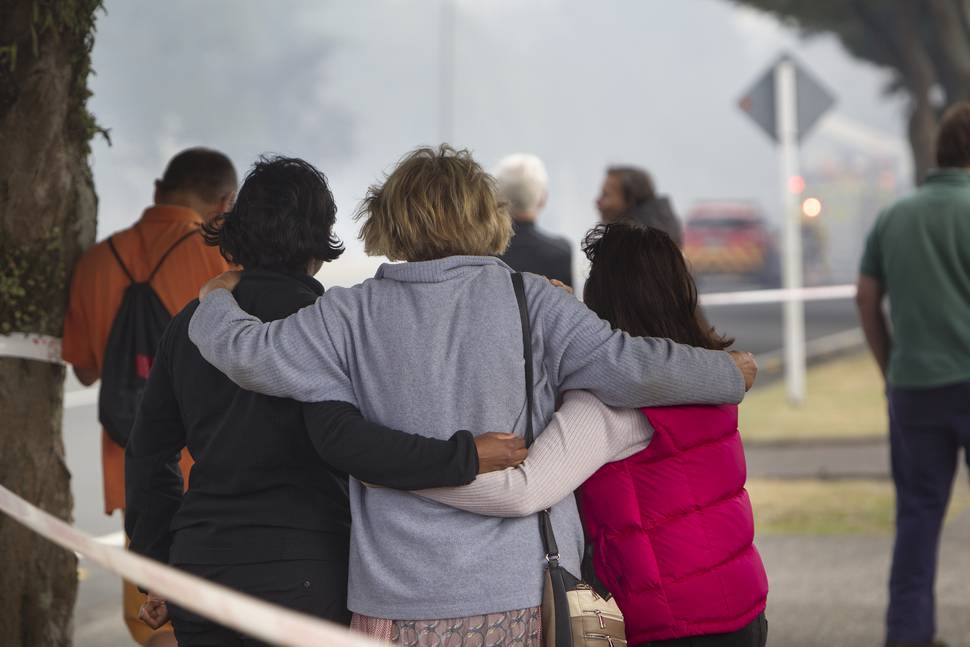 Also mourning its loss was Judi Hart whose grandmother, Ellen Whitely, lived on the site of the church's present car park.

"My aunty, uncle and cousin lived with her, after my grandmother died my cousin opened a hairdressing salon in the front called the Beauty Nook. It was a real heritage part of Rotorua, the church was modern but beautiful, it's very sad it has gone like this," Mrs Hart said.
Jodie Rio was returning home from work at the Central Mall when she spotted the black smoke rising from the church.
Within seconds the smoke had turned into massive flames that were licking the top of the building.
"You could feel the warmth from my car, even though I was about 30m away and you could hear windows smashing."
Miss Rio said she felt a sense of sadness straight away.
"That building is older than me. I grew up around that building and now there's only just under a quarter of it that's been saved."
Miss Rio said she initially went up to the corner opposite the church, but then moved back to keep herself and her 4-year-old son, Tyson, safe.
"He kept saying 'mum, why, fire, fire'."
Miss Rio said her car was stuck inside the police cordon and she was unable to get to it until the emergency crews had finished doing their job.
A reporter at the scene said people were arriving at the church, some in tears, embracing each other at the cordon.
Footage posted to social media showed people watching as thick black smoke poured from the building.
Others spoke of their shock as they filmed.
"Wow, that is the church. The church is on fire," one woman said.
"Wow ... I can literally feel the heat from here. That's insane."
Lyriic Odering described the fire as "heartbreaking", in a post on Facebook.
"I won't hear the bells on Sunday anymore, the help the church gave the Rotorua community more than needed. They gave without hate and judgment. (sic)
"I hope us as a community will give back to the church as they did to us."
Local Desmond Tahau, 21, was driving by on his way to town to get groceries.
He saw the smoke and commotion and stopped to see what was going on.
"It's devastating to see history destroyed in a matter of minutes."