Funds needed to give 9-year-old the gift of hearing
The first nine years of Jurnee's life have been tough but all that could change.
Born profoundly deaf she has faced a life of difficulties in trying to keep up with those around her. The 9-year-old has spent most of her life in silence - never learning how to speak or communicate .
Extremely smart by nature, she is determined to catch up with the help of her foster mum Esther Atkins who plans to raise $28,000 by the end of this year to get her daughter a much-needed cochlear implant for her right ear.
At the age of 2 she had the same implant put into her left ear but it was not properly used until she moved in with the Atkins.
In early 2014 Jurnee's mother, Kristeen, was diagnosed with terminal breast cancer and passed away in March this year. Mrs Atkins worked in the same daycare Jurnee was placed in as a child in Rotorua and the two developed a special bond. So special that her mother requested Jurnee be placed in her care when she passed away and signed custody over to her and her husband, Liam.
She said when Jurnee first moved in with them she had no communication skills whatsoever and used her own version of sign language.
Jurnee's hearing is at the same level as a 2-year-old because she missed years of wearing the processor, the external part of the implant on her left ear, she said.
Her speech was also at about the same level.
"A jumbo jet could fly up behind her and she would not hear a sound," Mrs Atkins said.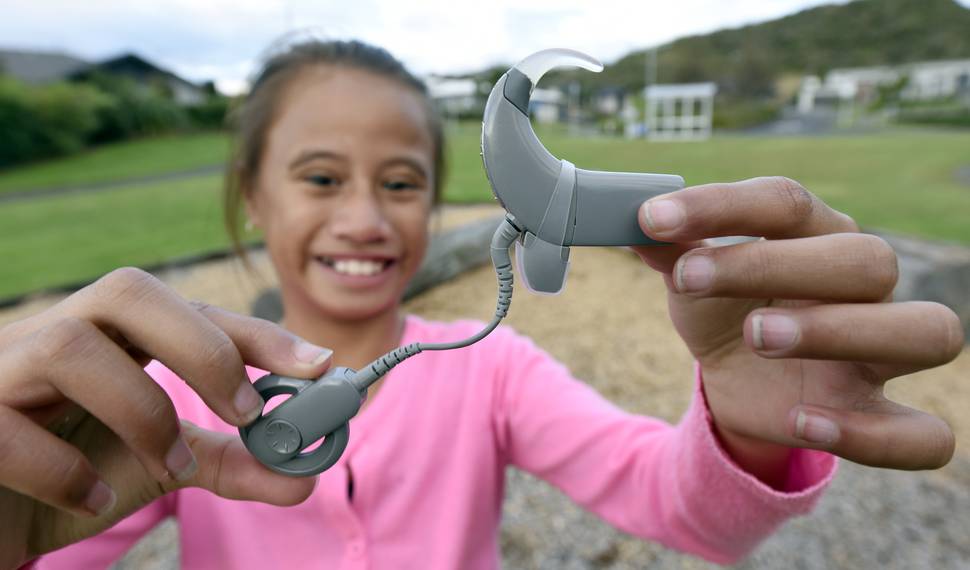 Since living with the Atkins, Jurnee has had to learn how to hear all over again.
"Babies learn how to hear, that's why they don't really talk until they are 2. The first two years, they are learning how to hear things. Like how to block out the TV and then listen to a person at the same time.
"Jurnee can't do that with one ear. She can hear all the noises but they all come in at the same time."
At school, she is at the same level as her 5-year-old brother Jack. But having two working ears would change everything for the little girl, Ms Atkins said.
"It will help with her speech, learning at school, but it will also mean things like university will be an option. There will be no limits. If she can't catch up now doors will close as we go along. It will be really neat for her, even if she doesn't want to go, to have that option there."
The family have been quoted $28,500 for the cost of the implant and would like to fundraise the money by the end of the year.
"In saying that, the sooner the better. The sooner we can get her hearing better, the sooner she can catch up in class. She has two and half years before she goes to intermediate and it will be a heck of a lot easier for her to catch up in primary school than intermediate or college.
"She just wants to be one of the girls, be like the rest of them, hanging out and not having a teacher aide hang over her all the time."
Mrs Atkins said her daughter was not only smart but funny, outgoing and loving.
"She is the most deserving kid ever - especially with everything she has been through. She takes it all on the chin and carries on. Always considers everybody before herself in everything she does."
Cochlear implants:
A cochlear implant is a surgically implanted electronic device that provides a sense of sound to a person who is severely hard of hearing or profoundly deaf.
To support Jurnee and her journey to hear, head to the Givealittle page: https:// givealittle.co.nz/cause/jurneesear and follow her Facebook page: https:// www.facebook.com/jurneesear