You could almost see the steam spilling from the ears of the competitors at one of the more bizarre contests Rotorua has witnessed - the New Zealand Chilli Eating Championships.
Brew Craft Beer Pub on Eat Streat hosted heat seven of the 6th annual Fire Dragon Chillies New Zealand Chilli Eating Championships on Saturday.
Current champion Josh Shotter, formerly of Whakatane now living in Kaitaia, was the man to beat with 11 others lining up next to him taking on the challenge of eating some of the world's hottest chillies for a place in the national final.
About 200 people watched as competitors were eased into the competition starting with a jalapeno followed by a hot chilli con carne, a couple of habaneros before another snack of fiery chicken wings.
The rules were pretty simple - no drinking, no leaving the table and no throwing up.
Things started hotting up with a Brazilian Ghost chilli that knocked out five chilli chompers with a 1.2 million rating on the Scoville scale.
The Scoville scale is a measurement of the spicy heat of chilli peppers.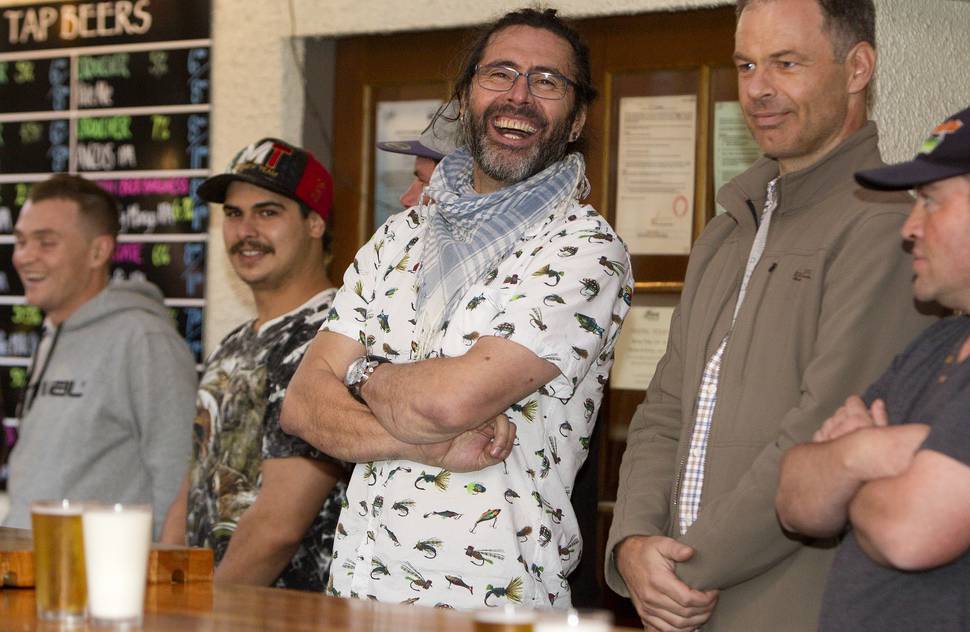 To put it into context, a hot Indian vindaloo curry would reach about 50,000 Scoville's, while the hottest chilli eaten on the night, a Scorpion Moruga chilli, was rated at 2,000,000 Scoville's.
Having made the final, Andrew Liew, who drove from Auckland to compete, threw in the towel leaving just Mr Shotter and Rotorua's own Justin Lambert to battle it out for the win.
Competition organiser and Fire Dragon Chillies owner Clint Meyer said he was so impressed he gave the top three chilli eaters entry into the finals.
Mr Meyer said he was getting worried near the end of the competition with five contestants still remaining and only a handful of chillies left.
"It was pretty bloody intense, a very tough competition on the night.
"Rotorua has three pretty good chilli eaters, but I did have a few tricks up my sleeve. It's pretty incredible how much chilli Kiwis can handle," he said.
Rotorua's Justin Lambert only just missed out knocking the champion off his perch.
"If my ears didn't start popping I think I would have been okay. I think I'll have a pretty good chance in the finals," he said.
New Zealand champion Josh Shotter, who won the Rotorua round last year, said Saturday's competition was fierce.
"Justin pushed me hard, but I think I could have downed a few more."
Also taking part was television veterinarian Dr Stacey Tremain, who was filming for an upcoming episode of Kiwi Living, but he did not last long.
The competitors also impressed self-confessed chilli lover and former All Black Josh Kronfeld, who was in Rotorua over the weekend.
He tried a sample of the Scorpion Moruga, getting about half way through before saying it was far too hot and the competitors were "insane".