In August 1966, Rotorua's Danny McCort was part of a New Zealand artillery battery when Australian infantry came under attack by an almost overwhelming force. What happened next is now the stuff of Anzac legend - the battle of Long Tan. Matthew Martin shares his story today, on Anzac Day.
Around 4pm on August 18, 1966, Rotorua's Danny McCort and his gun crew received orders to fire on an advancing enemy patrol. Little did he know they had just joined the now legendary battle of Long Tan.
Danny picks up the tale.
"We thought it was just a normal fire mission, the target description was a VC (Viet Cong) patrol, but then they changed it to VC platoon, then to VC company, then they screamed 'fire mission regiment', all 18 guns.
"Most of the guys were down at Luscombe Field, an airstrip, and an Australian artist, Little Pattie, was playing a concert down there so the guns were only half manned."
He soon learned that the men from D Company 6 Battalion Royal Australian Regiment (6RAR) were caught up in a serious fire-fight with North Vietnamese Army and Viet Cong troops, some 2500 strong.
As the battle raged on the situation was getting more and more dire for the men of D Company who were almost surrounded and running out of ammo.
"To my knowledge it was the last defining and major battle Anzacs had been involved in together."
Alongside the Australian troops caught in the rubber plantation of Long Tan were two Kiwi forward observers attached to 161 Battery Royal New Zealand Artillery, of which Danny was a bombardier and in command of a six-man team. They were Captain Morrie Stanley and Bombardier Willie Walker. Their job was to call in artillery support for their Anzac mates.
Danny estimated his gun crew fired more than 600 rounds that day and overnight.
"We kept firing until we were told to stop. It was pissing down with rain, a real monsoon storm. At one stage a lightning bolt hit the comms post, so we just kept firing until we almost ran out of ammo. Man, we fired some rounds that night."
Australian troops caught up in the battle were unanimous about one thing. If it were not for the skill of the Kiwi gunners, none of them would have made it out alive.
"Only the quick response of a New Zealand artillery battery to desperate calls for support saved D Company from annihilation," states the Australian government's official history of the battle.
Cutting a long story short, D Company were resupplied by Australian air force helicopters and continued fighting, repelling wave after wave of enemy troops until 3 Troop 1 Armoured Personal Carrier Squadron drove off the attacking forces about 7pm that night.
"But it was Morrie who really saved them, calling down all that fire."
Danny and the men of 161 Battery continued firing on the area for another 12 hours. After the battle Danny spoke to some of the men from D Company, who had lost 17 men with another 20 or so wounded.
"They were bloody rapt, and they say if it wasn't for us they wouldn't have been there. We were dropping right close to them, 50m, almost right on top of them, those rounds have a killing range of 150m."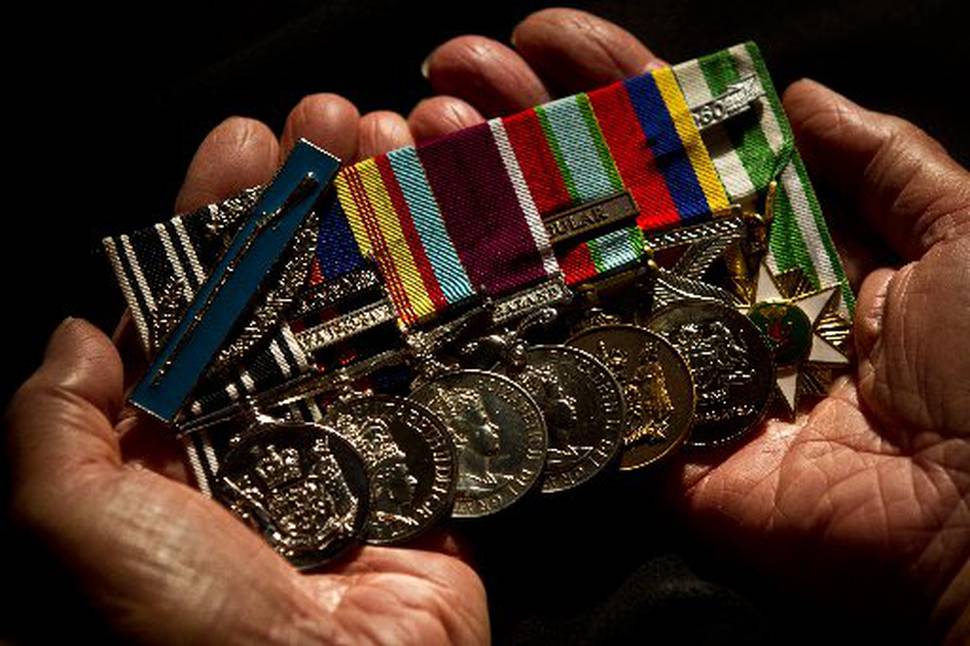 He said the day after, everything was a mess. "The place almost got flooded out during the battle as well. Everything was covered in mud and crap. But that's war, you have to do what you gotta do.
"Where we were on the guns, we weren't getting shot at, it was those poor bastards up the front that copped it. But it does become a defining part of your life though. I remember it right from the first minute."
So on Anzac Day today, Danny will remember those who fell at Long Tan and other battles over time - Chunuk Bair, the Somme, El Alamein - to name a few. "I'll remember those guys who didn't come home, my mates. But I don't think anyone can imagine what it feels like for a family who had a son killed. Just waiting for that knock on the door, how the hell did they handle it?"
The battle of Long Tan:
* August 18, 1966
* East of Nui Dat Task Force Base, Long Tan, Phuoc Tuy Province, South Vietnam
* Patrolling the area were D Company, 6 Royal Australian Regiment
* Artillery support provided by 161 Battery, Royal New Zealand Artillery, plus Australian and US heavy guns
* Attacking were North Vietnamese Army and Viet Cong forces of up to 2500
Timeline:
3.40pm: D Company 6RAR make first contact with Vietnamese forces
3.45pm: Heavy monsoon rain begins
4.10pm: Battle of Long Tan fully involved
4.15pm: Artillery called in
4.45pm: Battle escalates
6.05pm: 9 Squadron RAAF resupplies D Company
7.05pm: 3 Troop 1APC Squadron drives off attacking forces
7.15pm: Enemy in retreat
Until morning: 161 Battery, RNZA continue barrage