WORK will start in the coming week on a new $5.5 million urban cycleway that will provide cycling routes throughout the city and connect Rotorua suburbs.
The project, called Cy-Way, will link to existing cycleways on main routes to the inner city and is part of an urban cycling strategy aimed at encouraging more people to ride bikes.
When finished, the Cy-Way network will comprise about 25km of cycleways. The map on A2 shows proposed locations.
Funding for the Cy-Way network is shared between Rotorua Lakes Council ($1.9 million) New Zealand Transport Agency's National Land Transport Fund ($2.1 million) and the Government's Urban Cycleways Fund ($1.5 million).
Routes have been chosen in collaboration with the Rotorua Cycle Action Group as well as taking into consideration the advice of roading experts to make it as safe as possible.
"Rotorua has terrific potential to become a town where people can enjoy the advantages of commuting by bike," Rotorua Cycle Action Group chairman Dave Crawley said.
"We have beautiful reserve areas, flat terrain, wide streets, and we're still quite compact. The Cy-Way programme is a great opportunity for Rotorua to establish some good connecting routes for people who want to bike in safety."
The council's sustainable transport team leader Jodie Lawson said the Cy-Way network contributed to Rotorua's urban cycling strategy.
"Not all the cycleways will be the same - we've identified options considered best for each location, based on a range of factors such as the width of the road, traffic volumes, standards developed as part of our cycling framework and advice from roading experts and advocacy groups." Some cycleways may be on shared paths, others on the road with
painted markings and others may be on the road with traffic separators. The first cycleway to be built will be along Morey St in the Lynmore/Owhata area, linking nearby schools. It will be two-way, on the road with traffic separators.
Work is due to start on Tuesday and will take about two weeks to complete, weather depending. The entire project is estimated to take three years to finish.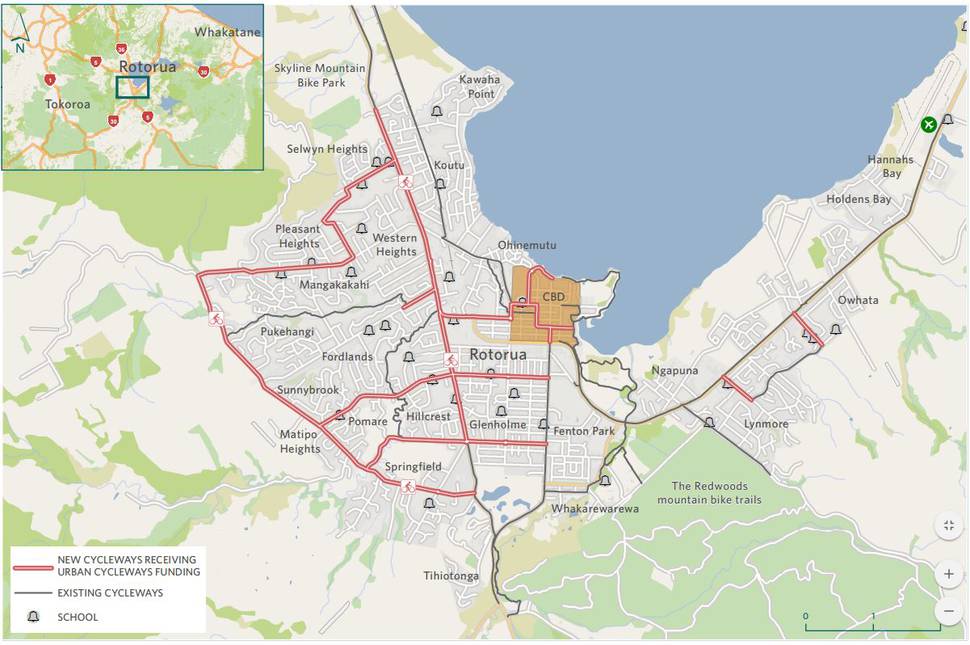 Work on two more cycleways - in the Springfield and Fenton Park areas - is expected to begin in April/early May.
A shared path will be established in Springfield, connecting to the local school and to a planned cycleway which will be part of a major upgrade of the Old Taupo Rd and State Highway 5 intersection.
The cycleway along Scott St and Ward Ave will be on both sides of the road and will provide links to forest tracks via Sala and Fenton Sts, this cycleway will be marked on the existing roads.
"Alongside creating the cycleways we will also be working with schools and communities to educate cyclists and motorists and identify opportunities for cycling skills programmes," Ms Lawson said. "The vision is a district where people from all sectors of the community can and do cycle safely, as an alternative means of transport and/or for recreation."
Rotorua Mayor Steve Chadwick said the Cy-Way network would be for everyone, not just for people who already rode bikes.
"We already have fantastic off-road riding options - now we need to link it all up with a connected citywide cycleway network.
"To make riding a bike attractive to anyone, whether for health and wellbeing, recreation or as an alternative mode of transport, we need to make it safe and easy for everyone who wants to give it a go.
"At the end of this, we will have a city-wide network that incorporates the suburbs and main arterial routes and links to the forest, the inner city and to some of our tourist attractions," she said.
Benny Devcich, a bicycle technician at Cycle Zone Rotorua and an Iles Rd resident, said it was a great start for a cycling town.
"I think we are fairly limited with our routes for people to get to and from town and also people to get to and from the forest," he said.
"For a lot of tourists that arrive, I would hope that they could ride everywhere safely and not have to deal with traffic.
"The only concern I can see is around school time, because our street does fill up with mums picking up children, but I think if they made some sort of restriction that they can park there at school time, I've got no issue with that."
Mr Devcich said overall it was a great idea and a great start. "It's such a small town I don't think it's an issue with anybody not being able to ride to work or to the city or to the beach or to the forest."
He said the cost was nothing compared with what had been spent so far around Rotorua.
"As a cycle town I think it's essential and it would be a great boost to what we currently have."
Niniwa Epapara, a Lynmore Primary School mum, said she didn't think the cycleway would be good in the hours of taking and dropping off kids to school.
"It will be a bit dangerous and I don't know how it will work down at the intersection with Iles and Te Ngae Rds, that could be dangerous too. Parking is hard enough as it is already and it looks like it's going to make it harder."
But Lynmore Primary School principal Lorraine Taylor said she thought the idea of linking the suburbs to the city was a good idea.
"I'm not sure how a cycleway will work down Iles Rd but I'm sure the council will have a solution. If it looks like it's going to work and it gets cars off the road then that's a good thing," Mrs Taylor said.
Mokoia School principal Deborah Epp said she had been speaking with the council about it and thought it was a good idea.
"We are getting more and more children biking to school which is delightful. It will be good to have a safe way for them to get here."