A car which brought a power pole down across Rotorua's Thomas Cres has prompted calls from one resident for safety improvements to the road.
About 11pm on Thursday Sophie Lee Andrews was watching a movie with "her boys" when the whole house rumbled.
"My son was sitting against the wall and he thought it felt like an earthquake.
"Outside we didn't notice anything at first, but we could hear sirens and all the dogs in the neighbourhood were barking.
"Half of the power pole and lines were down across the neighbour's fence."
Andrews said the power came back on about 4am.
Her parents have owned the house on Thomas Cres for 40 years.
"I would say at least once a month we've got something happening."
She said there had been teenagers hooning up and down on dirt bikes and people fighting.
"It used to be one of the best areas in Rotorua, it's just changed completely now, that's why we're looking at moving.
"We've had enough."
This latest incident was another dangerous reminder something needed to be done about the way people drove, she said.
"I would like to see something to stop the traffic, they need to slow down."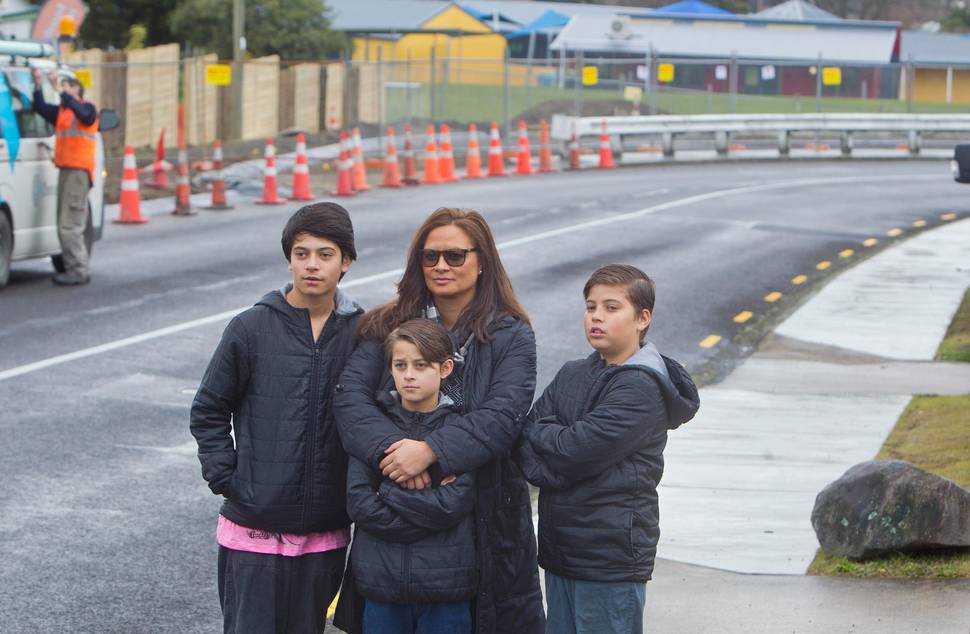 She said in one incident she had just called her kids back across the road towards her when a car came around the corner too fast.
"The vehicle flipped, all I could see was it flying up and my boys were freaking out because they had just been standing right where it happened."
She also had to replace her fence two years ago after a car crashed through it.
Rotorua Lakes Council infrastructure general manager Stavros Michael said the council was making a significant effort to improve road safety and continued to deliver safe driver education.
In this specific area the council was aware there was a history of road risk especially given a large number of school-age children used this road, he said.
"Work is under way on a shared path on Thomas Cres that will provide a safer off-road option for pedestrians and bike riders and as part of that project will be installing 'road calming' features such as line markings, raised crossing points and kerb extensions which will help to slow vehicles and reduce the risk of accidents.
"Council is also working with Western Heights Primary School to deliver road safety and bike education and will be making improvements to its rear entrance to help improve safety at the drop-off and pick-up zone for parents and students."
Michael said feedback had highlighted that some residents would like to see speed humps on Turner Drive, however, whether they were suitable depended on several factors.
"Once the scheduled road calming features are complete the council will monitor the area and determine if further measures are required."
Work scheduled for the area
• Shared path Gordon Rd (complete)
• Shared path Thomas Cres
• Western Heights Primary rear entrance improvements
• Raised crossings
• Line markings
• Kerb extensions
• Extra parking near school entrance/exit