The sun blazed down and the community came out in force to make this year's Fill the Bus an "overwhelming success".
The 12-hour food drive today made 25 stops across Rotorua before being unloaded and counted at the Salvation Army.
The event was led by The Hits, with all proceeds going to the Rotorua Daily Post Christmas Appeal for the Salvation Army foodbank.
Salvation Army Rotorua officer Ralph Overbye said the day was as fantastic as ever.
"I think families coming down prepared to give generously has been great to see.
"I think it's bigger than last year, but we won't know till we tally it up."
Overbye said a lot of this year's items were Christmas specific treats, but they would definitely be able to fill the food bank.
Among the donations were boxes of Maltesers, board games, bags of pasta, tins of biscuits, first aid packs, bottles of fizzy drink, baking ingredients and candy canes.
The Hits announcer Paul Hickey described the day as a "stunning, overwhelming success".
"I'm looking forward to the final count.
"Once again the community has shown how much they care about one another, it's been great to see."
The bus will be unloaded at the Salvation Army by 7pm, with the team hoping to beat the 4298 items collected last year.
The 12-hour food drive got under way with pick-ups at the Redwoods Shopping Centre and Pak'nSave.
Silver Fern Sam Sinclair joined The Hits radio announcer Paul Hickey, Salvation Army Rotorua office Ralph Overbye and Rotorua Daily Post digital journalist and photographer Ben Fraser to get the ball rolling this morning.
Sinclair, a former John Paul College student, said she loved Christmas and wanted to help "give a little happiness" to those less fortunate than her.
"Every year I have such a great time with my family. There's so much food and we are sharing so much happiness and if I can help give a little bit of that happiness to some people who are not as fortunate as me, of course I'm going to jump on board."
Lukas Teka, 9, met Sinclair while walking to school. He saw the bus at the St Andrew's Shops on Otonga Rd and wanted to help so bought a drink from the dairy to donate to the cause.
Members of the Rotorua Coffin Club, Malfroy School, Kawaha Point Primary School and ABC Rotorua Central have all dug deep, donating a range of goodies.
ABC Rotorua Central administrator Renee Hayes said they were pleased to be able to get involved with Fill the Bus this year.
"We did it because we're always out to help the community. We put the call out to all our parents and donations have been slowly coming in. It's always important to give to our needy."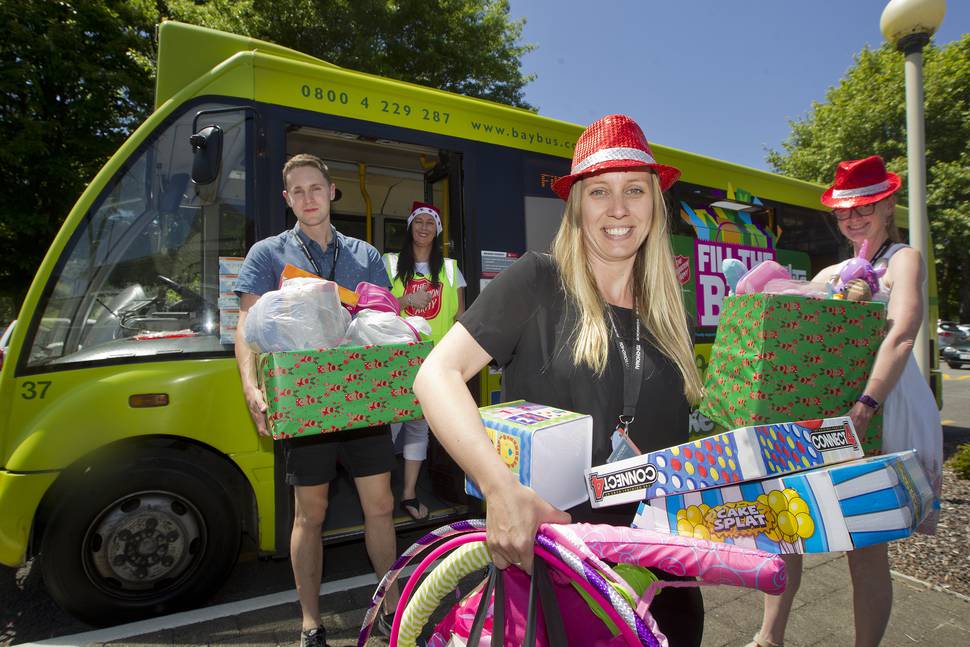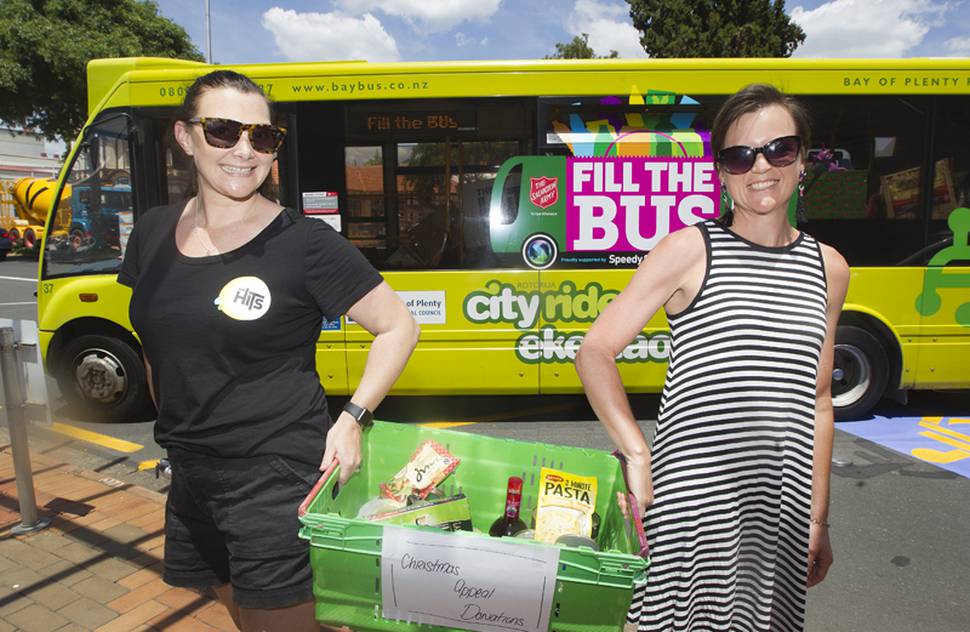 Malfroy School teacher Rachael Hatcher said the pupils wanted to help others and make a difference in the community.
"As teachers we want our tamariki to be mindful of not only themselves but of those around them, always looking for ways they can help."
Kawaha Point Primary School deputy principal Nicky King said the pupils had brought the majority of the cans in during a mufti day last week, but more had been "dribbling in".
"We've tried to create this work of art, forming the cans into a Christmas tree, so every morning you would have seen children trying to pile the cans up. It's all for a good cause."
Constable Mark van Krieken was one of the Rotorua police officers helping to load the police contribution on to the bus.
"The Rotorua police have come out and donated a whole heap of stuff. It's going to take a few of us to get it on the bus this year which is great. We're all keen to give a helping hand to the cause."
Toi Ohomai Institute of Technology's Dan Woodward said it was great to be able to help not only its students but the community as a whole.
"We have our own foodbank on campus year-round ensuring our students don't go without, so making sure our students and the wider community are not going without at Christmas is actually part of the Toi Ohomai culture."
Synergy Electronics donated 15 shopping bags full of food, worth about $350.
"We've supported the cause for the last three years, so we do feel strongly about it," director Mike Matson said.
By midday, Otonga Rd Primary School, Mitre 10 Mega and Te Wananga o Aotearoa had helped load the bus before Silver Ferns captain Katrina Grant jumped on board for a few stops.
She was keen to help out for the appeal and was "pumped to get on the bus and get into the community".
Parked up at Rotorua Central Mall the bus drew a lot of attention.
People rushed into Countdown to pick up food and Rachel Sharp from the Lakes District Health Board arrived with a trolley full of cans.
"We do a team-building event every year and this year we wanted to do something more charitable," she said.
This afternoon the team came together, each bringing 10 cans, and constructed a replica of the Beehive.
"We had a lot of fun building it," Sharp said.
Her twin daughters, Isabella and Dilana Wainohu, 5, were with her and Sharp said she had tried to explain to them what the event was about.
Dilana said her favourite thing about Christmas was the presents and she thought it was pretty cool all of the things on the bus would be going to people who needed it this Christmas.
Isabella thought the bus was looking pretty full already, but she was keen to go and get even more items to fill the bus "right to the roof".
The goods will be unloaded and counted at the Salvation Army from 6.20pm.
So dig out your cans, or other non-perishable food items and find a stop near you.
All donations go to the Rotorua Salvation Army Foodbank.