Many people think that scrapbooking is a recent phenomenon, but the history of albums, recognisable as scrapbooks today, dates back to not only before the invention of photography, but also to before the origin of the word "scrapbook" itself.
The early 1800s brought the creation of the word "scrapbook", referring to a book with blank pages for pasting items into and, during this period, the emergence and increased accessibility of printed material sparked a new trend.
Scrapbooking is a method of preserving and arranging personal and family history in the form of a book, some ancient examples of which are held at Whangarei Museum.
Scrapbook albums are often decorated and frequently contain journaling with extensive memorabilia, typically photographs, published media and illustrations.
People began filling blank, bound books, previously used for journals, with clippings, cards and printed paraphernalia - some containing a mix of personal journal entries, hand-drawn vignettes and water colours, along with an assortment of cuttings.
These books were literally "books of scraps", clearly depicted in the museum's scrapbooks, which reveal some exquisite drawings and copperplate penmanship from more than a century ago.
One unique scrapbook, donated by Mrs Gerard, once belonged to George Burnett, his name inscribed inside the front cover.
On the following page, "W J Burnett" appears with the inscription "MDCCCXCVIII", which translates in the Gregorian Calendar to 1898.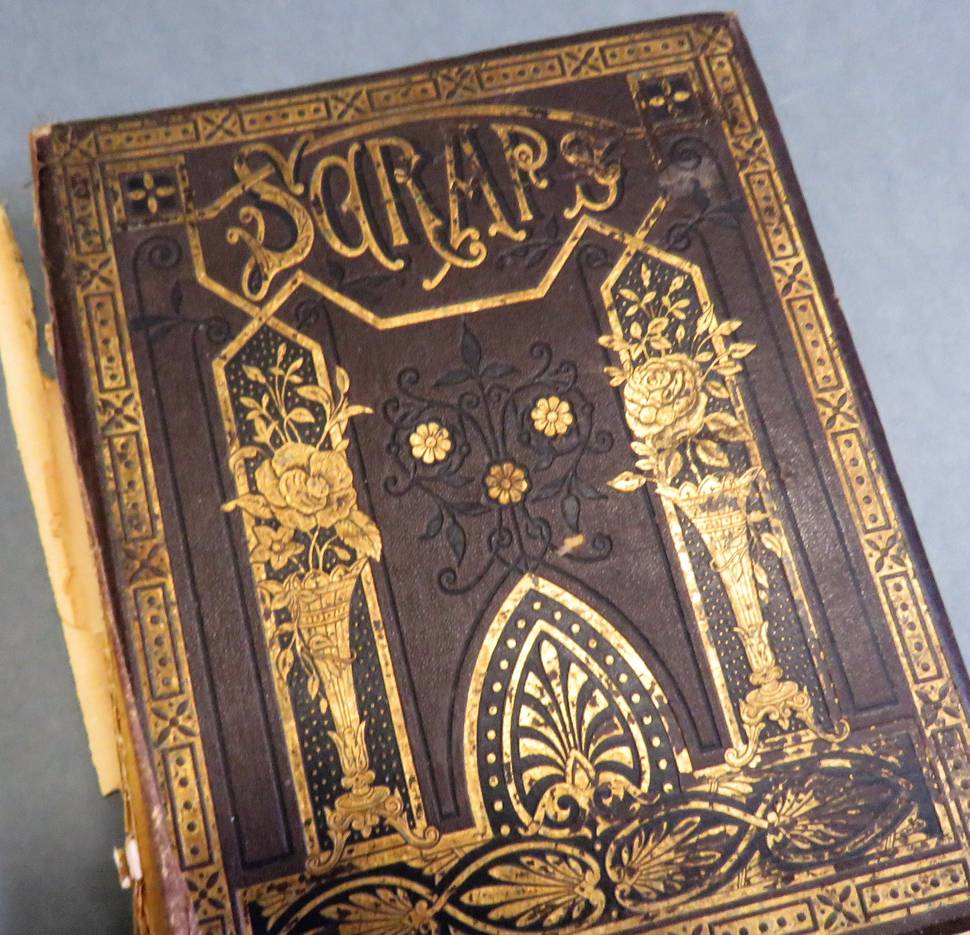 Such genealogical identification is meaningful, as too are the miscellanies pasted and drawn inside what was formerly a nondescript exercise book.
This journal, previously used as a type of small business or domestic register, now displays articles from various magazines and newspapers pasted over the top, almost obliterating the original penmanship beneath.
The primary owner, George Burnett was born at Olvington, Northumberland, in 1817 and his scrapbook dated 1850, accompanied him, his mother and siblings on the voyage to New Zealand, arriving in Auckland in 1852.
Shortly after arrival, the Burnett family travelled to Whangarei where George continued to make additions to his scrapbook.
Since newspapers were in widespread circulation, readers like Burnett clipped everything from family mentions, newsworthy stories and advertisements to save, perhaps even including the 1858 report on a Whangarei murder case in which Burnett was a witness.
Often cuttings and art work were taken from alternative publications and inserted not only into scrapbooks but interleaved into bound books giving extra illustration for sheer pleasure and remembrance.
Grangerizing and scrapbooking weren't just hobbies in the 19th century, they were sometimes used as tools of political subversion and social change, but more often were attributed to personal recollection and sentimental memory.
By the late 1800s scrapbooking became a more feminine pursuit, exhibiting a selection of elaborately printed greeting cards, calling cards, postcards and prayer cards viewed as novelty keepsakes.
Ephemeral, fragile and often left semi-bound, snippets recording practices of everyday life were collected by many during the Victorian period.
After the death of George Burnett in 1894, his scrapbook passed to his brother William Johnson Burnett in 1898 as penned in the opening pages, eventually being presented to the museum for safekeeping in 1996.
This scrapbook is a relic of cultural history, current events, personal thoughts and influences.
It explores the materiality of life, showcasing 'that which is the matter of something' by vestiges of a long-forgotten era, which the scrapbooks in the museum's collection perfectly reflect.
■ Natalie Brookland is collection registrar, Whangarei Museum at Kiwi North.