Two serious head-on accidents in four hours have left one person dead and at least five seriously injured.
Two vehicles collided in heavy rain on State Highway 14, near Whangarei, yesterday about 4.40pm, near the highway's intersection with Kara Rd.
A woman driving a vehicle toward Whangarei died at the crash scene.
The female driver of a Dargaville-bound vehicle was taken to Whangarei Hospital in a serious condition.
A police spokesperson said witnesses were being sought to the collision which occurred in heavy rain.
The crash site was blessed by a kaumatua about 6.10pm. Traffic headed for Dargaville was detoured through Newton Rd.
The fatal crash followed a head-on collision on SH10, just south of Kaeo, at the junction with Waiare Rd, about 12.30pm yesterday in which four people were seriously injured.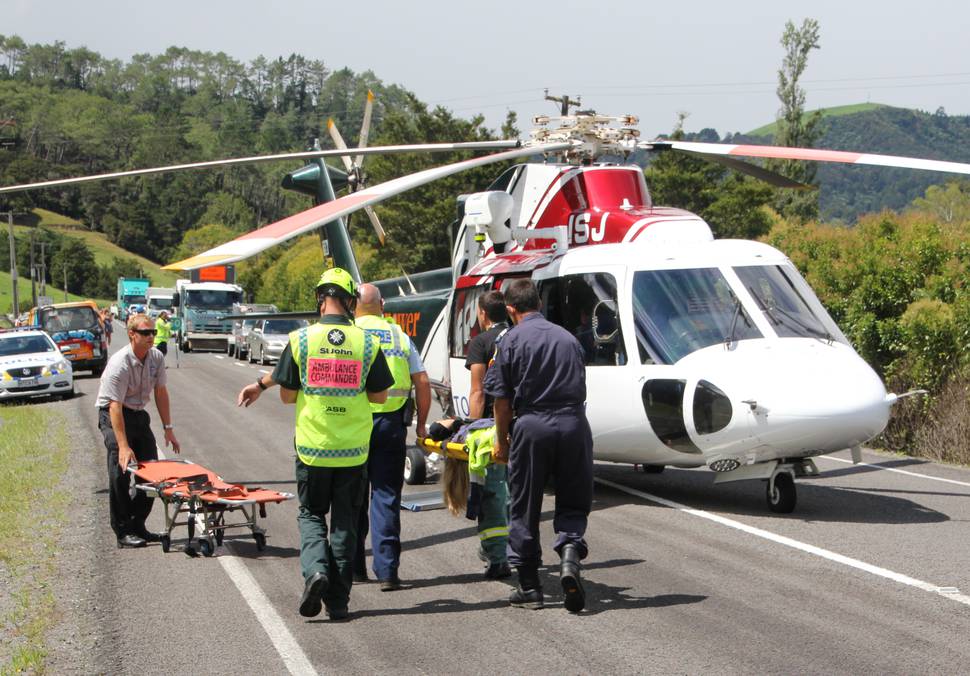 A southbound Subaru Legacy collided with a north-bound Toyota Estima people-mover.
The impact flipped the Subaru on to its side.
Two newlyweds and six wedding guests were in the rented people-mover, driven by a Whangarei man understood to be taking guests, mostly aged in their 20s and visiting from Queensland, to visit family up north.
The Subaru caught fire after the crash, with passers-by using wet towels to put it out.
They also helped two people who were unable to get out of the people-mover by themselves.
Only one person, a Wellington man, was in the Subaru stationwagon.
All nine patients were initially treated on the roadside.
The Northland Electricity Rescue Helicopter landed on the highway to collect the worst injured, two women from the wedding party, and flew them to Whangarei Hospital.
Another two, a man and a woman, were initially transported by ambulance, the helicopter returning and picking them up from Kerikeri Sports Complex.
Senior Constable Richard Hislop, of Kerikeri police, said it appeared the Subaru driver had collided with the Toyota, with the newly married couple in the front, head-on.
Alcohol did not appear to be involved.
St John Ambulance paramedic Mark Going said nine patients were transported to hospital.
The four flown to Whangarei Hospital were in a serious condition, while two more were taken to Whangarei by road with moderate injuries. Two patients, with moderate and minor injuries, were taken to Bay of Islands Hospital.
The groom suffered only minor injuries. The bride's status was not known at edition time yesterday.
Mr Going said it was fortunate everyone was wearing seatbelts and the vehicles were fitted with air bags. Otherwise the outcome could have been a lot worse, he said.
Three ambulances and two St John rapid response vehicles attended, as did firefighters from the Kaeo and Kerikeri brigades and an investigator from the police Serious Crash Unit.
The highway was closed for about half an hour from 1.20pm to allow the helicopter to land, causing traffic to back up in both directions.