A Russian billionaire's workers are helping Maori plan a new Northland meeting house after a devastating fire.
Staff working for oligarch Alexander Abramov are providing assistance for the rebuilding of Ngatiwai's Te Uri o Hikihiki wharenui at Mokau Marae, north of Whangarei, after it was destroyed two years ago.
Clive Stone, resource consent manager of the tangata whenua, said he had been working in a team to plan the new building since the fire on November 8, 2013.
The marae is about 5km north around the coast from Mr Abramov's $50 million-plus Helena Bay luxury lodge, now being finished ready for next summer and thought to be New Zealand's most expensive new residential project, with a main house or lodge and three separate beachfront residences, two of which can be subdivided internally to provide accommodation for a number of guests.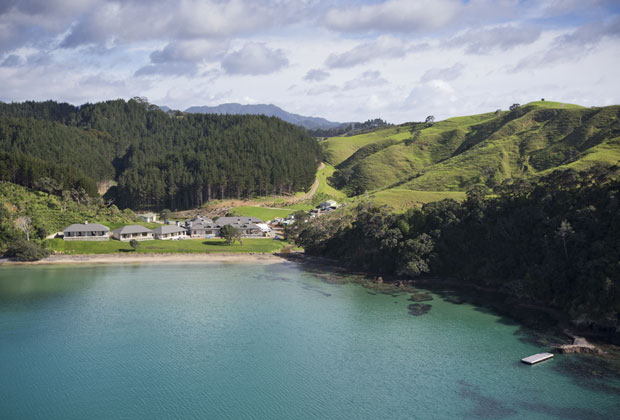 Russian billionaire Alexander Abramov's Helena Bay mansion. Photo / Greg Bowker
"The assistance we have received from Helena Bay Holdings has made our job a lot easier, providing machinery, advice about how we clean up the site and also with our future projects," Mr Stone said at a meeting in the former Helena Bay farmhouse, now staff accommodation and office.
"We've just completed the planning but it hasn't been cheap."
Help drafting tender documents was invaluable in preparing paperwork so suppliers could bid for the work and the board could seek the best bid, he said.
Ngatiwai Trust Board chairman Hayden Edmonds said Helena Bay's help had been invaluable.
It's the size and scale, as much as the detail, which is breathtaking at Helena Bay - estimated to have cost more than $50 million to build.
Helena Bay Holdings managing director Christopher Seel said no questions were asked when he realised Ngatiwai needed expertise in terms of equipment and skills from his big building site where a number of tower cranes were working for months.
"We were glad to help. The key thing was getting it all cleaned up so it wasn't a constant reminder of the negative and allowing everyone to focus on the future and the new wharenui and wharekai which was a shell. There is now a plan for completion," he said.
Mr Seel said work was under way to prepare to run Helena Bay as a luxury lodge and every effort was being made to include staff of Ngatiwai iwi descent.
Reports two years ago said the fire was believed to have been started by children aged 3 and 6 playing with a lighter. The blaze caused several hundred thousand dollars worth of damage, but no loss of life.