It's pitch black and a young man has landed his car in a ditch on Kennedy Rd.
A handsome rookie policeman sprints to help with nothing more than a torch.
He'd been running since hearing news that there'd been a serious accident. The then 24-year-old Chas Champion doesn't stop for a breather when he arrives at the horrific scene and dives into the back seat of the car to help.
A 12-week police training course in the South Island hadn't prepared him for what he finds - three dead teenagers. His torch fall on the faces from one, to the second, and then the third - 14-year old Pauline May Holt. It is at this point his torch fails. It's midnight and he's alone in the dark with the dead.
The year is 1956 but it was also last night, and for now retired 88-year-old Constable Champion, it has been every night since because he cannot forget the traumatic events.
"Sixty two years later, I still get flashbacks," he said.
"I found the car upside down outside the old Gilberds factory and three in the back seat were all dead and the two in the front seat were very seriously injured and the torch went out with not a soul around. About half an hour later a taxi came through and I got him to go to the Police Station and I ordered two ambulances, two hearses, a breakdown wagon, the matron and the police doctor, and waited until they arrived."
Then came the challenge of informing the families.
"I had to go round in the middle of the night and tell them what had happened - four bloody times. Once is hard enough but five was hard going.
"Then we took the matron to the morgue and stripped three bodies. Once is enough but three was something else.
"Then I went back to the station and I had to stay until 11am in the morning typing the lot out. I went home, fell in bed."
In those days there were no pats on the back, no "thank yous" and no days off to recover - just a rollicking reprimand from the station sergeant for not finishing the paperwork.
"I called him all the names in the world and threatened him - that wasn't me, that wasn't me at all."
A report on the accident published in the Hawke's Bay Herald-Tribune on March 26, two days later, named the victims as 17-year-old Kelvin Foster, 19-year-old Robert Henry Wright and 14-year-old school girl Pauline Holt.
The car had been coming back from a local dance and travelling at high speed when it swerved to avoid another vehicle. It then struck a palm tree on the side of the road, hit the concrete wall of the Gilbert's cordial factory and then bounced back across the footpath into a ditch.
The force of the impact generated by the 1939 V8-powered Ford hitting the palm tree was such that was heard half a mile away and totally caved in the car's steel roof.
Driving was Donald James Frederick Morris, aged 19. Champion said he did not know what happened to Morris afterwards but he believes his 15-year old sister Aileen, who had been in the front passenger seat, never walked again.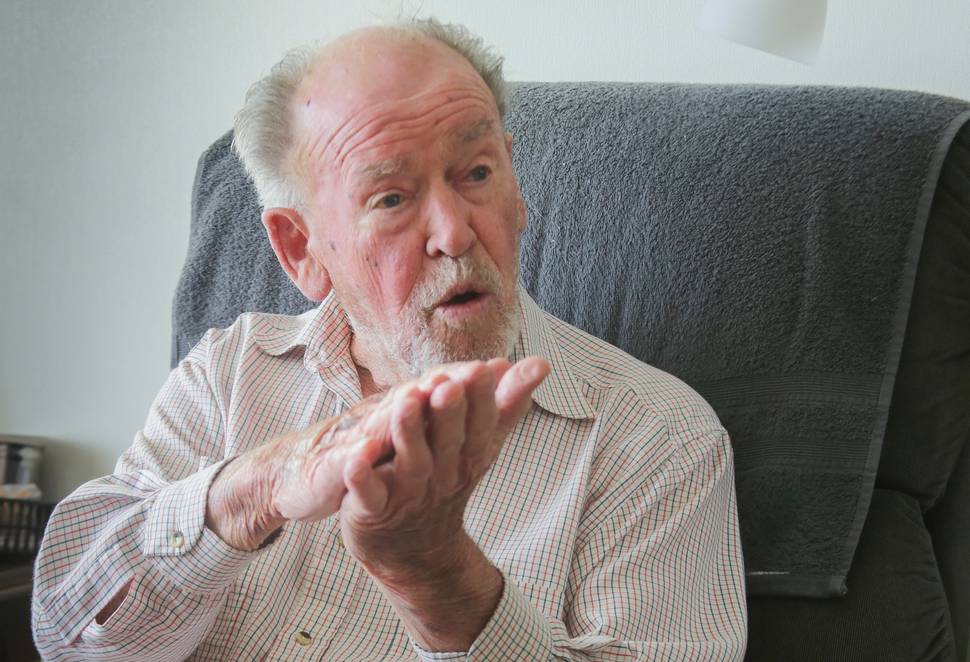 Police Association President Chris Cahill said it dealt with cases like Champion's "from an era where the symptoms we now recognise as PTSI (Post Traumatic Stress Illness) were swept under the carpet".
"It was then thought best to keep things to yourself and not tell anyone… even your spouse. Of course that was no solution at all.
"In the mid to late 1980s Police, like other organisations in New Zealand society, began to acknowledge the psychological harms associated with traumatic events.
"The association, from time to time still deals with issues that have been generated from incidents in the 1970s and 1980s, for example there are still occasional post-Erebus cases which we assist with."
Cahill said since PTSI was now spoken about openly, the association expected to continue to see cases from decades ago.
"Before the 1980s any police officer who sought psychological help was frowned upon (much like soldiers and nurses and funeral directors etc), until it began to be understood across society that there was tangible benefit in seeking assistance.
"The association liaises with retired Police clubs and with veterans affairs organisations including the RSA, to the point where if their members come across any retired cop who needs help for PTSI-like symptoms they can be referred to the association… and they are.
"If necessary the association can refer them on psychologists for practical help.
"The association is aware that in many cases trauma surfaces years after the incident, but that does not necessarily mean it is too late to deal with it."
Champion said he still has flashbacks to this day, and particularly remembers the youngest victim.
"Her name was Holt and she was 14 years old. She had no connection in New Zealand, her father died in an accident. So she and her mother came to New Zealand from England."
He also remembers telling her mother, her daughter was now also dead.
"I went round and she said 'no, my daughter is in bed asleep', and I just thought "oh God".
"It was the most stressful thing I have ever experienced in my life. All these years later I wake up in the middle of the night - 65 years later and I can visualise all that again.
"I still see the dead people, the car tipped upside down. I was crawling around the car with three dead people and two badly injured, trying to get them out. It was bloody awful."
Champion said he was coping with the flashbacks and just wanted to tell his story to Hawke's Bay Today because he felt the incident should be remembered. He was also prepared to seek help should things get any worse.
Napier City Council cemetery records show Kelvin Rayner Foster and Pauline Holt are both buried at Napier's Wharerangi Cemetery.
Written on Pauline Holt's gravestone are the words "accidentally killed 24th March 1956 in her 15th year. She is not dead- she is just away".
Her mother Winifred Holt was buried alongside her 43 years later.
An inscription on the pair's joint headstone reads thus: "Winfred Holt loved mother of Pauline - reunited".