It's business as usual at feeder calf sales in Dannevirke, with the threat of Mycoplasma bovis not deterring buyers.
Quality feeder calves were making great prices at Monday's New Zealand Farmers Livestock sale at the Dannevirke Showgrounds, with approximately 80 calves for sale - up on early numbers last year.
And the sale started with what one observer described as "a hiss and a roar" when the first pen fetched $250 a head.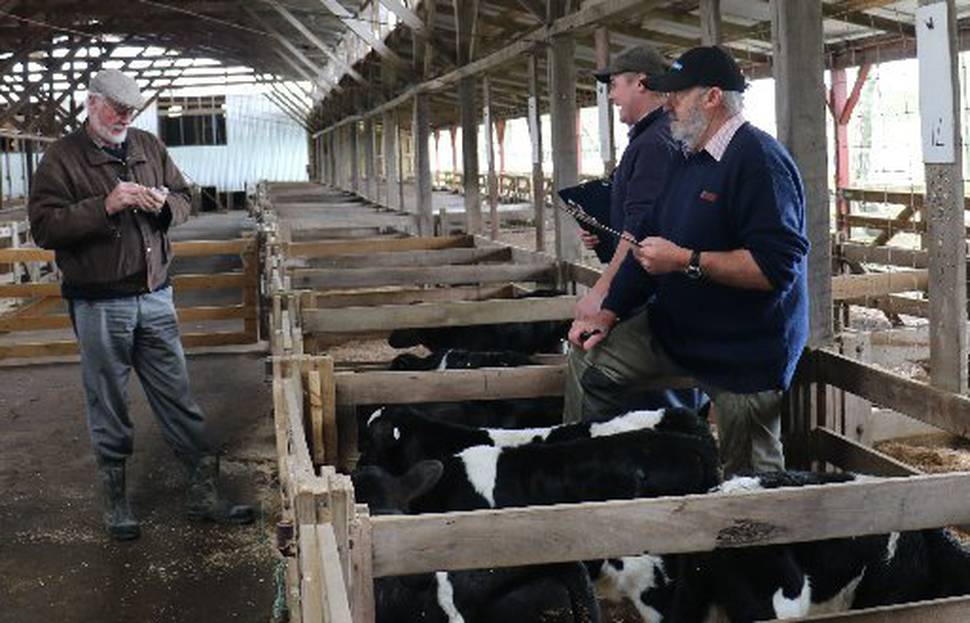 "Farmers who keep their calves for a few extra days are getting more for them," auctioneer Cameron Smith said.
"Quality calves have made good money.
"We've a few new clients we didn't have last year and we're having good sales. It's business as usual because we are doing as much as we can to minimise the risk of M. bovis."
Agent Clint Worthington said New Zealand Farmers Livestock was "doing due diligence" and the risk was very low.
"All our calf rearers are coming back to buy," he said. "They are cautious, but putting things into perspective."
Smith said the company wanted buyers to feel 100 per cent confident in buying calves at the company's two-weekly Dannevirke sales.
Vendors sign an M. bovis declaration, calves must be Nait tagged and herds have had their MPL milk test notification. Every farmer must also sign an M. bovis declaration.
Read more: Mycoplasma bovis may wipe out lamb, calf days
Read more: Using cattle disease as political football isn't helping
These conditions of sale also apply to the weekly Carrfields feeder sales held on Wednesdays at the Dannevirke Showgrounds. And the yards are sprayed before and after each sale.
The top calves at Monday's sale were two weeks old and Smith said they come from good herds and had potential.
"Some people like buying certain-framed animals and rearers feel confident these older calves won't be susceptible to infection," he said.
With calves costing up to $200 to feed and for incidentals, not counting the time involved, rearers needed a margin of $100 when it came to sell, one buyer said.
"I'm prepared to pay $200 for good calves, $200 to feed them and $100 for labour, but paying between $220 and $250 a head is ridiculous," the purchaser said.
Hereford and friesians are proven performers and buyers say they hope in a fortnight's time when the numbers up for sale rise, the prices may come back.
From the top price of $250, paid to two vendors for big friesian bulls, sale prices swung between $200, $195, to $190 a head for three big, healthy bulls from a Woodville seller, to a low of $40 and $20 and $30 a head for what were basically bobby calf prices.
Hereford bulls sold between $200 and $105 a head. Angus heifer calves, described as outstanding, went for $200 a head, with a pen of four angus-cross heifers making $185 each. The top angus heifer went for $205.