With more than 200 events lined up, accompanied by more than 300 vintage vehicles and many thousands of people from all over the globe set to join the jolly locals, it would indeed be a dapper understatement to say the Tremains Art Deco Festival has come a long way.
"It's just huge now," is how Napier mayor Bill Dalton simply summed it up, and that does sum it up.
It is huge, on a regional, national and international scale.
Like anything, it began very humbly, although those who sparked it had a passion and a vision to make it into something very, very special.
The first actual "weekend" sparked into modest life in February 1989 and the events list reflected that modest inaugural outing.
There were just seven events and the vintage car parade drew 14 fine old cars.
Which was pretty good ... considering it rained during the parade which with just over a dozen cars was over very quickly of course.
The rain also disturbed the very first Gatsby Picnic on the Marine Parade gardens that year, with the around 30 picnickers heading off to the Municipal Theatre stage instead for their indoor tea, scones and cakes.
Fast forward to 2018 and the upcoming Gatsby Picnic is expected to reflect the same numbers as it has in the past couple of years ... around 5000 people.
Among them will be Simon Tremain, who said when he was approached five years ago by Napier City councillor Keith Price to maybe think about stepping into the breach after the previous main sponsor's run had come to an end there was not a lot of thinking to be done about it.
"It didn't take long to think about it — it's such a good fit for us," Mr Tremain said.
He said the company was also coming up to a memorable milestone as it would be 50 years in 2020 since his father Kel sparked the business, so being part of the community, and being part of the great Art Deco celebration was always going to be a goer.
"There are a lot of new events this year and that's great to see. It has really grown and it has become so unique — it is our biggest event of the year and brings people from all over the world here."
That was something Mr Dalton was quick to echo.
"An enormous number of people come here from all over the world for the Art Deco Festival and then, later, they will come back and visit again because they loved what they saw," he said.
"That is so good for the whole region."
He too was delighted to run through the events list and see the popular traditional events, like the picnics, concerts and the soapbox derby, added to by a series of new outings and deco adventures.
"A lot of new events this year and a lot of free events — they are always freshening it up and always new things happening."
He and wife Shirley's "to do" list for the festival is, like Mr Tremain's, extensive, as are the wardrobes, of course.
But it wasn't always that way, with both Mr Dalton and Mr Tremain reflecting what many people felt several decades ago.
"I'd be as guilty as anyone before it took off," Mr Dalton said.
"I used to think 'hey, let's get some new buildings' ... but then Robert McGregor started bringing it up."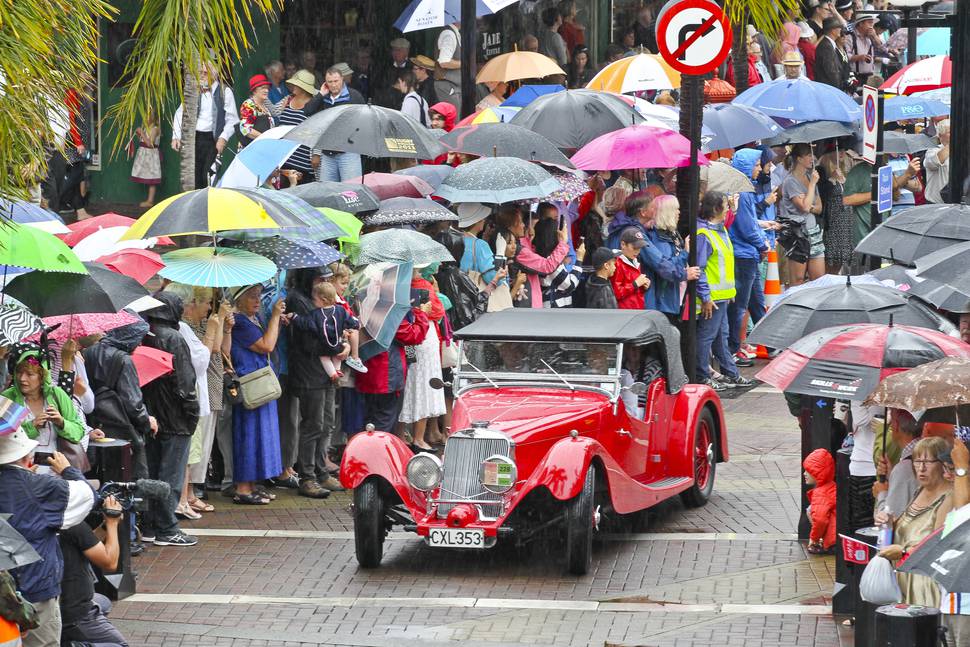 Sadly, some buildings did come down, but a passionate and inspired growing number of people like Mr McGregor, Roger Price (who devised the very first festival) and Mary Johnson began trumpeting Napier's unique architectural landscape.
The first spark of awareness glowed in the February of 1985 in the form of a leaflet titled Take a Walk Through Art Deco Napier which was co-funded by the Napier City Council, the then Ministry of Works and the Hawke's Bay Museum.
A voluntary trust had been created to oversee the content and delivery to households throughout the city.
A few months later the fledgling trust also put its efforts behind assisting and promoting the premier of a television documentary made by Peter Wells called The Newest City on the Globe.
Mr McGregor and Mrs Johnson helped drive the first Art Deco "walk" event which attracted about 1100 people, who were also given a screening of the Wells film at the end of the day.
It was clear to all that Art Deco was effectively a hidden treasure — despite its obvious presence upon so many buildings.
In 1987 the late Mr McGregor was appointed as the first president of the Art Deco Trust which was legally incorporated that year.
From there it simply grew, with the recesses of walks and weekends refined and polished.
The numbers drawn to the unique architectural landscape accordingly grew.
In 1995 about 3750 people took part in the walks ... 10 years later that had swelled to nearly 19,000.
These days it is well in excess of 25,000.
In terms of how things were stacking up for the big 30th celebration, Art Deco Trust events director Glen Pickering was this week to the point about where ticket sales were at.
"Absolutely incredible," he said.
A week out from the opening day about 80 per cent of tickets had been sold — ahead of least year which had been a stellar year — and many events had the "sold out" signs on them.
As well as introducing new events, there had been a strong focus on free events — events which the general public could head for and enjoy.
"To engage the locals to come out and join in what will be a very special time," Mr Pickering said.
And that meant one and all, and this year's festival will reflect that, and the increased focus on the young, with the introduction of the new Junior Gatsby Picnic on the Thursday afternoon at the Soundshell gardens.
About 1000 youngsters are expected.
"It's important to have them involved because they are the future and this is a way we can help them understand the heritage of it all," Mr Pickering said.
The range and assessibility of events and outings was indeed a strong part of it all.
Former mayor Barbara Arnott who began her mayoral role in 2001 and saw the growing popularity of it said it was important there was always a good balance between the various activities that "everyone" could be involved in.
The success was in its inclusiveness not exclusiveness — something for all.
It was about people simply having fun and being able to be part of many things.
"There aren't many festivals that are so inclusive."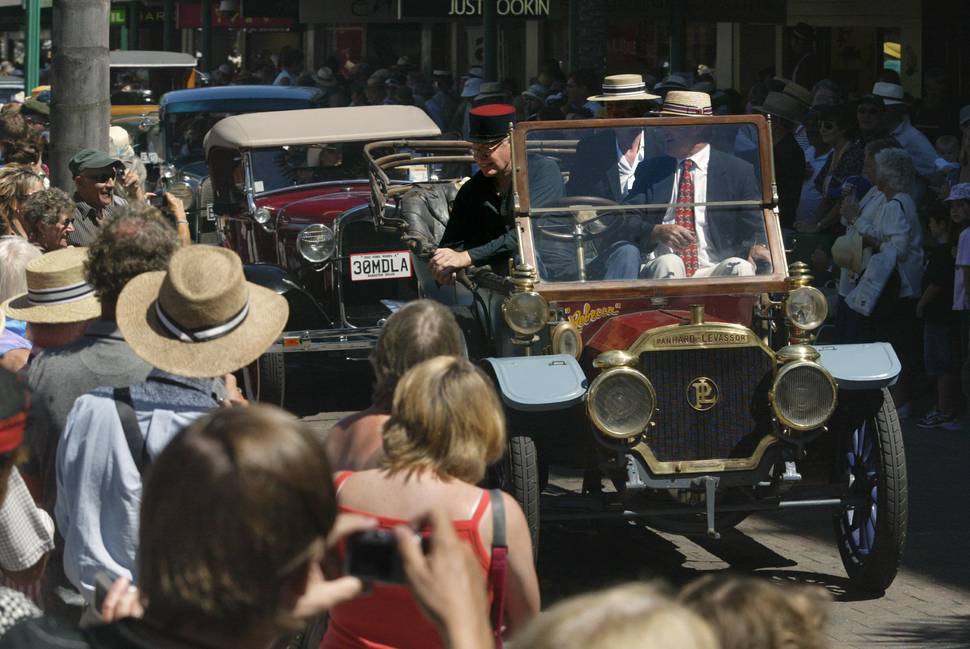 Art Deco general manager Shane Gorst said there had been a strong focus on driving the community side of the event, and the driving of those events was a huge task.
"But we have got an incredible team of people," he said, adding that given the numbers involved in staging the festival it was "absolutely astonomical" what the trust delivered.
A festival was set to draw up to 40,000 people.
The commitment of the staff was unwavering, he said, and paid tribute to the 165 people of the volunteers list who "work so hard and do so much".
So much to help spread the word about a remarkable era which, during its five days, will see a colourful, and of course fashionable, step back in time.
A time, in the unique architectural sense, which Mr Dalton said had a strong and proud link with his family.
His father Doug had been an apprentice plasterer with WM Angus and Co and in the wake of the devastating 1931 Hawke's Bay earthquake there was a lot of construction and plastering to be done.
"He told us about all the Art Deco buildings he worked on back in 1931."
And the link with council today is extended by the fact that one of the lads Doug Dalton worked alongside on some jobs was director of city services Lance Titter's grandfather.
Mr Tremain said he was like most teenagers and while he would see the Art Deco buildings around town never really took a lot of notice of them.
"I didn't recognise their significance then," he said. "But you look at what we have today and you know it is very, very special."
One thing which has delighted him is the growing participation of young people during the great festivals.
He and so many other teenagers "back then" were not interested but today the youthful ingredient is strong and getting stronger.
"So great to see that."