Key Points:
* Mongrel Mob member Nevara Raheke, 47, died last Friday of critical injuries * Fellow gang members gave Raheke a colourful send off through the streets of Hastings * Raheke was one of four Mob members to receive a secret payout for being beaten in jail * A man has been arrested after a car was recovered, apparently riddled with bullet holes
A strong police presence was on hand today as a lengthy tangi procession weaved its way through the Hastings CBD this afternoon.
Nevara Raheke, 47, died last Friday after presenting to the Hawke's Bay Hospital with critical injuries on November 17.
His body was taken through Whakatu from Ruahapia Marae this afternoon before heading south down State Highway 1 and to the CBD on Karamu Rd.
The hearse was preceeded by around 10 hot rods, 15 motorcycles and a lengthy trail of other vehicles while traffic management was enforced.
Those on the motorcycles turned heads as they revved their engines at the intersection of Karamu Rd and Frederick St.
Around half a dozen road policing staff were involved in facilitating the procession.
Hawke's Bay Area Commander Inspector Dave Greig said police presence during the procession was organised following consultation with the family of the deceased.

"The whanau told of us their plans for the procession and our discussions with them were around facilitating the procession in an orderly and safe way that minimised disruption to traffic.
"We anticipated a large gang presence in town for the tangi and so we also engaged with the leadership of the gang with the same intent."
Police had spoken with the local leadership of the gang to reinforce police and public expectations of the behaviour of their members, but accepted there was an out-of-town presence in those mourning the deceased, he said.
"We made it very clear to the gang that we were monitoring the procession and would be taking enforcement action where appropriate. Overall we are pleased with how things went."

Police and Maori wardens were located along the general route, controlling traffic flow through intersections to allow the procession through.
Inspector Greig said the proactive response was effective in minimising disruption to traffic flow and ensured the safe facilitation of the procession.

Police were appreciative of the willingness of the whanau and the gang to engage in a positive conversation about the procession, he said.
Raheke was one of four Mongrel Mob members who received thousands in a secret government payout to compensate for systematic beatings at Hawke's Bay Prison in the 1990s.
He died after spending two weeks in the Intensive Care Unit after presenting to the Hospital in a critical condition about 1.50pm Friday November 17.
Several hours later police and the armed offenders squad descended on Otane to secure a property of interest and the following Sunday forensic scientists from ESR were examining a property of interest in Long Range Rd, Pourerere.
Police had seized a vehicle believed to be linked to a shooting incident, but would not confirm whether it was a silver sedan recovered in Hastings the same afternoon with apparent bullet holes in both sides.
Read more: Police examine property and car linked with Otane shooting
A 46-year-old man was arrested on November 19 and charged with aggravated robbery in relation to the incident.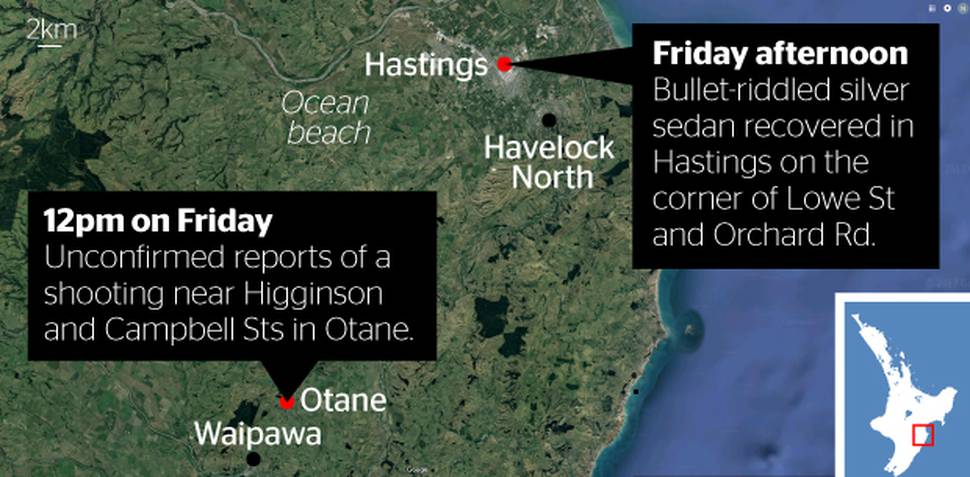 He was due to appear in the Waipukurau District Court tomorrow morning.
To get the day's top stories in your inbox, sign up to our newsletter here.