The pressure is on as the deadline looms for an announcement on the alternative route to replace the Manawatu Gorge.
But Tararua District Mayor Tracey Collis is insisting she and other regional leaders are given a fair hearing before the New Zealand Transport Agency announces its preferred option.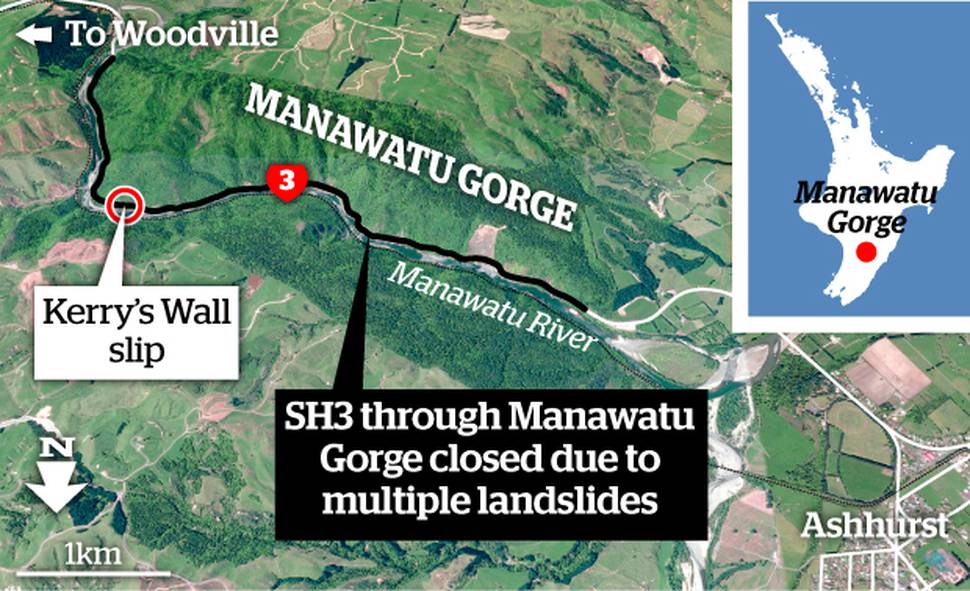 State Highway 3 through the Manawatu Gorge closed after slips in April this year, but a larger slip in July was the final nail in the coffin with about 10,000cu m of material, including large rocks, smashing on to the road.
Read more: NZTA unveils 13 options for Manawatu Gorge
Final options for Gorge revealed
Since then monitoring has shown continual movement, with the gorge now deemed highly unstable.
The Dannevirke News understands NZTA board members will have had a recommendation on the desired optional route today.
But Mrs Collis is adamant NZTA still needs to listen to what regional leaders have to say on option four.
"I think the decision going public is about a week out, but in the meantime mayors have requested they be given time to make a deputation to the NZTA board," Mrs Collis said.
"We need to ensure we get a fair hearing. A lot of work has gone into our preferred option (option 4) by Accelerate 25 and the Palmerston North City Council on the economic and cost benefits of that option.
"We haven't just plucked that option out of the air."
All regional leaders have supported option 4 through Accelerate 25, a regional economic growth programme aligning people, policy and funding in priority areas to drive growth and create a more prosperous region by 2025.
"Option four is preferred as it will directly connect with the regional freight ring road currently under way," Accelerate 25 team leader Michael McCartney said.
"As well as allowing central North Island freight and passenger movements through the region, it will bring traffic back to Woodville and create jobs."
Meanwhile MP for Wairarapa Alastair Scott welcomed the Government's confirmation that the Manawatu Gorge remained a priority.
"There hasn't been a substantial update on progress for weeks now.
"I don't want the silence to indicate any slowing or cutting back of the process or that the project is being pushed down the priority list, so I've sought confirmation from the Government that the alternative route was a priority."
Mr Scott said the long awaited announcement on the preferred alternative route for the Manawatu Gorge was due next week.
The options and costings as indicated in October:
• Option 1, North of Saddle Rd: This option would provide a new road corridor across the Ruahine Range north of Saddle Rd and the Te Apiti wind farm.
Cost: $350m-$450m
Length: 15.7km
Time to complete: 5-6 years.
• Option 2: Saddle Rd upgrade: This option involves a major upgrade of the existing Saddle Rd corridor to bring the route up to state highway standard.
Cost: $300m-$400m
Length: 13.8km
Time to complete: 5-6 years.
• Option 3: South of Saddle Rd: This option would provide a new road corridor across the Ruahine Range south of Saddle Rd.
Cost: $350m-$450m
Length: 12.4km
Time to complete: 5-6 years
• Option 4: South of the Gorge: This option is for a new route south of the Manawatu Gorge providing a new road corridor which offers the most direct connection for travel to or from the southwest.
Cost: $450m-$550m
Length: 19.2km
Time to complete: 6-7 years.
Gorge history:
The Manawatu River and State Highway 3 has been a vital east/west link and a significant place in our history.
• It is 6.4km in length, winding through the width of the Ruahine and Tararua ranges. The first European to travel through the gorge was pig and flax trader, Jack Duff. Maori guided him down the river in 1830.
• By 1870 a more substantial bridle track had been developed for foot and horse traffic on the Tararua side of the river.
• In 1872 the Manawatu Gorge road was opened, although the railway line wasn't fully completed until 1891.
• George Ross began operating a toll gate at the Woodville end in 1874. The fees were sixpence a hack, three pence each for cattle, one penny each for the first 20 sheep, and a halfpenny each thereafter. Passage for a horse and cart cost one shilling.