When police cars pulled up outside Weber School last week tongues were wagging. It wasn't any village gossips, but Carne and Zinny, two important members of the police dog team.
Police dog handlers Constable Sam Chambers and Senior Constable Simon Mercer were visiting three rural schools in Tararua: Weber, Pongaroa and Makuri; along with Manawatu area commander Inspector Sarah Stewart, Senior Constable Dave Kirk of Pongaroa and Constable Maxine Walshe of the Dannevirke Police.
"These guys (dog handlers) are amazing and it's good for people to see the police in a positive light," Inspector Stewart told the Dannevirke News.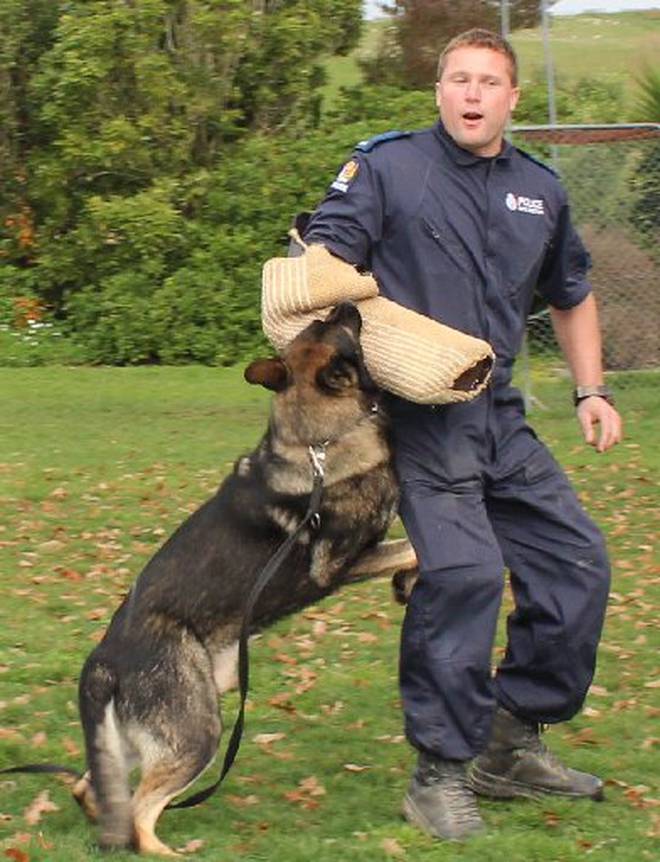 The dogs, Zinny, an 11-month-old still in training, and Carne, who has had 5 years' experience, showed off their skills, as students and staff learned more about the dog-handling unit.
Mr Kirk, who has been in the police force for 20 years and is a familiar figure to many in the rural areas, also demonstrated the tools he has to keep himself safe on the job.
The rural students, familiar with the 10-volt capacity electric fences, were stunned when Inspector Stewart explained the taser Mr Kirk was carrying had 50,000 volts. "Kirky is pretty amazing at his job," she said.
But it was the police dogs which captured the hearts of the students.
"I've had Carne for 5 years and he lives with me and my family, but on days off I take him for walks in the park," Senior Constable Mercer explained. "When we're on the job, he's there to help defend me. He's my best friend. We are a team and he looks after me and I look after him. We've got to have control of our dogs and they learn to listen to what we say. Carne does what he's told."
Sensitive to the signals of his handler, Carne can sense his emotions. "He can pick up on my vibe," Senior Constable Mercer said. "Carne is my best buddy so I won't put him in danger."
The Weber School students were amazed to learn just how smart Carne is. He showed the children he could do maths, counting (barking) to seven when asked and, when asked to add six and four, he barked 10 times.
Mr Sam Chambers has been training Zinny for 11 months and said everything handlers do with their dogs during their training is about fun and rewards.
"Zinny is lively and excitable and just learning the ropes. He has another six or seven months of training ahead of him before he's operational on the streets."
Zinny's favourite game is tug-of-war and Weber School student Charlie Free took up the challenge. But he soon discovered why Zinny has never lost a tug-of-war. He wasn't about to let go until Constable Chambers gave him the signal.
As well as demonstrations of the police-dog skills, students learnt valuable lessons on how to approach a dog on the street.
Canine facts:
* Police dogs respond to more than 30,000 incidents each year.
* All police dog handlers are officers with approximately five years policing experience.
* Dogs can smell 1000 times better than people.
* German Shepherds are preferred as police dogs because of their good noses, great agility and trainability.